Posted on
Wed, Feb 22, 2012 : 5:50 a.m.
Pet Photo Friday will be here soon - are you ready?
By Lorrie Shaw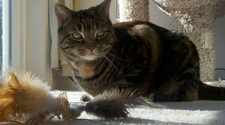 Lorrie Shaw | Contributor
Mother Nature has been unbelievably kind to us this winter, and we humans aren't the only ones getting to take advantage of the above-average temperatures — companion animals get in on the action, too!
Knowing that there are many fun-loving pets that live in and around our area, we're anxious to see what you've been up to. Why not submit a favorite photo of your pet?
What fun activities did your pets get to enjoy this week — a hike, perhaps, or a trip to the dog park?
We're willing to bet that a few pets needed a bath after some of their outings. Did you capture an image of your dog covered in the "outdoors"?
Any pet or animal in the family is welcome in the slideshow we feature each Friday.
In continuing our ongoing Friday Pet Photos feature, we invite you to email a photo of your companion animal to ppsa2mi@gmail.com, any time during the week.
Participating in this fun feature is easy — simply include your companion animal's name, age and city or township of residence in your email. Be sure that your photos are 1200 pixels wide and in .jpg format.
We put the week's photos into a slideshow, publish it and promote it each Friday here in the Pets section. Check out past slideshows here.
Lorrie Shaw is lead pets blogger for AnnArbor.com. Follow her pet and writing adventures on Twitter. She welcomes your contact via email.