Posted on
Wed, Apr 11, 2012 : 5:59 a.m.
Empowering the public in identifying puppy mills is crucial in ending them, local experts say
By Lorrie Shaw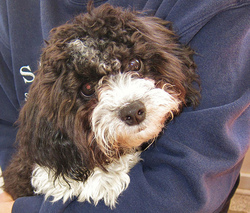 flickr photo by jefferyw
Can you imagine the idea of more than 350 dogs on your property?
That's the scene that animal control officers saw when they arrived at a home in Allegan County on Monday.
Julie Kowal, office administrator of the Allegan County Animal Shelter accompanied the officers that morning and noted that the homeowners — who were breeding dogs for profit, were overwhelmed.
It was reported on Monday on MLive, that in the past, animal control officers had been trying to work with the couple to reduce the number of dogs on the property.
"This is the largest puppy mill that has ever been tracked in the state of Michigan," said Pam Sordyl of Puppy Mill Awareness of Southeast Michigan.
Sordyl, who has made it her mission to make operations like this a thing of the past, detailed a bit more of what a colleague conveyed to her upon seeing the animals firsthand.
"Dogs caked with dried fecal matter so badly that it couldn't be removed by simply pulling it off. Skin that was badly irritated — burned even — from being in contact with urine-soaked fur... can you imagine?"
Sordyl is one of three local animal advocacy experts who weighed in on this issue that is believed to exist in our own backyard as well.
Breeding operations like this are the dirty little secrets that lurk in our state — and across the country. Regardless of the size, Sordyl says that they need to be put out of commission.
A 2009 study done by Puppy Mill Awareness looked at 83 counties in Michigan, and 1,800 kennels were reviewed. Out of 639 confirmed breeding kennels, 25 of them had more than 50 dogs. Additionally, 927 facilities were 'unclassified': private kennels, and it's not known what activity is occurring. (Some may be a household with several dogs who find it more cost-effective to apply for a kennel license, rather than individual dog licenses.)
"Mini-mills," as the seedy homegrown operations like the one in Allegan County are referred to, are easy to keep under the radar: they use small or toy breeds in the operation (their smaller size allows for more dogs to be housed in a limited space).
This, among other loopholes and lapses, gives the people behind puppy mills power.
These people understand that small/toy breeds are all the rage. That spurs the breeders to produce "designer breeds" — usually a combination of two to three breeds to create dogs like YorkiePoos, Daisy Dogs (various mixes of Shih-tzu/Bischon/Poodle), Puggles, among others.
Sordyl noted that the incident in Allegan County is an example of what is going on in Michigan and will be used to support the efforts of Puppy Mill Awareness at Michigan Humane Lobby Day on April 17.
Many of the pets that are the product of puppy mills are in many cases seriously ill, and the ramifications clearly go beyond the physical for some: canines who grow to have behavioral problems due to poor breeding, less-than-ideal husbandry practices and lack of proper socialization. The conditions that the dogs are kept in is awful.
Empowering the public is essential in the fight against puppy mills.
Matt Schaecher, Director of Rescue and Cruelty Investigations for the Humane Society of Huron Valley offers a few things to look for if you suspect that someone is operating a mini-mill:
Most of these mini-mill operations are breeding small dogs.
Watch for "Puppies for Sale" signs that stay up for months or all year long in a yard.
Look for traffic with people bringing or leaving with dogs (not usually buying dogs but dropping them off to have them breed).
These types of operations will offer to meet you to show you the puppy and not have you come to their facility.
If you suspect that you've come across a puppy mill, document the conditions (often they will be poor), and report them to contact animal control, as well as your local zoning department, local police, and of course HSHV's Cruelty and Rescue Department.
Also, avoid buying dogs. You see, pets have become a commodity and puppy mills are all about money. If there's no demand for these dogs, it won't be profitable.

Instead, Sordyl suggests abiding by the mantra: "Adopt, don't shop".
"There are plenty of shelters throughout Michigan that have adoptable animals," adding that the Humane Society of Huron Valley is an excellent organization, and that other reputable shelters and rescues are great choices, too — as is using Petfinder.com.
Knowing that there are those that are set on buying from a breeder, Sordyl remarks that choosing a reputable one is crucial.
You should be able to meet/get a verifiable history on the parents of the puppies. Responsible breeders come highly recommended (they seldom need to advertise), they will typically legislate their clients carefully, and waiting lists are not uncommon.
Tanya Hilgendorf, executive director of HSHV offers an eye-opening piece of advice.
"People who are overwhelmed usually look overwhelmed. Follow your gut. If something seems fishy, there is usually a good reason for that."
Not losing a clear perspective is crucial.
"The process of getting a new pet can be very emotional, and there are few things in the world that cause our emotions to go haywire more than an adorable puppy face," continues Hilgendorf.
"These emotions can block critical thinking. It is very important to remember to think rationally when making such a critical decision. Don't be fooled, and therefore over-forgiving, by someone who expresses great love for the animals. Every hoarder I've ever met says they love the animals. Dog fighters say they love their animals."
One step in the right direction: Ads from people who breed and sell dogs over the Internet will no longer be allowed on Facebook.
"Avoid buying a pet from an online store or website, or having a dog shipped to you from one," ends Sordyl.
"And never, ever buy a dog from a suspected mill just to get the pet out of that kind of situation — you'll only fund the operation."
Lorrie Shaw leads the pets section for AnnArbor.com. Catch her daily dog walking and pet sitting adventures or email her directly.