Posted on
Wed, Jan 11, 2012 : 12:57 p.m.
Adam Janecyk's surprise start gives Michigan security and more hockey notes
By Pete Cunningham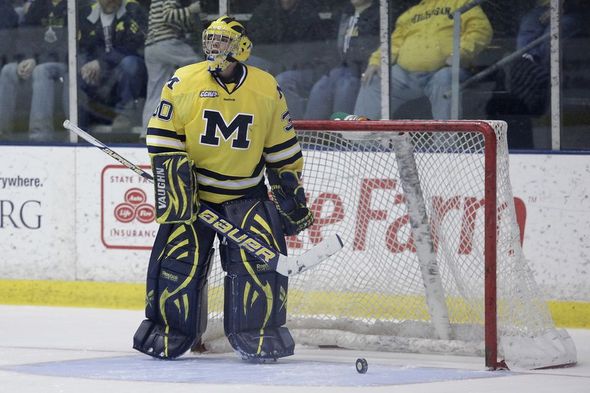 Chris Asadian | AnnArbor.com
Spending a Saturday night in a hockey arena is nothing new for Bob Janecyk. As a scout for the Ottawa Senators and a former NHL goalie, Saturday isn't the weekend. It's another day at the office.
Janecyk was in attendance at Yost Ice Arena last Saturday night, but it wasn't a business trip. It was pure pleasure, as his son -- Michigan backup goaltender Adam Janecyk -- made his first collegiate start.
Adam made 34 saves in a 2-2 tie with Lake Superior State, and another four in a shootout. Even after Michigan lost the shootout, the student section serenaded Adam with chants of "Jan-nee! Jan-nee!"
Though disappointed not to get the win, Adam Janecyk described the overall experience as surreal and one he was glad his father could see.
"All summer he'd always tell me to stay focused (because) you just never know what can happen," Janecyk said. "I'm sure for him to see me play out there, it was pretty special for him."
Unlike Adam's father, or the Yost faithful, Michigan goaltender coach Josh Blackburn wasn't able to see Janecyk play. Blackburn left sick after the first period of Friday's 4-2 win over the Lakers — in which Janecyk replaced an ailing Shawn Hunwick after the second period.
A 24-hour-bug kept Blackburn from Saturday's game as well, but what many were witnessing for the first time, he had seen before. Still, it was encouraging for Blackburn to know the bright lights didn't have an adverse effect on Janecyk.
"I've seen what he can do, but anybody can do it in practice. It's tough to do it in a game. It's tough to do it in that kind of scenario," Blackburn said. "Once you prove yourself in the game, you prove yourself to your coaches, your teammates and everybody else.
"But more importantly you prove it to yourself, you get that confidence and that's everything."
If Janecyk ever actually did lack confidence, he does well to hide it.
"I never really doubted myself," he said. "I mean all the kids that are in CCHA, college, right now I played against in juniors, so it's not like I'm going into some new world or anything."
But it's the confidence that others now can have in him that could be valuable to the Wolverines moving forward.
"I'd have more confidence (in Janecyk, now that he's played) than I had without knowing. Same thing with the team," Michigan coach Red Berenson said. "That's the real deal to get out there -- to face another team's power play or an onslaught and stop rebounds -- and I thought he did a lot of good things in the game."
Like Janecyk, Hunwick was once the unproven, unheralded backup. Earlier in the week, Hunwick sarcastically lobbied for reporters to ask Janecyk questions with the same doubtful and borderline insulting tone he used to receive.
"How did you do what you did…Did you think you could actually play like that," Hunwick said, joking.
This is Hunwick's team until he walks across a stage in cap-and-gown, but Janecyk proved capable of filling in if Hunwick's body needs the occasional rest.
And who knows? Hunwick didn't play Saturday after complaining of headaches, was held from Monday's practice, and was a light participant on Tuesday. Though Berenson expects Hunwick to practice fully in the coming days and start both games this weekend against Ohio State, he expected the same last weekend.
Just as Blackburn expected he'd be at Yost and not at home puking.
Just as Bob Janecyk expected to be at a minor league game watching someone else's son play.
Fact is, anything can happen. What Janecyk showed over the weekend is that if Michigan's Hobey Baker Award candidate goalie goes down, his unproven, unheralded backup is capable of holding down the fort.

Outdoor game details
Michigan will play on the road against CCHA-leading Ohio State in a two-game series over the weekend, culminating Sunday with an outdoor game -- the Frozen Diamond Faceoff -- at Progressive field in Cleveland (5:05 p.m., Fox Sports Plus).
Berenson said the immediate focus on the road trip will be Friday's game in Columbus against the No. 2-ranked Buckeyes. That's been made easier by the limited amount of build up, both literal and figurative, around the game.
"(The game) is not like the Big Chill where it was literally they were building the rink. I mean it was an ongoing story right in Ann Arbor," Berenson said. "I don't think it's really going to be a big deal for our team until we get there Saturday."
Sunday will be Michigan's third outdoor game in as many years. Berenson said the novelty isn't wearing off.
"I embrace it. I'm old school I think it's a throwback opportunity," Berenson said. "And on the marketing side, I think it's a great venue to be involved in, just for our team and our program."

Merrill returns to team
Jon Merrill returned from his 22-game suspension last weekend and made an immediate impact, going plus-3 with two assists in his first game.
On Monday, Merrill spoke with the media for the first time since his suspension was announced on Oct. 1. He said the first month of the suspension was the longest he's ever gone without being on a team.
"I've been hurt before, but you're in the locker room, you're around the team and things like that when you're injured. For the suspension, I wasn't around the locker room or anything," Merrill said. "That was obviously the first time that that's happened in my career, so I think that made me think a lot about how much you love hockey, how much you miss being at the rink every day.
"When you lose hockey like that for such a long period of time it really makes you think about the decisions you make off the ice that have influenced your hockey career. You never think that something you do off the ice is going to take the game you love away from you."
The reason for Merrill's suspension has not been disclosed.

Tweet of the week
From Michigan goalie Shawn Hunwick aka @shawn_hunwick:
"Tim Tebow is the most famous white bronco since OJ's car."
Pete Cunningham covers sports for AnnArbor.com. He can be reached at petercunningham@annarbor.com or by phone at 734-623-2561. Follow him on Twitter @petcunningham