Posted on
Mon, Apr 8, 2013 : 1:10 p.m.
Looking back: Arrests, injuries and $84,000 in damage followed Michigan's 1989 national title
By Kyle Austin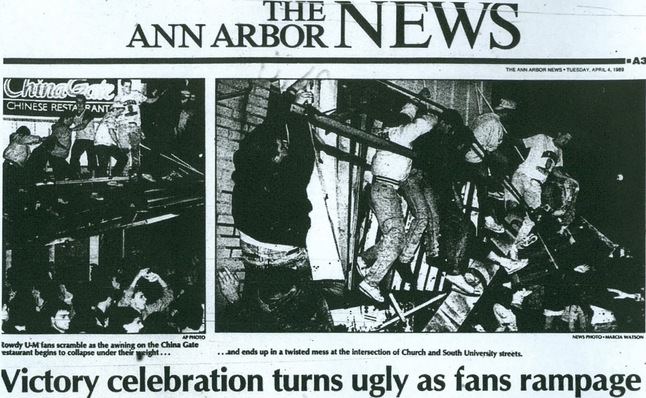 The last time Michigan won a men's basketball national championship, the situation in Ann Arbor turned ugly fast.
An estimated crowd of more than 7,000 fans took to the South University area on the night of April 4, 1989 following Michigan's national title win over Seton Hall. The crowd broke windows, damaging cars and businesses and caused multiple injuries according to Ann Arbor News archives. Police estimated the total damage at $84,000.
The Wolverines will play for their second national title tonight, when they takes on Louisville, 9:23 p.m. in Atlanta. Police plan an increased presence in the South University area and elsewhere around Ann Arbor, with help from neighboring police jurisdictions.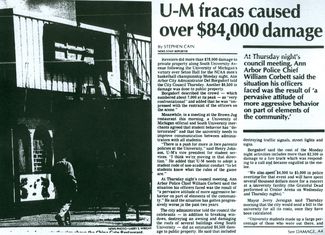 There was a similar presence Saturday night following Michigan's national semifinal win over Syracuse, when thousands poured into the South University area and the diag. That crowd stayed civil, with no major issues, though police reported four separate couch fires around the city. Police lined the South University area streets in fluorescent vests and crowd control equipment.
But 24 years ago, following a national title win, the police were no match for a scene that soon turned violent.
According to Ann Arbor News archives, by the time the crowd was dispersed around 3 a.m., "it looked like a tornado had ripped down South University" the News reported.
Rioters damaged cars and businesses, broke windows and ripped out street lights and signs. One taxi was spray-painted and flipped over. The awning of the Logos Bookstore was ripped down and part of its roof collapsed.
"This is just unbelievable - that intelligent people can act like animals," Logos owner Tom Dobberstein told the News.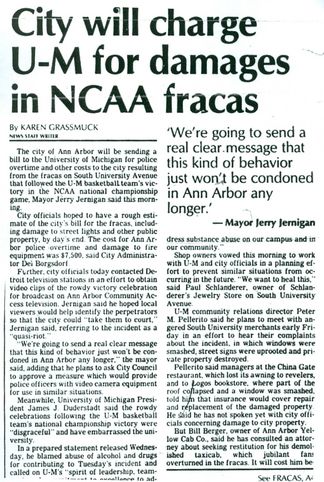 Eight arrests were made, four for disorderly conduct, two for malicious destruction of property, one for felonious assault and one for drunken driving. One student suffered a broken pelvis after being hit by a car, and other students suffered minor injuries from flying objects.
Around 50 police officers were on hand that night. They opted not to use teargas for fear of inciting more destruction.
"Given the spontaneity of what occurred, I doubt we could have done anything different," Ann Arbor Police Chief William J. Corbett told the News. "We did everything we could."
The aftermath of the riot devolved into finger pointing. Area business owners met with police and the mayor the following week, and publicly blamed them for not having a large enough presence in the area. The police, in turn, blamed the University for not controlling students, and eventually sent Michigan a bill for damage incurred.
The violence following the 1989 title game followed another ugly scene two days earlier. After Michigan's national semifinal win over Illinois, five arrests were made after a crowd threw bottles, tore down street posts and smashed the windshield of an ambulance. The estimated crowd that night was between 2,500 and 3,000, and was cleared out three-and-a-half hours after the game.
Kyle Austin covers sports for AnnArbor.com. He can be reached at kyleaustin@annarbor.com or 734-623-2535. Follow him on Twitter @KAustin_AA.