Posted on
Wed, Feb 22, 2012 : 10:46 a.m.
Athletes to Know: Lincoln's Ed Nuttall and Manchester's McKenna Erkfritz
By Matt Durr
This week's Athletes to Know features Lincoln wrestler Ed Nuttall and Manchester girls basketball player McKenna Erkfritz.
ED NUTTALL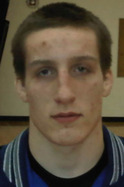 School:
Lincoln.
Grade: Senior.
Sport: Wrestling.
Accomplishment: Defeated defending state champion Logan Marcicki of Detroit Catholic Central to finish third in the 145-pound weight class at the MHSAA Division 1 regional tournament at Saline High School on Saturday. The finish qualified Nuttall for the individual state championships at The Palace of Auburn Hills on March 1-3. Nuttall placed eighth in the state as a junior at 140 pounds and has a 51-3 record so far this season.
What's on his iPod: Rap and hip-hop.
Favorite subject: Physics.
Who he looks up to: Lincoln wrestling coach Mike Betts.
Future plans: Undecided, but plans to continue wrestling in college while studying chemistry.
Favorite movie he's seen recently: Inception.
Coach Mike Betts says: "In the three years I've been here, Eddie has given me everything he's got in practice. He never misses a practice. He's just a hard worker. Whatever college gets him, they're gonna have a fantastic wrestler and a fantastic student."



MCKENNA ERKFRITZ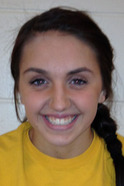 School:
Manchester.
Grade: Junior.
Sport: Basketball.
Accomplishment: Erkfritz is averaging a team-high 16.2 points and 9.2 rebounds for the 17-2 Flying Dutch and has seven double-doubles this season. Manchester is 11-2 in the Cascades Conference and will play for a share of the league title against Grass Lake on Thursday.
What's on her iPod: Country and a wide variety of music.
Favorite subject: English.
Who she looks up to: Enjoys watching the Connecticut, Tennessee, Michigan State and Michigan women's basketball teams.
Future plans: To play basketball in college and study pre-law with a minor in business.
Favorite movie she has seen seen recently: The Vow. "I dragged my friends to go see it," Erkfritz said.
Coach Cori Kastel says: "McKenna is the nucleus of the team. We have the confidence when she is on the floor that we will be alright. She has matured so much over the last two years."
Does your school have an "Athlete to Know" walking the halls? Tell us why by sending nominations to petercunningham@annarbor.com.