Posted on
Tue, Jun 21, 2011 : 5:59 a.m.
Budget shortfalls put more pressure on Eastern Michigan athletic department
By Pete Bigelow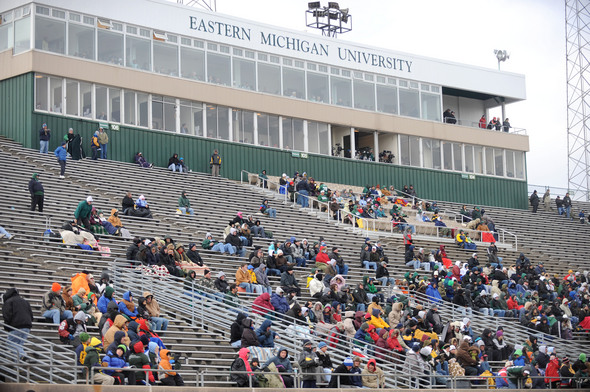 Angela J. Cesere | AnnArbor.com
On the day that Eastern Michigan University fired its basketball coach earlier this year, one of the school's regents, Jim Stapleton, scolded athletic department officials for the decision.
Not necessarily because he thought coach Charles Ramsey had done a stellar job - in six years, Ramsey compiled a 68-118 record. But Stapleton believed the $176,416 it cost to buy out the remaining year of Ramsey's contract was an expense the cash-strapped school could not afford.
The decision showed "a stunning lack of sensitivity to where we find ourselves fiscally as an institution," Stapleton said at the time.
Today, the extent of Eastern Michigan's precarious financial position will be made clear. With an $11.4 million cut in state appropriations looming, regents will vote on the school's annual budget. Combined with a possible $12 million increase in expenses, EMU could face a $23.4 million shortfall.
The vote comes amid contentious labor relations. EMU president Susan Martin anticipates layoffs for as many as 70 employees and recently asked five campus unions to forgo raises to help narrow the budget gap. They rejected that request, in part because union officials say the university should first cut a "heavily subsidized athletic department."
A review of the Eastern Michigan athletic department's finances, using data the school disclosed to the federal government under the Equity in Athletics Data Act and public records requests, showed:
The athletic department reported $19.8 million in revenues in 2009. Of that amount, $14.9 million came from direct institutional support and $1.6 million came from student fees.

That $16.5 million represents 83.4 percent of the school's athletic budget, the highest percentage of direct institutional support any athletic department received among the Mid-American Conference's 13 member institutions.

Athletes make up 2.5 percent of EMU's overall student body, but receive more than 20 percent of the university's financial aid budget. The athletes' share amounts to approximately $6.7 million.

NCAA rules stipulate a school must average 15,000 fans per home football game to remain in Division I. Eastern Michigan, which averaged 6,401 fans per home game in 2010, uses $150,000 from a distribution contract with Pepsi to purchase tickets from itself at a rate of $3 apiece to remain NCAA compliant.
Administrators said athletics will not be spared in the upcoming cuts, some of which will be apparent Tuesday. But new basketball coach Rob Murphy will receive a $210,000 base salary in his five-year contract - a $42,584 increase over Ramsey's annual pay. They also said Eastern Michigan will not cut any of the 21 sports offered, the highest number of varsity programs of any MAC school.
To the school's top officials, the $19.5 million the athletic department annually spends is the cost of doing business. They see Division I athletics and the 21 sports as points of pride, vital cogs for campus life that attracts students and rallying points for alumni throughout Southeast Michigan.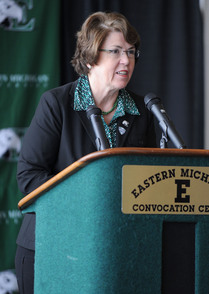 Angela J. Cesere | AnnArbor.com
One day, they believe those costs will pay off, not just in terms of on-field success in the so-called revenue-generating sports of football and men's basketball, but they will reap financial awards from increased enrollment and fund-raising efforts.
"I believe we are on the rise here," Martin said. "I think you're seeing a turnaround in our programs, our legendary greats are coming back to campus to support us, and we're generating excitement and attention for Eastern."
But many members of the faculty, including union leaders, do not see athletic expenses as an investment in the future so much as an albatross on the present. They fear cuts will come first to academic programs, and believe the pursuit of big-time college athletics is a wayward path for a university that's branded itself with the slogan: "Eastern Michigan University: Education First."
"I enjoy the games, but remember, we're at our core an academic institution," said Howard Bunsis, a professor of accounting and a leader of EMU's chapter of the American Association of University Professors. "I don't believe the decisions being made are putting academics first."
Definining expectations

Most athletic departments lose money. In 2008, an NCAA report showed just 25 of the 120 athletic programs that participate in the Football Bowl Subdivision were profitable without aid of institutional support. In 2009, the number of profitable athletic departments sagged to 14 of 120.
Eastern Michigan was not among them.
"I don't think at the mid-major level, we should ever expect to be profitable," said Stapleton, who despite his opposition to Ramsey's firing, counts himself among supporters of a strong Division I-A athletic department. "That's just not reality."
Over the past five years, the athletic department has become further reliant on the university for funding. In 2005, 72.8 percent of its revenue came from direct institutional support. In 2009, institutional support counted for 83.4 percent, the most in the MAC.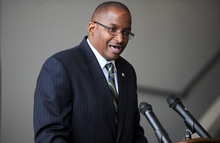 Angela J. Cesere | AnnArbor.com
By comparison, the University of Buffalo ranked second-highest with 75.9 percent of its revenue received from institutional support. Toledo's athletic department ranked lowest in the conference, drawing 46.3 percent of its revenues from university coffers.
In a written response to questions about the institutional support, EMU officials said the percentage is acceptable because they believe in an investment in football and men's basketball, and once those programs become more competitive, that figure will "drop considerably."
"We're trying to do the right things to build successful programs," said athletic director Derrick Gragg.
There's perhaps no bigger example of that commitment - and no bigger symbol of the divisiveness on campus between faculty and administrators - than a $3.9 million indoor practice facility that opened in June 2010.
Gragg says the building puts the football team on competitive footing with its peers, believes it played a role in the successes of the EMU baseball and softball teams this past spring and counts it as bridge for community involvement in Ypsilanti. Faculty leaders said the new facility was unneeded, and were miffed when regents approved its funding amid a round of knotted negotiations.
This spring, when it became apparent that Gov. Rick Snyder would cut EMU's state appropriations by as much as 15 percent, union leader Susan Moeller said the university proposed $5 million in overall personnel cuts and $850,000 in athletic department cuts.
In response, the faculty senate passed a resolution that called for, among other things, a $3 million cut in athletic department spending and the elimination of a $1 million general fund subsidy for the Convocation Center, the venue at which the Eagles' men's and women's basketball teams.
"What's going on here is an athletic program funded by the core academic mission," Bunsis said. "I know their argument is that athletics are part of the fabric of the university, but if you are in tough budgetary times, is it really appropriate to lay people off who have direct contact with students when there's not much support for our athletic department?"
The drive to retain Division I-A status

On Feb. 21, 2006, Gragg's first day as Eastern Michigan's athletic director, he remembers administrators giving him a list of 12 departmental goals. He distinctly remembers No. 6.
"Basically, I was brought on to help fortify Division I-A status," he said.
Five years later, that remains as vexing a challenge as ever. Eastern Michigan's Division I-A status is not in danger, but the NCAA requires its FBS schools to average 15,000 fans per football game, and not fall below that figure more than once per decade.
If not for a distribution contract with Pepsi that bridges the gap between actual attendance and that requirement, Eastern would be nowhere close. In 2009, the football team averaged 5,016 fans per game, according to NCAA data, the worst figure of the 120 FBS schools. The second-worst figure belonged to Florida International, which averaged 10,204 fans per game.
Attendance at Eastern Michigan increased to 6,401 per game during the 2010 season, but that did not translate into a gain in ticket revenues.
On the contrary, after generating $292,606 in department-wide ticket sales in 2008-09, the figure plunged to $133,664 in 2009-10. Both years, the ticket sales were the lowest in the conference. Kent State generated the second-lowest amount of ticket sales: $407,000 in 2008-2009, and $594,000 in 2009-10.
"We should be generating more revenue than we are," Martin said.
In terms of football attendance, the saving grace is the Pepsi contract. As part of a $2.3 million distribution contract, the university directs Pepsi to spend $150,000 per year to purchase football tickets. NCAA rules stipulate that such arrangements count toward attendance requirements, so long as the tickets are billed at a rate of one-third the cost of the highest-priced ticket.
At Eastern Michigan, the most expensive tickets are $9 a piece, so Pepsi's contract purchases 50,000 tickets at $3 per ticket, according to Mike Malach, EMU's associate athletic director.
Three other sponsorship agreements on smaller scales account for more ticket sales, Malach said. Together, the agreements added 55,000 tickets sold to the 2010 totals, jumping Eastern's average from 6,401 fans per game to 17,492 - compliant, by NCAA standards.
"I think it's pretty unique to have a soda company buying tickets for sporting events," Bunsis said. "It's a clear diversion of money that would otherwise go right to the core mission of the university."
EMU officials say the Pepsi contract's athletic clause helps preserve the desired distinction of Division I sports, and officials note the tickets are distributed to high schools and other organizations that bring a "positive community ripple effect," they wrote. Still, they would like to see actual attendance and ticket revenues increase.
There's one big obstacle: interest in the football program.
The football team has never finished a season ranked in a major poll. In the early 1980s, the school suffered a 27-game losing streak. The Eagles haven't been to a bowl game since 1987, when they defeated San Jose State in the California Bowl. In the past two years, they have gone 2-20 under coach Ron English.
"What we need to do is get football right," Stapleton said. "When we do, I think a lot of the discussion and debate about what we've done things this way will go away."
The football effect
With one week remaining in the 2008 football season, Eastern Michigan fired football coach Jeff Genyk. In his five years, the team never won more than four games and never finished higher than third in the MAC's West Division. The search for his replacement was widely viewed as a chance for the Eagles to land a big-name coach who would lend credibility to the school's push for a more prominent athletic program.
"We needed to hire a top-flight coach who could attract recruits and has the experience and expertise to build a program," school officials wrote in a thorough, five-page written response. "This is the first time in history that EMU has properly invested in football to enable the program to succeed."
In 2006, the football team's operating expenses were $3,994,482. Genyk's base salary at the end of his tenure in 2008 was just more than $180,000. English, a former defensive coordinator at Louisville and Michigan, received $275,000 during the first year of his contract, and despite an 0-11 record his first year and a 2-9 mark his second, he received a $28,350 raise on Jan. 1, 2011 that had been built into his contract.
As a whole, the university spent $5,037,556 on the football team in fiscal year 2009-10, according to the EADA data. Entering the third year of English's tenure EMU officials believe they are about to start reaping benefits of their investment.
"We believe football will start to show the investment this year in the five-year plan," Stapleton said. "And that's knowing it wasn't going to be a quick fix. We're confident that enrollment, and the things that come with it, will follow. Meanwhile, our other sports are doing well, We're proud of that, and believe athletics makes Eastern a big-time school."
They see future rewards as part of what's been called the "football effect," although it applies to men's basketball success as well. The crux of their belief is that on-field success translates into fiscal gains across the university, in areas ranging from ticket sales, enrollment figures and alumni donations.
After a Cinderella run to the NCAA Final Four in 2006, freshman applications at George Mason University increased 22 percent. At tiny Butler University in Indiana, transfer applications rose 61 percent following the school's first NCAA finals appearance in 2010, according to school officials.
In April, a study published in the Journal of Sports Economics found that the size of the freshmen classes at eight California state universities increased 0.051 percent per each football victory in the previous year.
Numerous other studies on the effect of football and men's basketball reach contradictory findings, concluding the impact is small and short-lived. At Eastern Michigan, critics would say either way, the conclusions are irrelevant.
Over the past decade, EMU's overall enrollment has largely stayed the same. In 2000, the combined undergraduate and graduate enrollment was 23,561. In 2010, it was 23,503.
As the football team's win total fluctuated from two victories in 2008 to zero in 2009 and two in 2010, the university's enrollment figures inched upward, from 21,926 in '08 to 22,859 in '09 to 2010's total of 23,503.
"Our football team rarely wins and enrollment has been going up," Moeller said. "Our students don't really come here for the sports teams. … I think they come here for Eastern's reputation, our programs and our faculty."
Athletics part of an ongoing debate

Squabbling over expenditures beyond the core academic mission are one of the focus of the current debate heading into Tuesday's regents meeting. Pull the lens back, and there's a broader battle being waged.
The questions are: Why do students currently choose to attend Eastern Michigan? Why will they choose the school in the future? What makes Eastern Michigan an attractive option?
Critics say athletics are a small or nonexistent portion of the decision-making process, especially for prospective Eastern students. Of the school's 23,503 students, 12,762 are undergraduate students. About 4,000 live in on-campus dorms.
"A lot of our students are older and non-traditional, and a third of our students are transfers," Moeller said. "They are not looking for the traditional four-year college experience."
She continued. "This is a commuter university, and most students live around here. They never go to the football games. There's no correlation between winning and enrollment, so I really don't understand that investment there."
A commuter university. It's a stigma that Eastern Michigan administrators would like to move beyond. Athletics is one way they'd like to enhance the community on campus.
"It's about creating an environment that people view as positive, and we're working on so many different levels to do that," said Walter Kraft, EMU's vice president of communications.
Should the fiscal downturn dim that ambition?
"The faculty is entitled to ask those tough questions and know exactly where every dollar is spent and why," Stapleton said. "I want them to know we are serious about hearing their input and our commitment to listening is genuine.
"But this board is committed to Division I athletics, and at the end of the day, how we manage those concerns is at the discretion of the president and board."
Pete Bigelow recently left AnnArbor.com to work at Changing Gears. He can be reached at pbiggs21@gmail.com and followed on Twitter @PeterCBigelow.
Former staff reporter David Jesse did some of the original reporting on this article.