Posted on
Tue, Jan 5, 2010 : 8:15 p.m.
New Michigan athletic director David Brandon: 'I'm more than a pizza man'
By Dave Birkett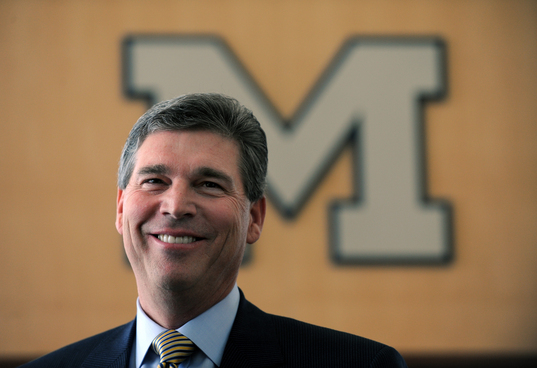 Lon Horwedel | AnnArbor.com
• Join AnnArbor.com's live chat about David Brandon's appointment at noon.
There weren't many jobs that could convince David Brandon to leave his job as CEO of Domino's Pizza. The athletic director post at Michigan was one of them.
Brandon was introduced as the next Michigan athletic director, pending approval by the university's board of Regents later this month, in a teleconference Tuesday morning.
The 57-year-old, a former Michigan football player and university regent, has agreed to a 5-year contract with a base salary of $525,000. He also has deferred compensation of $100,000 per year and can earn additional pay based on meeting financial, fundraising and other performance-based incentives. Martin's base salary is $380,000.
For Brandon, the base salary is an 82 percent pay cut. He received a total compensation of $3.228 million at Dominoes in 2008.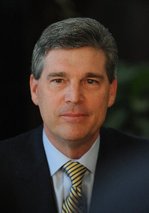 Lon Horwedel | AnnArbor.com
Brandon will take over for Bill Martin on March 8. Martin, who announced his retirement in October, will remain in an advisory role until September.
"I'm more than a pizza man," said Brandon, who's been a CEO at various companies for the past 22 years. "Although I have not lived a career in athletics specifically as others may have, I believe I bring a unique set of qualifications, interests and experiences to this job.
"And more importantly than me believing it, Mary Sue Coleman believed that because ultimately she had some very terrific people to choose from ... and I'm fortunate and appreciative of the fact that she chose me."
Brandon said Coleman approached him shortly after Martin's retirement and asked if he'd be interested in becoming Michigan's 11th athletic director.
He then submitted a letter of interest to executive search firm Spencer Stuart, which Coleman hired to assist in the search, and sat down one Saturday in December with Coleman and Michigan's internal athletic director advisory committee. Jed Hughes, an assistant coach under Bo Schembechler when Brandon played for Michigan in the mid-1970s, is the chief headhunter for Spencer Stuart.
Brandon, who served 8 years as a regent, said playing under Schembechler taught him leadership qualities he'll use in his new role.
"I tell people I got 2 degrees from the University of Michigan and the second one was from the Bo Schembechler school of leadership," Brandon said. "One of the big advantages of not playing very much when you're a student-athlete here is you can observe and learn a lot, and I really learned a lot from Bo in terms of the way he selected talent."
Coleman, who has repeatedly declined interview requests in recent weeks, released a statement praising Brandon's "leadership skills, business acumen, long-term involvement with the university and personal knowledge of the challenges and rewards of being a student athlete."
"David Brandon is an ideal candidate for athletic director," the statement said. "I am confident that he will carry on the tradition of excellence in U-M athletics as we enter a new era."
Regent Olivia Maynard said the hire was Coleman's decision alone.
"We were not part of the process because it really was Mary Sue's decision," said Maynard, who was "delighted" at the choice. "There were just a few (candidates) and each one was interviewed and talked with in-depth and ultimately the president made the decision."
Miami of Ohio athletic director Brad Bates, Oregon State AD Bob DeCarolis and Buffalo AD Warde Manuel, all of whom have ties to Michigan, also were candidates for the job.
A political heavyweight who once was considered a candidate for governor, Brandon inherits an athletic department on solid footing financially and with mostly modernized facilities, but one facing questions about its storied football program and biggest revenue generator.
Michigan, coming off its first back-to-back losing seasons since 1962-63, is currently under investigation for possible rules violations concerning in- and out-of-season practice time. The NCAA was expected to conclude its investigation by Dec. 31, and an announcement of official findings should be forthcoming.
Brandon said Tuesday he expects to be briefed on where the investigation stands, and doesn't "mind being plopped in the middle of things."
"As it relates to the investigation, we're going to do what Michigan always does, we're going to do the right thing," he said. "And if we've made some mistakes we'll correct them. But let's just wait and see how the investigation pans out, and I don't live in fear of that. We'll deal with it as we need to."
Brandon said he doesn't know Michigan football coach Rich Rodriguez well - the 2 have had dinner several times and spent time together socially - but he admitted to having some concern about state of the program. Rodriguez, 8-16 in 2 years as Michigan coach, saw fan support waver after last year's 5-7 season.
"I'm as concerned, as everybody is, knowing that we're a program that likes and needs to win," Brandon said. "We sing about being the champion, the leaders and the best. And that's what we want to be. And nobody wants to be that more than Rich Rodriguez. I don't need to know him better than I know him today to know that nobody wants to win more than Rich Rodriguez and his staff and all the people that are part of that program."
Former Michigan Regent Daniel Horning, who served on the board for years with Brandon, said he was a "solid choice," given his track record as a business leader, "phenomenal" fundraising ability, love of sports and history of philanthropy.
"More than anything, when Dave was on the board, I think he was a true listener," Horning said. "He was not quick to pass judgment. He was very thorough."
Martin said Brandon also will help elevate Michigan's already strong brand.
"One thing that I think Dave will concentrate on is he has great marketing skills and from a business perspective I think he can move us forward in the entire marketing area," Martin said. "One of the things that I want him to concentrate on, too, is I think we have to win more. That's a part of our tradition, and it's not only football and basketball, but it's all 25 of our sports.
"I want Dave personally to see to it that we win more national championships."
As Domino's CEO, Brandon led the Ann Arbor-based company to unprecedented success. The chain added 2,600 stores under his watch - there are about 8,800 Domino's chains worldwide - doubled its market capitalization to $2 billion and oversaw the pizzamakers rise from private to public company.
As a university regent, he donated $4 million to help build a new Mott's Children Hospital and supported the renovation of Michigan Stadium.
J. Patrick Doyle, president of Domino's USA, will succeed Brandon as CEO.
• Listen to the audio of the conference call, courtesy of WDET radio in Detroit.
Dave Birkett covers University of Michigan football for AnnArbor.com. He can be reached by phone at 734-623-2552 or by e-mail at davidbirkett@annarbor.com. Follow him on Twitter @davebirkett.
Michael Rothstein, Lee Higgins and Nathan Bomey contributed to this article