Posted on
Thu, Feb 7, 2013 : 2:14 p.m.
Eastern Michigan women's basketball team traveling to Connecticut to help Sandy Hook tragedy victims
By Pete Cunningham
The Eastern Michigan women's basketball team will pack up for a road trip following its game with Ohio University at the Convocation Center on Saturday. The Eagles don't have a game for another week, but their goal for the weekend won't be about picking up a win.
Instead, the Eagles will be helping the people of Newtown, Conn. deal with loss.
After Saturday's game, the team will fly to Newtown - the home of Sandy Hook Elementary School, where 20 students and six adult staff members were shot and killed by Adam Lanza on December 14 - to host a basketball clinic and youth carnival for the grief stricken community.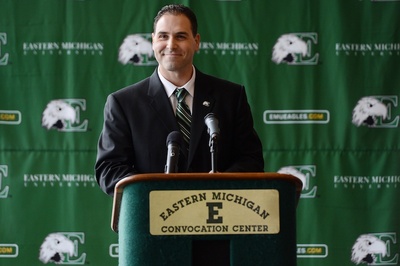 Melanie Maxwell | AnnArbor.com file photo
Eastern is teaming with the Newtown Youth Basketball Association to put on the free, four-hour long event on Sunday for K-8 students called "Smiles & Basketball." In addition to a basketball clinic there will be a carnival area with games, arts and crafts, face painting, a balloonist and clowns, plus food and prizes.
First-year Eastern Michigan coach Tory Verdi came up with the idea shortly after the tragedy. Verdi was born and raised in Connecticut and started his coaching career as a high school coach in Southbury, Conn., less than 10 miles away from Newtown.
"I just remember first hearing about it and my immediate reaction was sadness and then thinking we're going to do something to help," Verdi said. "I used to coach right next door. Me and my wife, we do know families that were affected.
"I said we're going to do something. I didn't know what it was, but I wanted to do more than just a clinic," Verdi said. "That's how the idea of the carnival atmosphere came about. Something that's fun, something that can give these families and these kids a smile on their face."
However good his intentions, the reality is that because of the timing of the tragedy, Verdi's efforts were made more difficult because Eastern's season was in full swing.
Verdi admitted making "Smiles & Basketball" happen wasn't easy, but it was something he was determined to do in the immediate.
"I wanted to do it now because as a coach I think it's important to help grow the students as people and I feel like we have an obligation as role models," Verdi said. "As a head coach of a college team, I'm in a position where I can help and I wanted to take advantage of that."
Eastern's administration has been supportive of the Verdi's efforts, covering the cost of the trip with general fund dollars, which Verdi estimated to be between $20,000 and $25,000. Eastern is soliciting donations to cover the cost of the trip.
"I'm so proud of our administration because it's a huge financial obligation," Verdi said. "They've been nothing but supportive and the donations are rolling in every day."
"One of the main expectations of our student-athletes, coaches and staff is involvement in the greater society and giving back, especially to the children," Eastern athletic director Derrick Gragg said in a release. "We are hoping that this will be an event that everyone will always remember and cherish."
"Eastern is known for community engagement, and for its students volunteering thousands of hours to help improve the lives of others. I am so proud of our women's basketball team for taking the time during the peak of their season to show their love for the children in Newtown by hosting them in a day of fun and basketball," said EMU president Susan Martin in a release.
Because the trip will be an official team activity there are some hoops the team will have to jump through during the trip. The trip will count toward the team's practice hours for the week and NCAA rules will apply.
"It will be considered a day of practice, so we can't be on the court for more than three hours at a time, things like that," Verdi said.
"Newtown Youth Basketball was thrilled to learn that Coach Verdi and the women's Eagles basketball team wanted to come to Newtown," said David Hamula, vice president of the Newtown Youth Basketball Association in a release. "Having the team take time from defending their MAC title to come to our town to spend time with the kids - sharing their time, running some skills drills and just being with the kids says a lot about Coach Verdi, the women and the school as a whole.
"We are excited for the event and look forward to seeing the kids interacting with the players!"
Pete Cunningham covers sports for AnnArbor.com. He can be reached at petercunningham@annarbor.com. Follow him on Twitter @petcunningham.