Posted on
Sat, Mar 24, 2012 : 11:09 a.m.
22 in a row: Former and current Michigan hockey players share memories from NCAA tournament streak
By Pete Cunningham
GREEN BAY, Wisc. -- The Michigan hockey team's record-extending 22nd consecutive NCAA tournament appearance was a quick one.
The Wolverines fell, 3-2, to Cornell in a first-round game Friday night at the Resch Center.
Every year of the streak has been unique, from national championships in 1996 and 1998 to an unlikely run to the regional final in 2009, when it looked like the streak would end.
Former Michigan players were asked to share their most memorable moments from each year of the streak.
For fifth-year goaltender Shawn Hunwick, Friday's loss was minutes old. For others, losses still burn as if they were minutes old while others couldn't remember who they were playing.

1991
Michigan made the first tournament appearance of coach Red Berenson's career in his seventh year at the helm and the first for the program since 1977. Michigan defeated Cornell in 2-1 in a best-of-three series in the first round before bowing out in the quarterfinals to Boston University.
"The series (at Yost Ice Arena vs. Cornell) was big. I think it was a big turning point, the first time in the NCAAs for Michigan in a quite a while. Then going out to Boston and not doing well, that sort of left a sour taste in my mouth to kind of understand that that's where we wanted to be and how hard we had to work to get back there."
-- Brian Wiseman, then a freshman forward, now a Michigan assistant coach

1992
Michigan was in back-to-back tournaments for the first time since the 1956-1957 seasons and advanced to the Frozen Four for the first time since finishing as runner-up in 1977. The Wolverines lost to Wisconsin in the semifinal round.
"We had a heck of a team that year and it was good to get there, but (losing to Wisconsin) left a pretty bitter taste, it stung. Because we felt we were better and we necessarily didn't play (our best). It stung because we knew we were better and we could have showed better."
-- Brian Wiseman

1993
Michigan made it to its second consecutive Frozen Four, the first time that had happened since 1956-57. The Wolverines lost to eventual national champion Maine, 3-2 in overtime in a semifinal. Maine was led by freshman Hobey Baker winner Paul Kariya, who would go on to star in the NHL for 15 years.
"We lost to a hell of a team. ... We were a strong, strong team, but we ran into a team that was, they were as good a college team as there might have been out there at the time. We laid it on the line. ... (the game-tying goal) was a faceoff goal, I remember I got kicked out of the faceoff circle and they slipped it through, backdoor play. ... They were a great college hockey team…
-- Brian Wiseman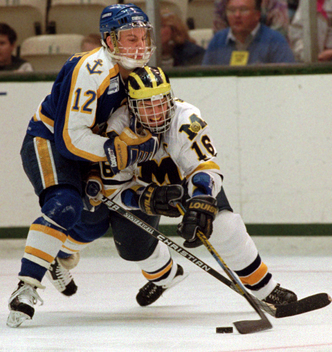 Associated Press
1994
Michigan was the top seed in its regional, which at the time meant a first-round bye. The Wolverines lost 5-4 in overtime in the regional final to eventual national champion Lake Superior State, a team they had beat all four times they met during the regular season.
"That one probably stings the most. It was at Michigan State…We beat them I think maybe five straight times in the regular season. We dominated them and they got a bounce in overtime…I will say we laid it on the line, though. We were exhausted at the end, we gave it all, so I have no regrets about that…Maybe the best team didn't win that game and I think that's a fair thing to say…They went on to win in the finals, eight or nine to one, so that one, it grinds me still too deep right now."
-- Brian Wiseman

1995
Michigan made it back to the Frozen Four, the first of four straight appearances, and lost to Maine, 4-3 in triple overtime of a semifinal. Maine would lose to Boston University in the final.
"Triple overtime, losing to Maine, (I remember) how tired I was after. Just how disappointing it was. The game could've gone either way, but that was kind of like, wow."
-- Bill Muckalt, then a freshman forward, now a Michigan Tech assistant coach

1996
Michigan made it to the Frozen Four for the fourth time in five years and finally came away with the grand prize, defeating Colorado College, 3-2, in overtime to claim the school's first national championship since 1964.
"I remember us going up to Lake (Superior) State (during the regular season) and us getting swept by them and it wasn't a very pleasant ride home. It was kind of basically the turnaround of our season."
-- Bill Muckalt

1997
The top-ranked team in the country for most of the year, Michigan made it back to the Frozen Four, but its bid for the school's first back-to-back national championship since 1955-56 ended with a 3-2 semifinal loss to Boston University.
"Ninety-seven was probably the most disappointing year because I think without question we were the most talented team in college hockey. I think that would be a unanimous decision as far as talent. I don't think anyone could have beat us in a five- or seven-game series, there's no question about that. ... We played hard against Boston University and they beat us, 3-2. We knocked them out the year before and they returned the favor."
-- Bill Muckalt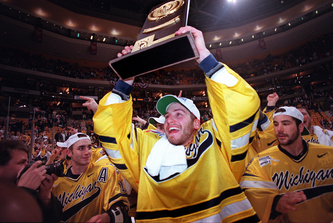 AnnArbor.com file photo
1998
Michigan was back in the Frozen Four, making it a perfect four-for-four for the senior class, and won another national championship with a 3-2 overtime win against Boston College. Berenson said he thought BC was the better team, but that All-America senior goaltender Marty Turco could make up the difference. "I'll never forget going into overtime against Boston College," Berenson said. "That night they were the better team, we're playing in Boston, 17 of 18,000 fans are cheering for Boston College, and everybody in our locker room is there and I said, 'Don't worry, we've got Turco. Just play, he'll give you a chance.'"
"We were right on the bubble to get in the tournament and we got in the tournament and just kept finding ways to win hockey games. ... Maybe Boston College looked better on paper, but I liked our best three players better than their top three players. I'd take Marty Turco and Matty Herr over their top two and obviously I believe in myself. ... Nothing against (Boston College goalie) Scott Clemmensen, I'll take Marty Turco every day and twice on Sunday."
-- Bill Muckalt

1999
Michigan came back from a three-goal deficit in an opening-round win over Denver, scoring five unanswered in a 5-3 win. The Wolverines' Frozen Four streak was snapped the next night in a 2-1 overtime loss to New Hampshire in the regional final. New Hampshire was led by future Red Wings goaltender Ty Conklin.
"I remember us being down to Denver and getting crushed. Coach called a timeout and then we came in after the timeout, played like crazy and ended up winning that game. Just the excitement, being a freshman it's such a big feeling. ... It was nothing like I'd ever felt before."
-- Josh Blackburn, then a freshman starting goaltender,
now a volunteer goaltending coach for Michigan.

2000
Michigan won its opening round game, but was denied a Frozen Four berth with a 4-3 overtime loss to defending national champion Maine in the regional final.
"I block these things out. I remember my freshman year, I remember playing well. I don't even remember who we lost to (sophomore year). Maine, maybe? Sophomore year, I don't remember."
-- Josh Blackburn

2001
Michigan made it back to the Frozen Four after beating St. Cloud State in its regional final. The Wolverines would lose in the semifinals to eventual national champion Boston College.
"I remember it just being another step. ... It's a lot more fun when you're at the Frozen Four because a lot of the times when you're at regionals you're like 'is this going to be in the regional papers?' There's nobody at regionals. Whenever we went, there was nobody ever there, but when you go to the Frozen Four, it's packed and there's hype all over the place."
-- Josh Blackburn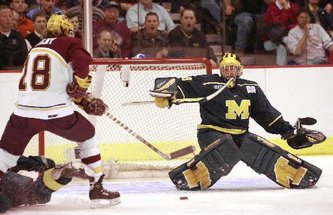 Associated Press
2002
Another back-to-back Frozen Four appearance and eighth trip in 11 years. Michigan lost 3-2 to eventual national champion Minnesota in the semifinals.
"Playing Minnesota, that was probably one of the better games I've probably ever played in my life. We didn't win, but I always felt good because I played well. All these NCAAs, whether we made it to the Frozen Four or didn't, I was always happy that I played well because I was scared for it to be my fault that we'd lose. In each game I could always know that I stepped up and played well for the game and that's a good feeling looking back. I don't have to leave and be like 'I wish I had that goal back.' I played pretty well and that feels good looking back. We didn't win, but it was a positive experience."
-- Josh Blackburn

2003
Michigan advanced to its third straight Frozen Four and fell 3-2 in overtime in the semifinal round to eventual champion Minnesota, which beat New Hampshire 5-1 in the championship game.
"My freshman year we ended up getting to host a regional at Yost, which is probably one of the coolest things I got to experience at Michigan. ... You always played in those games at Yost Ice Arena where they've been exciting, atmosphere's unbelievable…but that second game, it doesn't get any better. The building was rocking and, I mean, it was neck and neck (against Colorado College, Michigan won 5-3). ... We ended up having a little heartbreak there, we lost in the semifinals in overtime to Minnesota, who ended up winning the whole thing, but that first year was unbelievable."
-- Al Montoya, then a freshman starting goaltender, now plays for New York Islanders.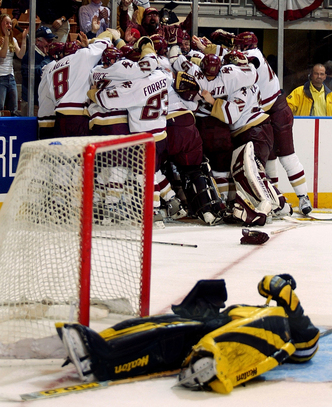 Associated Press
2004
Michigan fell one game short of its fourth consecutive Frozen Four, losing to Boston College 3-2 in overtime of the Northeast Regional.
"We lost to Boston College in New Hampshire, the game before the Frozen Four, but it was awesome. I remember I had one of my better games. ... BC was the team to beat that year, I'm not sure if they won the whole thing but they were flying, they were buzzing. They had a great squad. ... After the loss the year before, we came together and built up our depth. We thought that was our year."
-- Al Montoya

2005
Up 3-0 on Colorado College in the second period of the Midwest Regional final in Grand Rapids, the Wolverines would eventually fall, 4-3.
"I felt like I could have done more in that game (against Colorado College), but at the same time it was exciting. Every year we had a chance. Every year we felt like we could win it, it just comes down to one game, one last chance, and I don't know it just wasn't right for us."
-- Al Montoya

2006
For the first time in its tournament streak, Michigan did not win a game in tournament play. The Wolverines lost 5-1 to North Dakota in Grand Forks.
"It was a tough matchup. It was fun to play in their building, beautiful arena, but they had a good team and I think they beat us pretty good that year."
-- Matt Hunwick, then a junior defenseman, now plays for the Colorado Avalanche.

2007
Michigan once again had a first-round matchup with North Dakota and once again fell to the Fighting Sioux, this time 8-5 at the Pepsi Center in Denver. The loss made that year's seniors the first class since 1990 not to go to a single Frozen Four.
"We actually got to play here in Denver, great experience. I think we played really well, actually, you know just couldn't keep the puck out of the net. It's one of those things it's tough to go out your senior year losing in the first round. ... We always expected to get there. Just getting there wasn't good enough I don't think for any person on the team."
-- Matt Hunwick

2008
Top-ranked Michigan defeated Clarkson 2-0 in a regional final to advance to the Frozen Four, where it would lose to Notre Dame. The Wolverines had to withstand a 6-on-3 attack in the final minutes of the regional final after then-freshman Carl Hagelin and sophomore defenseman Steve Kampfer were called for penalties just 55 seconds apart and Clarkson pulled its goalie.
"I'd say the quarterfinals (stick out the most). I think we won 2-0 or 2-1, I remember our goalie (Billy Sauer) had like a five-save sequence in the last 10 seconds. He saved five shots, good ones, all on his back in the third. And I just remember how everyone -- it was almost like we won the whole thing -- we all just piled on top of him."
-- Carl Hagelin, then a freshman forward, now a rookie for the New York Rangers.

2009
Coming off of a strong regular season, the third-ranked and top-seeded Wolverines lost their opening-round game to Air Force, 2-0. It was the first time in 71 NCAA tournament games that the Wolverines were shut out, and they haven't been since.
"We were expected to go pretty far our freshman year. We didn't force the Air Force. We outshot them 57 to 20 I think or somewhere around there and I mean it's one goal in the game, and that makes your season."
-- Greg Pateryn, then a freshman defender, now a senior and alternate captain.

2010
It looked like the streak was over. Michigan finished in seventh place in the CCHA, and needed to win the conference tournament to secure an NCAA bid. And it needed to do so with a guy in net no one had ever heard of, Shawn Hunwick. A 5-foot-7 former walk-on who had one career start under his belt entering the postseason, Hunwick was in net as Michigan won six straight to win the CCHA tournament and earn the conference's automatic bid. Michigan would fall one game short of a Frozen Four berth, losing a 3-2, double-overtime game against Miami.
"We always knew Hunny was really good, just from practice and the games that he could get into, but it's just a great story. Your starting goalie goes down, Shawn goes in, he's the little guy taking up that big net and he's stood on his head ever since and he's played well. We knew that he was great goalie, but we didn't think that he would come this far for us."
-- Chris Brown then a freshman forward, now a junior.

2011
Michigan defeated top-seeded North Dakota 2-0 in the first game of the Frozen Four and advanced to the championship game, where it fell to Minnesota-Duluth 3-2 in overtime. Nothing came easy for the Wolverines with three of its four tournament games decided by one goal and two going into overtime.
"I remember going down two-nothing in that first game against (Nebraska-Omaha) in the first period, I think it was, and just that feeling of knowing that your season can be over right then. Down two goals, luckily we bounced back and won that game. I think when we won that game we just knew how precious each goal was, how each game we walked into, in a single game elimination, our season could be over just like that. One mistake here or there."
-- Jon Merrill then a freshman defenseman, now a sophomore.

2012
The top seed in the Midwest Regional and No. 2 overall in the NCAA tournament, the Wolverines bowed out in the first round for just the fourth time in the 22-year streak.
"You never want to give up a goal to end the season, to end your career, and it's happened the past three seasons with overtime, so it's disheartening that we couldn't get this win. But I think the rest of my life I'll look back at my experience at Michigan and be very proud."
-- Shawn Hunwick, senior goaltender.
-- Pat Leonard of the New York Daily News contributed to this story.
Contact Pete Cunningham at petercunningham@annarbor.com or by phone at 734-623-2561. Follow him on Twitter @petcunningham.