Posted on
Fri, Mar 2, 2012 : 11:26 p.m.
Drew Barnes falls in wrestling semifinals and more notes from Day 2 at The Palace
By Pete Cunningham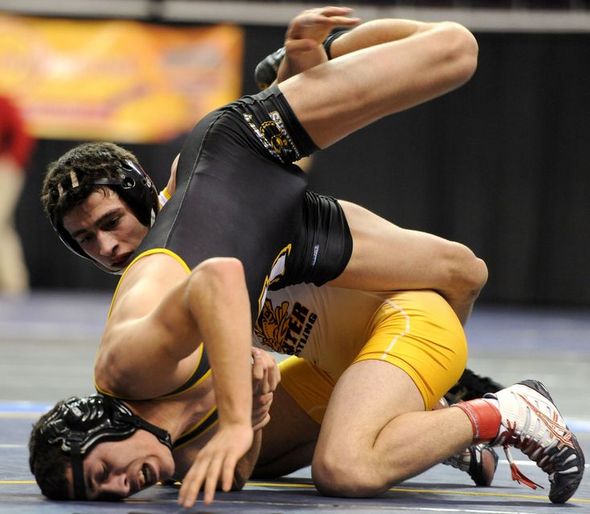 Angela J. Cesere | AnnArbor.com
AUBURN HILLS - There will be no wrestling state champion from Washtenaw County this year.
For the first time since 2004, there won't even be a finalist.
Dexter High School senior Drew Barnes lost by way of technical fall to St. Johns senior Jordan Wohlfert in the Division 2 semifinals at 160 pounds on Friday night.
Wohlfert will vie for his second straight state title on Saturday. He was one of nine St. Johns wrestlers to advance to the finals.
More coverage: Mid-day results |Photo Gallery | Statewide coverage at MLive.com
Barnes was the only wrestler in the area to make the semifinals, but he was no match for Wohlfert. Up by 12 points early in the second period, Wohlfert went for a near-fall to end the match. Barnes was able to escape and scored a takedown before the third.
It only delayed the inevitable, though, as Wohlfert put on a takedown clinic in the third before winning 29-12, ending the match with nine seconds remaining.
"(Barnes) kept wrestling, looking for opportunities to put himself back in the match, but that kid was really tough on his feet," Dexter coach Greg Wagner said. "He battled back, tried to climb himself back in the match but it's pretty hard once you dig a hole for yourself against a wrestler like that."
With Barnes falling one match short of the final, Saturday will be the first time since 2004 that Washtenaw County will not been represented in a championship match at the MHSAA individual state wrestling finals. The county has had 15 finalists and six champions during that stretch.
Twelve of those finalists and five of the champions have been from Manchester, which won't be represented in a Division 4 championship match for the first time since 2009 and just the second time in nine years.
Angela J.Cesere | AnnArbor.com
Austin Hamilton (215 pounds) will be the Flying Duthmen's lone all-state finisher -- also a first since 2004 -- as his teammates Tom Conway (130), Eric Covall (135) and Cody Render (171) each fell one win shy of a top-eight finish on Friday.
"We kind of thought it might be this way after seeing the draws. We had a tough day at regionals and it put us in a tough spot," said Manchester coach Steve Vlcek. "Still you hate to see it end this way for these seniors. That's what you hate as a coach."

High risk, high reward
Lincoln's Logan Markey was up 4-2 heading into the third period of both of his matches on Friday. He won his first match, 11-2, and his second, 11-5, outscoring opponents 14-3 combined in the final periods.
Markey didn't do so by sitting back and countering. While the tendency for many is to protect a third period lead, Markey was the aggressor. He rolled through a headlock across his own shoulders in one instance and rolled under his opponent -- again going to his own back -- to throw a far-side cradle in the other.
"I don't think about (protecting the lead) I just go for it," Markey said.
Just a second year wrestler, Markey, a sophomore, hasn't learned to be afraid. Lincoln coach Mike Betts hopes he never does.
"It just comes natural to him, and he feels it and he doesn't feel any threat from anything," Betts said. "He's not afraid to do it."

Making weight
After winning their blood round matches on Friday, Milan's Chris Gaskill and Chelsea's Mike Hovater didn't have time to celebrate their last-second, come-from-behind victories.
With the tournament starting at 189 pounds, Gaskill (160) and Hovater (171) wrestled in the second-to-last and last weight classes, respectively. With weigh-ins for the medal rounds closing 10 minutes after the last match at 171, they had less time to make weight and each had a some pounds to shed.
This type of weight management is not uncommon in the sport, which is why myNutratek is making an effort to be a visible presence as a sponsor at the state finals.
MyNutratek is a company based in Brighton whose stated goal is to help students better monitor their nutrition.
So what better event to be at the wrestling state finals, said founder Timothy Codd, who has been taking in all the action of the state tournament. According to Codd, myNutratek is trying to work with school districts to get worked into the curriculum in health classes.
Check AnnArbor.com for regular updates from all three days of the tournament.
Contact Pete Cunningham at petercunningham@annarbor.com or by phone at 734-623-2561. Follow him on Twitter @petcunningham.