Posted on
Thu, Feb 28, 2013 : 11:07 p.m.
Huron falls to Temperance Bedford to end four-year SEC Red title streak
By Kyle Austin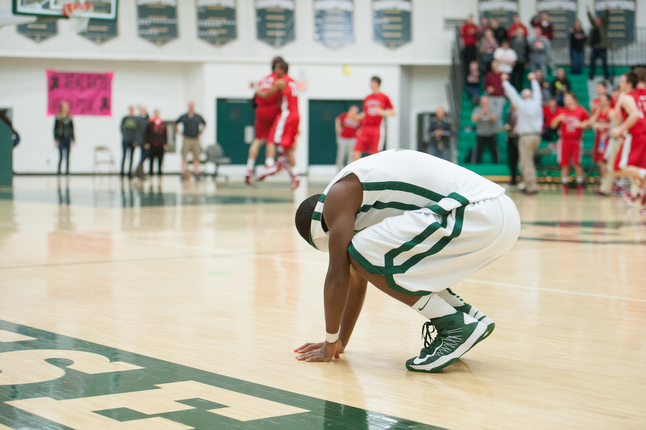 Courtney Sacco | AnnArbor.com
With a bounce off the back of the iron and a last-second swat, the Huron High School boys basketball team's four-year run as Southeastern Conference Red Division boys basketball champions came to a close.
The River Rats' Nasheed Bass sent a 3-pointer just off the mark and Temperance Bedford's Jackson Lamb recorded a block on the follow-up try as time expired and Bedford took a 53-50 win Thursday night.
More Coverage: Boxscore | Photo Gallery | Thursday basketball roundup
The win gives Bedford SEC Red title outright at 11-1 in league play, the first league title in the 67-year history of its boys basketball program. Bedford joined the SEC before the 2000-2001 school year
Huron entered the game with a chance at a share of the league championship if it could win, but left with a third-place finish, at 9-3. Pioneer finished in second at 10-2.
"We play for championships," Huron coach Waleed Samaha said. "And when we don't win them, we're disappointed."
The River Rats entered the fourth quarter of a see-saw game up by four, and scored on their first two possessions to leady by nine.
Bedford answered with nine straight points to tie the game at 47-47 with four minutes, four seconds left in the game.
Huron's Antonio Henry hit a 3-pointer on his team's next possession to regain the lead. But Huron was held off the scoreboard for the rest of the game as Bedford finished with a six-point run.
On its last six possessions after Henry's basket, Huron turned the ball over twice and had four shots blocked, two by Lamb.
Courtney Sacco | AnnArbor.com
"We had our moments when we were pretty good tonight, but against teams like that and when the stakes are this high, you can't be lucky, you have to be good," Samaha said. "And if we're being honest, we just weren't good enough tonight."
Yet after Bass recorded a steal with 30 seconds left and Bedford used its three fouls to give, Huron found itself inbounding the ball down by three with five seconds left.
The River Rats' sideline play created an open 3 for Bass, but the ball sailed just long.
"It's a shot he's hit before," Samaha said.
Sophomore Xavier Cochran led Huron with 14 points, while Ernest Johnson had nine.
Lamb, the All-State forward committed to play baseball at Michigan, finished with 32 points, including 20 in the first half. He added eight rebounds and four blocks.
"You can't stop him, he's unstoppable," Samaha said. "One of the best high school basketball players I've seen in quite some time.
"He's a special athlete, he's a once-in-a-lifetime player and Bedford's just lucky to have a kid like that there."
Starting the game with a tenacious press defense, Huron forced nine Bedford turnovers in the first quarter and jumped out to a 15-7 lead.
The Kicking Mules (15-3), though, regrouped to cut the deficit to one at the end of the first quarter, and took a four-point lead into halftime.
The River Rats (13-6) played their best quarter in the third, taking an 18-8 advantage, before grabbing its largest lead of the game early in the fourth. From there, though, it was almost all Bedford.
"We could have folded, instead they regrouped and answered the bell," Bedford coach Nick Lowe said.
Of Huron's five second-half turnovers, three were because of charging calls on hard takes to the hoop.
"Those were buckets taken away and fouls added toward the bonus," Samaha said. "Not that they were bad calls, but they hurt us."
For Lowe, clinching his school's first league title at Huron -- the league's standard in recent years -- was fitting.
"It's a great game, two good teams," Lowe said. "I have the utmost respect for Waleed and what Ann Arbor Huron's done. Let's face it, you come in here and look at their banner and all the league championships they have, that's what we aspire to be."
Kyle Austin covers sports for AnnArbor.com. He can be reached at kyleaustin@annarbor.com or 734-623-2535. Follow him on Twitter @KAustin_AA.