Posted on
Fri, Mar 11, 2011 : 10 p.m.
Huron claims third straight Class A district title with 71-32 win over Skyline
By Pete Cunningham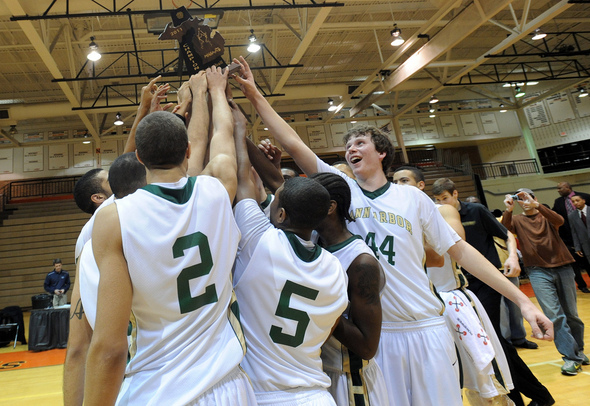 Melanie Maxwell | AnnArbor.com
The only thing standing between the Huron boys basketball team and a Class A district trophy on Friday night was budding cross-town rival Skyline.
The Eagles didn't stand there long.
Huron (21-1) rolled past Skyline 71-32 at Brighton High School to win its third consecutive district title. After Marcus Buggs hit a 3-pointer with time winding down, players rushed the court and celebrated around him.
It was unclear whether the Huron players were celebrating moving on to next week's regional, or the fact that Buggs -- a junior logging his first-ever varsity minutes -- had gone 3-for-3 from the floor for seven points in the last four minutes of the game.
"These guys bring out the best in each other and that's a perfect example," said Huron coach Waleed Samah. "(Buggs), who hasn't logged any minutes with us all season, comes in and fits in right away."
On a night when the threat of a letdown loomed - following Huron's emotionally-charged 56-52 win over Pioneer on Wednesday - the River Rats' emotional leader, Kyle Baker, appropriately got them going early. He grabbed an offensive board and finished with a put-back for the first basket of the game.
Baker came off the court pounding his chest at halftime and screaming at the crowd as Mike Lewis made a buzzer-beating layup. The basket put Huron up 53-18. By Baker's demeanor you would have thought it was to break a tie in overtime.
"Kyle is a great leader," Samaha said. "He brings so much energy and he's got a great motor and the kids really feed off of him."
Melanie Maxwell is a photographer for AnnArbor.com. She can be reached at melaniemaxwell@annarbor.com. Follow AnnArbor.com photography on Facebook at AnnArbor.com Photo and on Twitter at @AnnArborPhoto.