Posted on
Fri, Feb 8, 2013 : 5:50 a.m.
Legendary Pioneer swim coach Denny Hill reaches 1,000 win milestone
By AnnArbor.com Freelance Journalist
By Terry Jacoby
The Pioneer High School boys and girls swimming and diving program didn't get to where it is by having head coach Denny Hill pat his swimmers on the back before season's end.
So when it was time to celebrate Hill's 1,000th dual meet victory in his 45th year on the job on Thursday, it should come as no surprise that he wasn't quick to do the same for himself.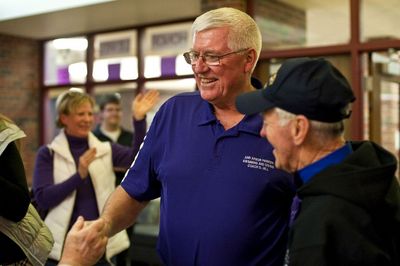 Joseph Tobianksi | AnnArbor.com
"We have a big meet this weekend to get ready for so that's what we will be concentrating on," Hill said after
Pioneer defeated Monroe 104-74
at Hill Pool on Thursday.
That's how you get to be such a successful coach. Your most recent accomplishment doesn't mean much if you aren't preparing for your next challenge. For Hill, win No. 1,000 is just preparation for win No. 1,001.
And so it goes for one of the most successful coaches in Michigan high school sports history. Onward and upward. Today means little without tomorrow. Yesterday should be celebrated - but not today.
Or something like that.
Hill, 68, has led Pioneer to 31 state titles in his 45 years of coaching and on Thursday a large number of fans, supporters, parents and a pool full of former swimmers stopped by to honor their coach with a cake and plenty of hugs and smiles.
"I don't know what to say," Hill said, entering a large room down the hall from the pool where his many supporters had gathered for a surprise party. His former swimmers certainly knew what to say: "Thank you!"
"Denny is a big reason for where I am today," said Ashley Cohagen, a 2009 Pioneer graduate who earned five All-American honors in high school and now is a member of the University of Michigan women's team.
Valerie Barthelemy, a teammate of Cohagen at both Pioneer and Michigan, joined Cohagen poolside at the celebration on Thursday. "My two older siblings swam for Denny and I would go to their meets and cheer them on," said Barthelemy, who earned four All-American honors during her time at Pioneer. "One day after a meet when I was in sixth grade I asked him if he was going to still be coaching when I got to high school. He was already a legend then. But I really wanted to swim for him."
Buzz Argersinger swam for Pioneer from 1981-1983 and for many years before that in club swimming. Hill was such an important part of his formidable years that he wanted his own sons to experience what he had when he was swimming from boy to man.
"I made him promise me that he would keep coaching until my sons had graduated," said Buzz, who was an outstanding sprinter during his career at Pioneer. "I knew I would be coming back to Michigan to run the family business and when my sons started to show interest in swimming, I was hoping he would still be around. He said as long as he was healthy, he would keep coaching."
Another visitor to Thursday's celebration was from the cross-town rival, proving just how much respect Hill has earned over the years.
"When I went to start the swimming program at Skyline, there was nobody more helpful to me than Denny and Liz," said Maureen Isaac, the girls' swimming coach at Skyline. "And starting our program at Skyline absolutely hurt Pioneer because they lost swimmers to us. But they were just so helpful and the kind of people you are proud to know and coach against."
DENNY HILL'S ROAD TO 1,000 WINS BY THE NUMBERS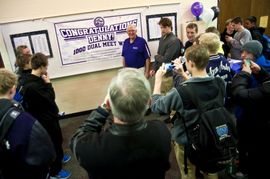 Joseph Tobianski | AnnArbor.com
1,000
- Dual-meet wins
125 - Dual-meet losses

73 - Conference titles

31 - State Championships

3 - National Championships

835 - NISCA All-American Awards


"There are a lot of talented people in this world, but they all aren't willing to work hard," Hill said. "I've been lucky enough to coach plenty of kids, all not widely talented, but all willing to do the work."
"It's pretty exciting," Hill said of his 1,000th win. "We've had kids over the years willing to do the work. We are here for all kids of all abilities to help them be better swimmers and better people.
Hill might not reach 2,000 wins, but he isn't about to stop at 1,000.
"I still enjoy doing this," said Hill, who gave up coaching the girls team in 2011. "I've always said, if they are willing to put in the work, I'm willing to take the credit."
Born in Lansing, Hill graduated from Lansing Eastern High School in 1962. Hill competed for Michigan State University. As a Captain at MSU, he led his team to a fourth-place finish at NCAA in 1966.
Hill began coaching at Pioneer in 1968 after one season at Ferndale High School and taught chemistry at Pioneer from 1968-2007.
His greatest formula was the program he put together for the boys and girls swim teams. It's a mixture hard work, commitment, but the catalyst is dedication from everyone involved.
In addition to the 31 MHSAA state championships, Pioneer has won to three "mythical" girls national championships through Swimming World Magazine (2003, 2005, 2006). Hill's coach of the year accolades are many and he was inducted into the Michigan High School Coaches Hall of Fame in 2003.
The Pioneer girls' team won 16 State Championships including nine in a row from 2000 to 2008 with Hill at the helm.
The Pioneer boys' team has won 15 State Championships with 426 All-American Certificates.
Coaching at Pioneer is a team effort. The coaching staff stresses the importance of "team" to their swimmers and they don't have to look far to see the benefits of their philosophy.
Liz Hill, a 1980 graduate of the University of Michigan, was a longtime assistant to Denny before becoming a co-head coach with him in 2005. She has been with him at Pioneer since 1984 and with him as his wife since the two were married in 1983. They raised two sons, Steven and Andrew.
She admits there isn't one reason for Pioneers' incredible success.
"A lot of success can be attributed to the strong feeder programs in the area including the summer club league," said Liz Hill, who has been part of 637 of the wins. "And in the past, the Ann Arbor Swim Club and the Ann Arbor YMCA. Kids have a lot of opportunities to be a part of competitive swimming at an early age."
"The youth programs and club teams have been the backbone of our success," said Denny Hill, who still runs a summer youth program at Fuller Pool in Ann Arbor.
"We have a no-cut policy and welcome swimmers of all different levels," he said. "We want everyone involved and everyone to contribute to the team. And we work them hard. We get them working hard right away. This isn't for the faint of heart."
"Denny has always run the program like a big family, everyone is important and has a contribution to make," Liz said. Dan Stephenson, 56, swam at Pioneer from 1971-and later at UCLA where he was an All-American. Stephenson said Hill had a "huge impact on my life."
"Denny taught us discipline, mental toughness, how to fit a million things into a day, how to be relentless about achieving goals, how to go past our perceived limits," said Stephenson, who currently has two sons on the team. Hill's tenure has allowed for him to provide the same experience to for multiple generations, like Tony Anderson and Kyle Anderson, father and son whose state titles won under Hill were separated by 28 years (1981, 2009)
"There is no magic dust," said Tony. "It's just about working hard every day. I was an average swimmer but I worked hard. My sons also were average when they started but they worked hard year-round."
There are many ways to define greatness when it comes to the Pioneer swimming and diving program, but the Cole family might just atop the long list when it comes to "most impressive."
Kristyne Cole was a member of four state championship teams from 2004-2007 and along with her sister, Leigh, brother, Grant and father, Glenn have 27 individual state championship medals between then all earned under Hill's watch.
"(Hill) taught me what it meant to work hard and what it meant to push myself past the limits I had put on myself," said Kristyne, who also swam at Michigan. "He taught me what it meant to be a part of a team and how to be a leader. Denny taught me that you should give 100 percent effort in whatever you decide to do, and that the team always comes first; whether that meant showing up to practice early to do lane lines or switching events during a meet right before that event began."
One overriding theme when it comes to Hill's strengths is his belief that the team comes first and each individual needs to accomplish his or her goals in order for the team to succeed. That philosophy pushes the athletes in a very effective way. If you don't want to get up at 5 a.m. and get to practice to swim your laps, you aren't only letting yourself down but everyone else who did get up and put in the time.
It's a very powerful motivational approach.
"It never mattered what your swimming times were, Denny treated everyone the same," said Kristyne, whose father Glenn also swam for Hill at Pioneer. "He held everyone to the same high expectations and made sure everyone was doing what was best for the team." The fact that their sport takes place in a pool is the only connection swimmers and divers have, but Hill makes sure the team doesn't feel like two. "He always had a way of making the divers feel like they were just as important as the swimmers, and this is not always the case in high school swimming and diving," said Pioneer diving coach Vicki Kimball who won state diving titles in 1977 and 1978 under Hill..
Jan Baublis, 51, was a member of the first girls state championship team Hill coached in 1979 and still remembers some of his old sayings.
"Finish what you start and finish strong," Baublis recalls. "If you're going to do it, make it count. You might as well swim fast, because it's going to hurt anyways."
But not all Hill's lesson's applied to just the pool.
Gail and Yoichi Osawa have had two sons graduate from the Pioneer swim team and a third is a member of this year's squad. They said having the hills around is "like having an extra set of parents."
"He instilled discipline and strong work ethic in all the boys," Gail said.
He might have 1,000 wins, but he has influenced a far greater number. And that's been his greatest impact at Pioneer High School.