Posted on
Tue, Jan 24, 2012 : 10:48 p.m.
No apology necessary in Arbor Prep's 61-2 blowout of Hamtramck
By Pete Cunningham
With two minutes, 53 seconds left in the fourth quarter, Dominique Davis scored the Hamtramck girls basketball team's first point since a first-quarter free throw.
It would also her team's last. Davis was her team's leading (and only) scorer in a 61-2 loss to Arbor Prep.
MLive.com: Boxscore | Basketball roundup
It was the second blowout win in as many nights for the undefeated Gators -- after an 81-point victory over Dearborn Heights Star International on Monday -- and they have nothing to be sorry for.
"I think if we can't stop 'em, they should score. It's simple," said Hamtramck coach Tony Morgan. "I think they did what they did in perfect sportsman fashion."
In 2009, Texas high school coach Micah Grimes made national headlines when his Covenant School team won a game 100-0. Grimes was fired and national pundits accused his team of running up the score and being unsportsmanlike.
Had it not been for a running clock -- which went into effect with 5:48 remaining in the first half with Arbor Prep up 36-1 -- the Gators could have easily scored 100 points. Hamtramck was two missed free throws away from scoring zero.
But there's nothing about how the game played out that was at all unsportsmanlike.
"Nothing in life is going to be easy, nobody's ever just going to let up on you," Davis said. "It's like a battle and whoever wins, wins."
Yes, it was a first-year Class D program with a lineup of only freshmen and sophomores playing a Class B team with juniors and seniors, but it's Arbor Prep that has that disadvantage.
No, Arbor Prep didn't sub out all of its starters with the game in hand, but that's because Arbor Prep only had eight players dress.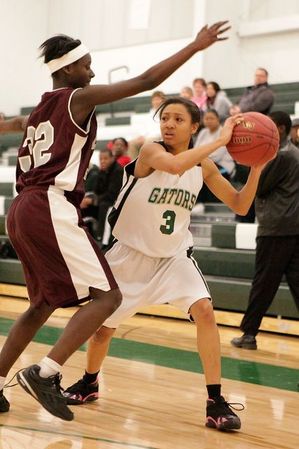 Chris Asadian | AnnArbor.com
"I have some ladies that should be playing freshman basketball so they're getting better, so I gotta get them the opportunity to try and grow, too," said Arbor Prep coach
Rod Wells
. "You gotta teach them to play hard. Don't rub it in, have good sportsmanship, but play hard."
Arbor Prep came out of its press as soon as the running clock went into effect. The Gators still played relentless defense, creating 25 turnovers on the night.
No, Arbor Prep didn't just let Hamtramck (2-10) take uncontested shots by the time the result was in hand, but that's how it should be.
Davis has been on the wrong side of blowout losses where teams did that.
"When they backed off, it felt like they were saying that we're not good enough. That we didn't deserve to be pressured," Davis said. "It's good to know that somebody's not going to let up. That's going to make you play harder."
Zakiya Wells led the Gators with 23 points despite playing maybe two quarters' worth of minutes.
She could have had 50.
Wells also had six steals.
She could have had 20.
Wells didn't stop taking shots with her team comfortably ahead. She made spinning layups in the lane, drew contact and got to the free-throw line.
She continued to play hard.
"(Wells) was everywhere, she put the work in to be that good so they deserve to be that good," Morgan said.
And Zakiya has nothing to be sorry for.
Contact Pete Cunningham at petercunningham@annarbor.com or by phone at 734-623-2561. Follow him on Twitter @petcunningham.