Posted on
Thu, Mar 1, 2012 : 11:57 p.m.
Top competition awaits local wrestlers and more notes from Day 1 of the state finals
By Pete Cunningham
AUBURN HILLS -- It wasn't long ago that the Massa family was helping a Chelsea High School wrestler win the school's first state championship in 40 years.
Now they're standing in the way of two more.
Lathan Goumas | MLive.com
During his state championship season of 2009, Dakota Cooley would drive all the way to St. Johns to practice with Taylor Massa, then just a sophomore but already regarded one of the top talents in the nation.
Two years later and Massa -- who has committed to wrestle at the University of Michigan next year -- has still yet to lose a match in high school career and is considered the top wrestler across all classes in the country with a 220-0 high school record.
Chelsea senior Mike Hovater will face him in the quarterfinals of the 171-pound weight class in Division 2 on Friday.
More coverage: Day 1 results | Statewide coverage
"There's a first time for everything," Hovater said with a smile after beating Tecumseh's Cole Amstutz in his opening round match on Thursday. "All I can really do is do my best.
"I'm not expecting to win, but it'll be great to wrestle such talent, see how long I can last," Hovater said. "Maybe I can get lucky. There's a always a chance."
Hovater's candidness proves Massa's talent often causes uncommon reactions from opponents. Chelsea coach Kerry Kargel just hopes Hovater is himself in his match.
"A lot of people are intimidated by (Massa) so they cave right away," Kargel said. "Mike's been really positive, though, so we'll see what happens."
Chelsea sophomore Steve Bleise will face Logan Massa -- Taylor's younger brother -- in the quarterfinals at 119. Logan is a freshman and, at 42-1, already has more losses than his brother.
"Hopefully we can take one of 'em out," Kargel said.
Bleise and Hovater aren't the only Washtenaw County wrestlers who will face tough competition on Friday. Manchester's Austin Hamilton will take on St. Ignace's Joe Ostman in the Division 4 215-pound quarterfinals and Lincoln's Eddie Nuttall will face Flint Carmen-Ainsworth's Jake Weissend. Both Weissend and Ostman are undefeated. Ostman is a defending state champion and Weissend a returning runner-up.
Hamilton is very gregarious, rarely without a smile on his face, win or lose. Manchester coach Steve Vlcek thinks that mentality will help on Friday.
"He's kind of a free spirit and goes for it. It sorta drives me crazy, but he is what he is," Vlcek said with a laugh. "He's got that I've got nothing to lose kind of attitude."

Upset special

Dexter's Shawn Chamberlain, a No. 4 seed at 285 in Division 2, pinned No. 1 seed Tom Stackpole in his opening-round match. Chamberlain was one of six No. 4 seeds in Division 2 to beat regional champions. It occurred 20 times total across all four divisions.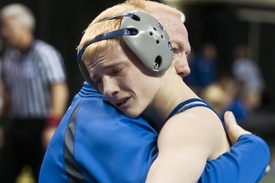 Lathan Goumas | MLive.com
Paying dues
Lincoln's Jordan Markey is a first-time state qualifier. As a sophomore, that's quite an accomplishment.
Considering this is just his second-year wrestling at any level, it's unbelievable.
Markey has caught many opponents off guard this year, but couldn't fool Davison's Justin Oliver, on Thursday. Oliver, a defending state champion, beat Markey by technical fall in the second period of their Division 1 match at 119 pounds.
Lincoln coach Mike Betts expects Markey to have a better second day.
"Jordan's going to be OK. I really think he's going to bounce back tomorrow and surprise some people," Betts said.

Girl power
Dewitt's Rachel McFarland took a step closer to being all state on Thursday with a first round win over Mitchell MacArthur at 112 pounds in Division 2. In recent years, having a few female wrestlers scattered across the state tournament has become commonplace, but mostly in the lowest weight class, 103, with a few girls even placing in the top eight.
If she wins another match, McFarland will be the first female wrestler in state history to place above the 103 weight class.
C.C. Weber's fourth-place finish for Goodrich in 2009 is the highest a female has ever placed in Michigan.
Check AnnArbor.com for regular updates from all three days of the tournament.
Contact Pete Cunningham at petercunningham@annarbor.com or by phone at 734-623-2561. Follow him on Twitter @petcunningham.