Posted on
Sun, Jan 29, 2012 : 5:58 a.m.
Arbor Prep girls basketball team is unbeaten, and ineligible for postseason play
By Pete Cunningham
Chris Asadian | AnnArbor.com
Most high school basketball teams look at the end of the regular season as a start of another when the state playoffs commence.
For the undefeated Arbor Preparatory Academy High School girls team, the end of the regular season will be exactly that.
The end.
As a first-year school in its first year as member of the Michigan High School Athletic Association, none of Arbor Prep's sports teams are eligible for the postseason tournaments. Per MHSAA rules, schools must complete a probationary period of at least one year before becoming eligible for postseason play.
"New member schools do not have tournament privileges," explained MHSAA communications director John Johnson. "They have full participation in the regular season, but that's the only thing."
Arbor Prep is a public charter school, which opened its doors in Ypsilanti last September. It currently houses just ninth and tenth grade students, with plans to grow by one class each of the next two years. It is currently a Class D school with an enrollment of 180 students, with plans to be a Class B school with a maximum enrollment of 800 by 2013.
When athletic director Scott Stine was hired in July, his first order of business was to apply for membership with the MHSAA. As an assistant coach for the girls basketball team, Stine was especially disappointed to learn of the mandatory probationary year.
"When I spoke to the MHSAA, they didn't leave any room for discussion. According to them, your first year, once you're accepted, you're not eligible," Stine said.
Despite its youth, Stine believes the girls basketball team would contend for a Class D championship this year. Two months into season, Arbor Prep is 11-0 with a 42.3-point average margin of victory. The Gators have won just one game by less than 29 points.
"We've watched a lot of the teams and we'd be in the quarterfinals (this year). We'd be in the (Class) D quarterfinals without blinking," Stine said. "We'd make a run at it, that's for sure."
Freshman forward Karlee Morris said a playoff run would have been fun.
"I just look forward, there's nothing to put our head down about," she said. "We can still have fun in other games."
Coach Rod Wells is simply disappointed his team will miss out on a valuable opportunity.
"I think the kids should have the opportunity to play, to have that part of their high school experience," Wells said. "When they told us, we weren't planning on winning a state title or anything. We just wanted the kids to get the experience. No matter how you look at it, you're kind of taking one year away from getting that experience."
The probationary year for new schools was adopted in 1997 in order to -- according to Johnson -- prevent schools from selectively joining and leaving the organization, and following its eligibility requirements, based on whether teams would be in contention for championships.
"It gets to the core of membership," Johnson said. "It gives them a chance to get familiar ... there are an awful lot of moving parts (in running an athletic department) and applying them on a year-round basis is essential."
Wells' response: "I don't think the rules are that complicated that we need a whole year to understand them."
There are exceptions to the rule. According the MHSAA rules and regulations, "when a new school is merely an addition on the MHSAA Membership Resolution to the list of schools from a school district which had high school members the previous school year," the school's teams are immediately eligible. Co-op teams in which one of the schools is a pre-existing member are immediately eligible, as well.
For example, Skyline's teams were immediately eligible to compete in postseason tournaments during the 2008-09 school year -- its first year of existence -- because it is part of the Ann Arbor Public Schools district, which already had Huron and Pioneer as MHSAA members.
The Skyline girls swimming team placed 16th in the Division 3 state championships with a team comprised entirely of freshman in 2008. Lexie Beemer was third in the 100 breaststroke that year, and won the event as a sophomore in 2009.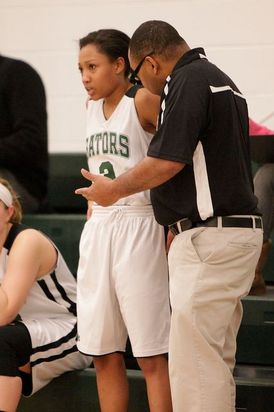 Chris Asadian | AnnArbor.com
Skyline girls swimming coach Maureen Isaac believes the experience her freshmen swimmers gained in 2008 was essential to her team placing sixth at the Division I championships this season.
"There's no doubt that it helped them, but from the very beginning I got talented and experienced athletes. I don't think it helped all the teams at Skyline," Isaac said. "I wouldn't say Lexie couldn't have (been a state champion in 2009 without the experience), but the fact that she had been there, I think it was pretty important."
Arbor Prep is one of three PrepNet Schools charter schools to open in Michigan since 2008. Grand River Preparatory High School -- a PrepNet school in Kentwood -- has competed in the MHSAA postseason in various sports since the 2009-10 school year.
Johnson said new charter schools operating under the same "umbrella organization" don't meet the standards of the exception.
"The familiarity issue in a longtime established member district like Ann Arbor is off the charts compared to an individual charter schools where there are completely different individual boards," Johnson said.
Arbor Prep's gaudy numbers are a tad misleading because of a lack of quality opponents. Most of the time, schools with junior varsity programs didn't want to play a varsity game against Arbor Prep because its JV wouldn't have an opponent.
"When you're playing teams with just a varsity basketball team, it's usually not a good program," Wells said. "Next year, we're looking to beef up the schedule. ... I told them the other day, we have 395 days until the state tournament, we're already counting toward next year."
Players look forward to next year as well, when Arbor Prep will most likely compete in the Class C playoffs.
Freshman guard Zakiya Wells, Rod's daughter, leads Washtenaw County with an 18.1-point scoring average. She wasn't upset to learn her team wouldn't play in the playoffs this year, because they'll have everyone back for the next two seasons.
"In the future, I know we'll be able to hang with Class C and by the time we get to Class B, we definitely will (be competitive)," Wells said.
Zakiya's eyes get wide when asked about competing in next year's playoffs.
"I really want to get at a higher pace," she said. "I look forward to it a lot."
Pete Cunningham covers sports for AnnArbor.com. He can be reached at 734-623-2561, by email at petercunningham@annarbor.com and followed on Twitter @petcunningham.