Posted on
Wed, Mar 14, 2012 : 9:30 a.m.
Willow Run seeks revenge in Class C boys basketball regional final
By Matt Durr
On Feb. 20, the Willow Run High School boys basketball team came up short against conference rival River Rouge. The Flyers lost 67-61 on River Rouge's home court, but get their chance to even the score on Wednesday night.
"Ah man, we want another shot. I want to beat this team so bad," said Willow Run sophomore Jamal Poplar behind a giant smile. "I need another shot."
The two sides will square off at 7 p.m. at Manchester High School in a Class C regional final of the MHSAA boys basketball tournament.
Willow Run beat Hudson 61-44 while River Rouge took care of Monroe St. Mary, 57-46 in Monday's semifinals.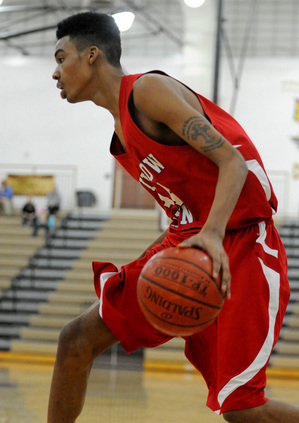 Angela J. Cesere | AnnArbor.com
Having played once already, Willow Run coach
Anthony Davis
knows his team will have to change up its defense in order to keep the Panthers off balance.
"We've been playing man-to-man all tournament, but we'll mix it up a little bit against Rouge," Davis said. "We'll zone em' some, we'll man em' some."
Led by senior James Walker (a Central Michigan recruit), the 19-4 Panthers are seeking their first regional championship since 1999. River Rouge won the Michigan Metro Athletic Conference this year.
Walker torched Monroe St. Marys in the regional semifinal with 25 points and is one of four players on the team currently being recruited by Division I schools, according to coach Bobby Thompson.
For Davis and his team, stopping Walker won't be easy, but they know a way to limit his impact.
"We definitely have to keep them off the offensive glass. Especially number 11 (Walker), they hurt us with that the first time we played them," said Davis.
Defensively the Panthers play a full-court press at times that uses a lot of pressure to force turnovers and easy baskets. However, according to Davis his team handled the press well in the first game and doesn't see it being a problem.
"They actually took it off after the first quarter; we were breaking it every time. I anticipate them trying it again just to see, but I think our guys handled it well. We'll be ready for it," said Davis.
Using a balanced offensive attack, the Flyers had 10 players score in the semifinal and that will once again be the strategy for Willow Run. But with Poplar standing right around 6-7, he will be the main offensive weapon for his team.
"If I don't do the certain things that my team needs me to do, it's not going to matter. My team needs me to score," Poplar said.
To even be in the regional final comes as a surprise to some, considering the tumultuous season the Flyers went through. On Jan. 20, George Woods was fired as head coach of the team and Davis (an assistant at the time) stepped in. The team was 4-7 at the time and appeared to be in disarray.
"We've talked about it, no one expected us to do this. We already went further than most people expected, outside of our fans of course," said Davis. "I give the kids all the credit. I just try to lead them in the right direction, they're the ones out on the floor doing it."
Since Davis took over, Willow Run is 8-5 and currently holds at 12-12 record overall. Davis said that this is a different team than when the two sides met in February and is ready for a battle. River Rouge feels the same way
"Like I tell my kids, 'just because you beat them in the regular season, every team is undefeated right now,'" said Thompson.
After the win Monday, Willow Run's McKenzie Dunlap knew what rematch with River Rouge meant for his team and didn't hesitate to talk about their feelings.
"We're very excited, we want them bad," said Dunlap. "They better come with it."
Contact Matt Durr at mattdurr@annarbor.com.