Posted on
Sat, Jan 7, 2012 : 11:43 p.m.
Michigan hockey ties Lake Superior State, loses shootout in Adam Janecyk's first start in goal
By Pete Cunningham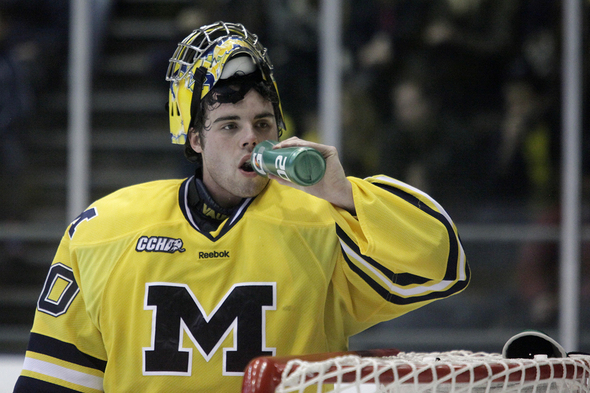 Chris Asadian | AnnArbor.com
Updated 11:43 p.m.
Backup goaltender Adam Janecyk had never started a game in his Michigan hockey career before Saturday night.
He got his money's worth in a shootout with Lake Superior State at Yost Ice Arena, but fell short of a win. The game officially ended in a 2-2 overtime tie with the Lakers gaining an extra point in the CCHA standings by winning the shootout, 2-1.
Janecyk, filling in for an ailing Shawn Hunwick, finished with 34 saves, plus four in the shootout.
Janecyk put Michigan (12-8-4, 6-6-4-1) in position to win in the shootout, stopping the first two shots he faced, but Luke Moffat's goal to start the shootout would be Michigan's only one. The Wolverines missed five straight.
"It's frustrating when you don't hit the net on a shootout. You put your top guys out there and they can't hit the net, or find the puck or whatever," said Michigan coach Red Berenson. "Janny kept us in the game and we had a chance to win that game."
Domenic Monardo and Nick McParland scored for the Lakers in the shootout. Michigan was without leading goal scorer Alex Guptill, who didn't skate after the second period after taking a shot to the head. Berenson said Guptill would have shot early in the shootout if healthy.
Janecyk was tested early as Michigan was put on the penalty kill within the first two minutes of the game and Lake Superior State had the first five shots. Though Michigan had a 14-13 shot advantage in the first period, scoring chances were heavily in favor of the Lakers.
"There were a lot of question marks about Janecyk and I think he showed us that he can play and give us a chance. I don't think we gave him a good start in the first period," Berenson said.
Another frustrating aspect of the night for Berenson was Michigan's inability to convert on the three power play opportunities -- two of which were back-to-back, basically giving the Wolverines an extra skater for four straight minutes in the second period.
It didn't help that Lake Superior State (12-9-3, 7-7-2-2) is fifth in the nation on the penalty kill, compared to Michigan's power play unit, ranked 42nd in the nation.
"It's really been a work in progress, but there's not a lot of progress," said Berenson. "You might have to change the name from power play to something else."
Michigan did, however, benefit from some lucky bounces and what looked to be a fatigued Lakers defense to score its two goals in the second period after the back-to-back penalty kills
Michigan was able to take advantage of a tired defense with a 15-6 advantage in shots in the period.
Lake Superior State's defense was Michigan's best offense in the second, which ended 2-1 in the Wolverines' favor. Michigan took a 1-0 lead when Kyle Haines kicked in a rebound off a David Wohlberg shot. Lakers goalie Kevin Kapalka made a clean save off the shot but the puck bounced quickly off his leg pad, onto the skate of Haines, and into the net.
A Guptill backhand later in the period wasn't even headed on goal, but ricocheted off the skate of defender Zach Trotman and behind Kapalka at 18:32 mark, just 13 seconds after Ben Power had evened the scored for the Lakers.
"We got two bad bounces, that's the way our season's been going so far after Christmas," Monardo said. "That's the great thing about our team is we have good team chemistry and to be able to bounce back from things like that is what we have to do."
The third period started with Lake Superior successfully killing yet another penalty and a Buddy Robinson goal to even the score 2-2 at 2:58. Michigan was unable to respond despite having the majority of the chances the remainder of regulation and overtime.
The tie snapped a 14-game winning streak versus Lake Superior State, dating back to 2007.
"We threw that one away…We were up 2-1 in the third period, we have to have those games," said Michigan captain Luke Glendening. "Janecyk came in, played huge for us all night and to give that one away hurts."
Pete Cunningham covers sports for AnnArbor.com. He can be reached at petercunningham@annarbor.com or by phone at 734-623-2561. Follow him on Twitter @petcunningham.