Posted on
Thu, Feb 10, 2011 : 5:58 a.m.
Michigan hockey team hopes to break out of its offensive funk at home against Ohio State
By Jeff Arnold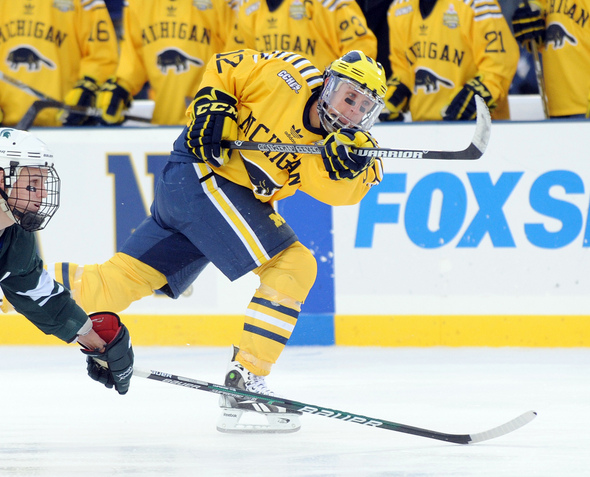 Lon Horwedel | AnnArbor.com
There are years when the Michigan hockey team is an offensive juggernaut. This season isn't, however, one of those times. Not by a long shot.
Michigan's 98 goals through 30 games have been enough to keep the Wolverines in championship contention. So the fact the Wolverines have registered just three goals in the past three games - all losses - seems alarming, the sudden drought hasn't proven to be reason for concern.
At least not yet.
The Wolverines are third in the CCHA in goals scored, averaging just more than three a game. Yet, coming off a loss when Michigan was shut out for the second time this season, the Wolverines are convinced the lack of offense is just temporary.
But heading into a home series against Ohio State (7:35 p.m. Friday and Saturday, Big Ten Network) when the Wolverines could benefit from six points, re-discovering its offense has become a priority.
The Buckeyes, who sit in seventh place with a 9-11-2 league mark, enter the series having lost four of their last five games.
"We've got to start putting pucks in the net - that's how it is," senior captain Carl Hagelin said.
The No. 13-ranked Wolverines (17-9-4, 14-7-1 CCHA) managed two goals last weekend when they suffered their first sweep of the season at Miami. Despite playing with the lead for much of Friday night's 4-2 loss, Michigan struggled to stay out of the penalty box.
Making matters worse, the Wolverines' power play was nearly non-existent, finishing the weekend 0-for-12. Michigan had a 5-on-3 chance in the third period of Saturday's 3-0 loss, but couldn't generate any offense from a unit that ranks seventh in the CCHA, finding success on only 15 percent of its chances.
Special teams have only been part of the issue. Hagelin, who leads Michigan with 13 goals, hasn't scored in the past five games. He hasn't scored an even-strength goal since a 7-2 win over Lake Superior State on Nov. 19.
Matt Rust, who was expected to be a dependable scorer for the Wolverines, has one goal in the past 18 games. Senior center Louie Caporusso has struggled, notching one goal in his last nine games and has eight goals a season after leading the Wolverines with 21.
Michigan has relied on a strong offensive effort from its defenseman, including freshman Jon Merrill, who has seven goals. The Wolverines have also gotten a heavy dose of goal-scoring from secondary offensive options like sophomore A.J. Treais, who scored both of Michigan's goals last weekend.
Still, the recent drought - especially among Michigan's normal scoring threats - doesn't have coach Red Berenson overly worried.
"It's uncharacteristic of our team - I think it will change and it's just a matter of when," Berenson said. "I've seen teams at every level go through some sort of a drought or a slump so we just have to manage it and try and get it turned around as quick as we can."
For his part, Berenson tinkered with all four of Michigan's lines, swapping players with others, trying to create better combinations.
"You can't force offense - you can teach it and preach it, but it doesn't always happen," Berenson said. "Offense may be skill, it may be a little bit of luck, it may be bounces."
With six regular-season games remaining - including the next four at home - the Wolverines realize they can still pull out a league championship. But after squandering a prime chance last weekend against Miami, finding themselves offensively is only part of the equation.
For Michigan, success will be driven by better defense, which struggled in the two losses at Miami. Berenson's players believe if they can right the ship in limiting opponents' scoring chances, their own offensive success will take care of itself.
"I think we have enough skill and enough talent to put the puck in the net," sophomore forward Chris Brown said. "I don't want to call it a lapse of offense the last three games - I think it's been more a lapse of defense. So coach has been preaching defense and so we're going to take more pride in that. With more defense, the offense will come."
Jeff Arnold covers Michigan hockey for AnnArbor.com and can be reached at (734) 623-2554 or by e-mail at jeffarnold@annarbor.com. Follow him on Twitter @jeffreyparnold.