Posted on
Sat, Dec 11, 2010 : 7:06 p.m.
Michigan hockey overwhelms Michigan State before world-record crowd in Big Chill at the Big House
By Jeff Arnold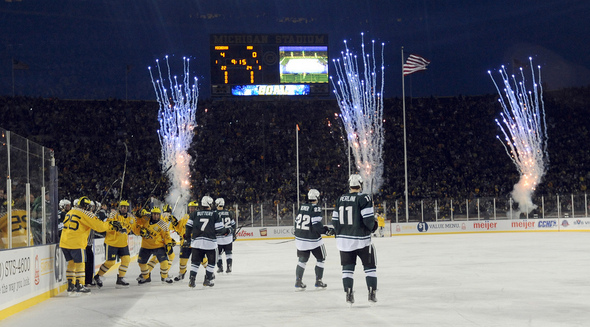 Lon Horwedel | AnnArbor.com
As colorful fireworks lit up the night sky over Michigan Stadium Saturday night, what took place over the preceding three hours hadn't completely sunk in.
Not for Michigan hockey coach Red Berenson , who acknowledged he needed more time to put the Wolverines' 5-0 Big Chill at the Big House victory over Michigan State in front of a world-record crowd of 113,411 into perspective.
Not for goalie Shawn Hunwick, who learned less than 30 minutes before he registered a shutout and 34 saves that he would play in the stadium his childhood football heroes competed in.
And certainly not for freshman defenseman Jon Merrill, who scored the Wolverines' first two goals, providing Michigan with a stream of momentum the Spartans never regained.
"Pretty good show, eh?," Berenson said afterward.
Pretty good, indeed. And then some.
Michigan (10-5-4, 9-3-1 CCHA) overwhelmed the Spartans from the start, using the Olympic-sized rink to accentuate its team speed and to spread Michigan State out on the power play.
The Wolverines certainly had their fair share of lucky bounces after Merrill's first goal -- the first of three Michigan power play goals -- eluded Michigan State goalie Drew Palmisano after hitting a Spartans' defender's stick.
The Wolverines also had a goal deflect off a Michigan State player's backside, all part of a near-flawless performance that nearly lived up to the hype surrounding Saturday's outdoor affair.
"I can't tell you there was a lot of difference between the two teams tonight," Berenson said. "But the fact that we got the early goals early in the first period, those were important goals."
Especially considering how the day started.
Senior goalie Bryan Hogan, who was named Saturday's starter on Thursday, sustained a groin injury in warm-ups 30 minutes prior to the start of the game. Enter Hunwick, who had struggled throughout the first half of the season, but made his first collegiate start last year when Hogan suffered a groin injury against Notre Dame.
"To be honest, I was a little scared," Hunwick said. "I wasn't really prepared to play. You try and do your best in practice to get ready, but you know it's not the same. You're not mentally as sharp as you would have been if you knew you were going to play."
Hunwick didn't have any choice but to be ready after Hogan went down.
Merrill did his part to give his goalie some breathing room. He scored two goals less than three minutes apart, giving Michigan a 2-0 lead. The Spartans (6-9-3, 3-8-1 CCHA) entered the game having struggled to score all season.
But when a Brett Perlini goal was disallowed in the second period, Michigan quickly took advantage. Carl Hagelin scored at the 12:12 mark of the period, pushing the Wolverines' lead to 3-0 when, under different circumstances, the Spartans could have been within only a goal.
"If we would have been awarded the goal, it would have been huge for the team," Michigan State sophomore captain Torey Krug said. "If that goal stands, I think the guys get a little energy from it and we built off that and from there, I think it's a completely different game."
Instead, Michigan used the turn of events to continue to pull away.
Hagelin scored a pair of goals and David Wohlberg capped the victory with a goal midway through the third period. The five goals was the most Michigan has scored since a 7-2 victory over Lake Superior State Nov. 19.
The impressive win couldn't have come at a better time for Michigan. After a disappointing split last weekend at Ohio State, Saturday's win provided the Wolverines with a boost of confidence heading into the Great Lakes Invitational later this month at Joe Louis Arena in Detroit.
But it also capped a day that players from both schools described as surreal. The attendance was announced early in the third period and the 113,411 figure was displayed on the Michigan Stadium scoreboard.
"I think we all got goosebumps. The whole crowd was going crazy and you saw coach clapping his hands and everyone on the team felt great being part of history," Hagelin said. "It's something we're going to take with us."
Jeff Arnold covers Michigan hockey for AnnArbor.com and can be reached at (734) 623-2554 or by e-mail at jeffarnold@annarbor.com. Follow him on Twitter @jeffreyparnold.