Posted on
Thu, Feb 9, 2012 : 12:05 p.m.
Outdoor GLI to be part of Hockeytown Winter Festival; NHL expects 115,000 at Winter Classic
By Pete Cunningham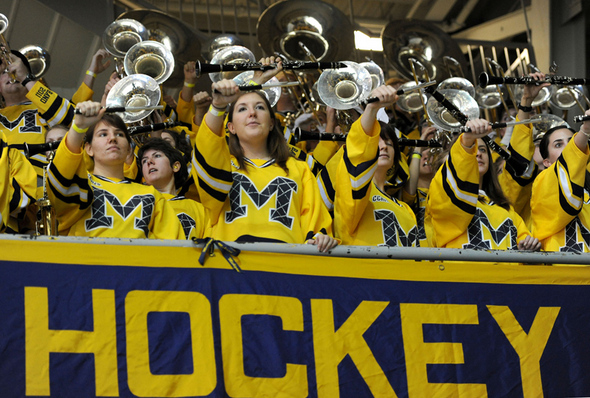 Angela J. Cesere | AnnArbor.com
Related coverage: Should U-M schedule more non-football events at the Big House?
DETROIT — Get your stocking caps and long underwear ready Michigan hockey fans. Next year's two-day Great Lakes Invitational will be an all outdoor event.
As part of the NHL's official announcement of the matchup between the Detroit Red Wings and Toronto Maple Leafs for the 2013 Winter Classic at Michigan Stadium, it was announced that the 48th annual GLI will be outdoors at Comerica Park in Detroit.
Michigan, along with Michigan State, Michigan Tech and Western Michigan, will participate in the two-day long tournament as part of a week-long inaugural Hockeytown Winter Festival at Comerica Park leading up to the Winter Classic.
The tournament will be held Dec. 29 and 30th, with the NHL alumni game to be held New Year's Eve followed by the Winter Classic at Michigan Stadium on Jan. 1. There will be AHL, OHL and high school games at Comerica as part of the event.
"The GLI we think was an important part of doing this," said NHL commissioner Gary Bettman. "We were committed because the Ilitches were committed to making sure, as hosts, that Detroit was properly included."
Red Wings owner Mike Ilitch said he didn't want the Winter Classic at Michigan Stadium when the NHL first approached him, but that the ability to have the GLI and ancillary events at Comerica is "the best of both worlds."
Bettman estimated the Hockeytown Winter Festival will bring 150,000 to 200,000 people to Detroit in the week leading up to the annual outdoor game at the Big House.
Bettman said he hopes to sell 115,000 tickets for the game between the Wings and Maple Leafs, which would not only break the outdoor hockey record set in the Big Chill at the Big House in December 2010, but the all-time attendance record set at last year's football game between Michigan and Notre Dame.
"We don't think we'll have enough tickets to satisfy ticket demands at the Big House. We think we can get enough seats enough people to set the all-time record," Bettman said. "The Winter Classic has become a phenomenal event one of the major events on the sports landscape and we thought we took it to a point where this made sense and now we're going to take it to another level in terms of scale."
Bettman said he anticipates the Winter Classic to sell out easily. Toronto Maple Leafs general manager Brian Burke agreed.
"They said, can you send 30,000 tickets? I said, I need 48 hours. They said, can you sell 50,000? I said, I need 72 hours. Leaf Nation will show up in large numbers and will make a lot of noise," Burke said. "It's hockey town versus the center of the hockey universe. I can guarantee you you're going to see a lot of Blue in the Big House."
Follow Pete Cunningham on Twitter @petcunningham.