Posted on
Fri, Jun 22, 2012 : 5:58 a.m.
Paint the Big House? U-M athletic director David Brandon announces $200M construction agenda
By Kellie Woodhouse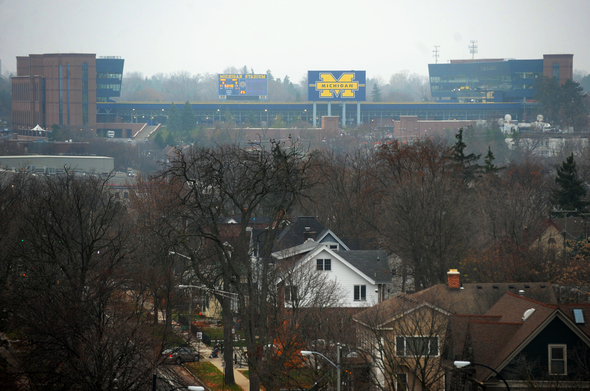 Melanie Maxwell | AnnArbor.com
If you see some men taking a paintbrush to
Michigan Stadium
sometime in February, don't be alarmed.
They're professionals.
University of Michigan athletic director David Brandon believes Michigan Stadium's paint job needs some sprucing up -- and he's willing to pay the price.
"We need to paint Michigan Stadium," he said, adding jokingly: "It's only a mere $6 million."
If approved by the U-M Board of Regents, the project would begin in February.
The painting project is one of eleven renovation or new construction projects Brandon introduced before regents Thursday.
The school plans to spend $4 million to replace scoreboards in 2013, although Brandon did not specify which ones. Last year the athletic department spent $20 million to replace the football, hockey and basketball boards.
Also in 2013, athletics will renovate the field hockey facility for $9.5 million and expand its softball facility for $3 million. The department has set aside $12 million for a lacrosse locker room and facility project in 2014.
Those projects are far less expensive than the ones planned for 2015. That year the school plans to begin building a $25 million rowing and strength and conditioning facility and a $90 million indoor and outdoor track facility.
In 2017 the school plans build a $30 million multipurpose competition arena and expand its swimming, diving and water polo facility for $20 million.
The projects are part of Brandon's plan to spend $250 million on non-revenue sport facilities in the next seven years.
Though planned, the projects are subject to regents' approval.
Kellie Woodhouse covers higher education for AnnArbor.com. Reach her at kelliewoodhouse@annarbor.com or 734-623-4602 and follow her on twitter.