Posted on
Mon, Jun 4, 2012 : 5:57 a.m.
$1B-plus construction tab: A peek inside 9 planned or proposed projects at University of Michigan
By Kellie Woodhouse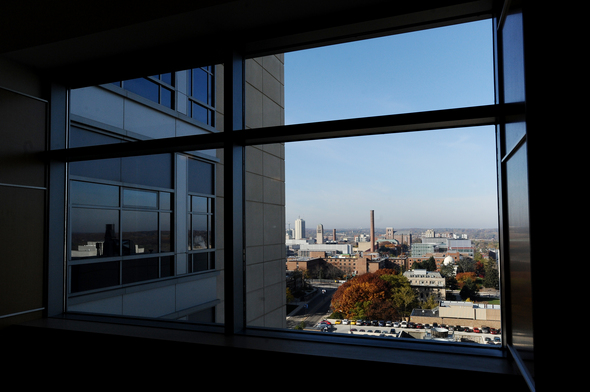 Melanie Maxwell | AnnArbor.com
The building boom at the
University of Michigan
shows no sign of abating, with the tab for current and upcoming construction at the Ann Arbor campus edging past $1 billion.
The school is undertaking $460 million in current construction projects — including the $163 million retrofitting of the old C.S. Mott Children's Hospital and Von Voigtlander Women's Hospital facility and the $116 million renovation of the 800-plus-bed East Quadrangle dormitory. It has another half-billion worth on the horizon.
U-M is in the early stages of planning a $250 million investment in non-revenue sports facilities, $150 million in large dormitory renovations over a two-year period and $140 million in classroom and lab building upgrades. The university is also contemplating building a $180 million to $250 million pathology building, or a portion of that building.
Continued construction costs add to a surge of new buildings and infrastructure upgrades on the Ann Arbor campus.
U-M recently finished the new $754 million Mott children's hospital, a five-year project and the most expensive in the school's history. Additionally, the new $145 million Stephen M. Ross School of Business opened in 2009, new classroom and dormitory building North Quad opened in 2011 after $175 million in construction, and a renovated and expanded U-M Museum of Art opened in 2009 after $42 million in construction.
The Law School is also experiencing new construction. A new academic Building and Commons addition were completed in 2011 and a $39 million renovation of the Lawyers Club is currently underway.
After four years and $226 million in renovations, an upgraded Michigan Stadium opened in 2010. New hockey, football and basketball scoreboards were purchased in 2011 for a combined $20 million. Construction on Al Glick Field House, a $26.1 million indoor football practice facility, completed in 2009.
"We have infrastructure on campus that is continually [getting] old and needing to be upgraded," Jerry Schulte, U-M associate director for construction and design, said during the Washtenaw Contractors Association annual meeting in May.
Below is a rundown of nine major current or proposed projects on the horizon at U-M:
1. New School of Nursing building
Many of U-M's projects on the horizon include retrofits and renovations, as space on the Ann Arbor campus is limited and new construction is costly. The planned nursing school addition, however, is the only confirmed construction project that includes an entirely new building.
The Board of Regents agreed in March to build a new $50 million facility on a 125-space parking lot near the medical campus, easing a space crunch for the school but further complicating a pressing parking shortage. The nursing school will inhabit the new building and stay in its current building, allowing it more space to grow. The school's student body has grown 26 precent over 10 years and U-M plans to add 40 additional nursing faculty in coming years.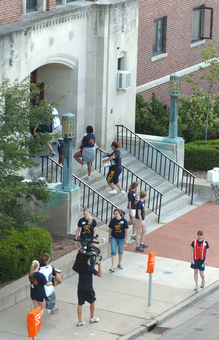 2. West and South Quadrangle renovations
Although it's yet to be publicly announced, West and South quads are the next dormitories in line for major renovations.
"Housing will continue to spend money doing upgrades of their facilities," Schulte said, adding that the South Quad renovation may start during summer 2013 and cost roughly $50 million. West Quad will likely start during summer 2014 and cost in the $100 million range, Schulte said.
Starting this summer, East Quandrangle is receiving the largest dormitory renovation in U-M history. The $116 million renovation to 860-bed dorm on Central Campus will take a year and follows $285 million in completed dormitory renovations since 2008.
The dormitory upgrades are part of the Residential Life Initiative started by U-M President Mary Sue Coleman. The first RLI project completed in 2008; by the time Coleman's presidential term expires in 2014 the university will have undertaken nearly $600 million in large-scale dorm renovations and tens of millions in small-scale upgrades.
3. School of Music, Theatre and Dance addition
AnnArbor.com reported earlier this year that the U-M School of Music, Theatre and Dance is pinched for space, causing students to wait in long lines to practice or disturb lessons by practicing in classrooms without soundproofing.
There are 50 practice rooms available to the nearly 1,200 students enrolled in the school, and complaints have begun to trickle down to high-level administrators.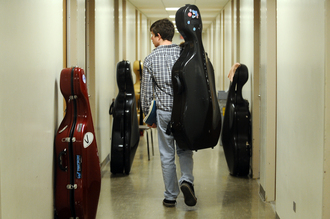 Melanie Maxwell I AnnArbor.com
"We have students that are hanging out the windows," U-M vocal professor George Shirley told AnnArbor.com. "The practice facilities are inadequate to service the students. They have to wait in line to use the facilities, the rooms are small and they're not up to par with facilities that are being constructed now."
Schulte said the university is seriously considering a renovation — and possibly an addition — to the school starting in 2013. He said the project is "somewhere in the $20 million range" but explained that it remains an uncertainty.
"I don't know that we have all the funding in place," Schulte said.
4. New Pathology building
For at least five years the U-M Health System has contemplated building a new 180,000 square-foot clinical and research pathology facility between the medical campus and medical school. However, increasing costs have caused the school to pause the project in recent weeks.
"This is a massive project," said Mary Krasny, associate director for U-M hospital design and construction. Krasny said the project would cost between $180 and $250 million. "The problem is it is far more than the hospital thought it wanted to spend on a pathology building."
She continued: "Right now we have done nothing the last six weeks on this while we are waiting for the hospital to determine whether they want to go forward with a portion of it, whether they want to go forward with any of it."
5. Water polo, lacrosse facilities
Water polo, added as a varsity sport in 2005, and men's lacrosse, added this year, both lack adequate facilities, U-M Athletic Director David Brandon said earlier this month. Brandon said the university plans to invest $250 million in non-revenue sports facilities in the next decade and specifically highlighted the need for better lacrosse and water polo facilities.
"We added water polo and never added any more deck space, any more locker rooms, or any more pool capacity, and so we're constrained," he said. "We need another pool. We need more capacity. We need more locker room space."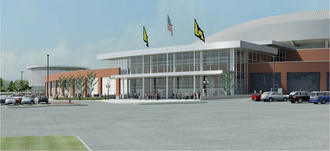 The school has spent $500 million to upgrade football, hockey and basketball facilities in recent years. Crisler Center is currently undergoing a $52 million renovation and the player development center was recently built for $23.2 million. Renovations are also taking place at Yost Ice Arena at a cost of $16.2 million, and Schembechler Hall, at $9 million.
6. Institute for Social Research
Regents approved a $23 million renovation for the school's Institute for Social Research in 2010 and construction is set to begin this summer. Aside from UMHS and the College of Engineering, ISR brings the greatest amount of federal research dollars to U-M each year.
The four-level addition will add 44,700 square feet to the existing ISR building on William Street, including research and meeting rooms and data and biospecimen storage. Funding is coming in part from a federal grant from the American Recovery and Reinvestment Act of 2009.
7. GG Brown Memorial Laboratory
This engineering lab building was built in 1958 and, according to Schulte, "doesn't look any different than it did in the early 1980s."
U-M originally thought the state would contribute $30 million to the $56 million project through the appropriations process, but Schulte said that since former Gov. Jennifer Granholm left office and Rick Snyder assumed reins of the state budget, the project has not moved forward as planned.
"Prior to our new governor we were told these were a go," Schulte said about GG Brown and two construction projects planned for U-M's Flint and Dearborn campuses. "I think they got handed to the governor with no funding source."
Schulte said Snyder is still deciding whether GG Brown will get state dollars and, if so, how much.
8. Old Mott Hospital backfill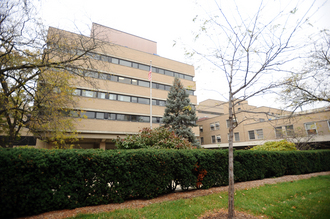 Melanie Maxwell | AnnArbor.com
Regents in March approved a $163 million retrofitting of the old C.S. Mott Children's Hospital and Von Voigtlander Women's Hospital facility, which was vacated when the hospitals moved into the new $754 million facility in December.
"It's a pretty big space that's being backfilled," Krasny said. U-M plans on using the space almost entirely for neurosurgery, adding 95 general beds, 25 urgent care beds and eight operating rooms. During a presentation, Krasny referred to it as the health system's future "neurosurgery hospital."
U-M Health System officials have said the retrofit will create hundreds of new hospital jobs, with the project following a $17.7 emergency room upgrade completed in late 2011.
"There is continuing demand for our hospital facilities: Mostly for extremely complicated acute care patients," U-M Health System CEO Ora Pescovitz said a recent Board of Regents meeting.
Thomas Peterson, UMHS associate director of operations, told AnnArbor.com recently that U-M is in the very early stages of planning a new facility for University Hospital. Design and construction on that project won't begin for at least another decade, he said.
9. Wall Street parking garage
Due in part to the slow pace of negotiations, U-M abandoned plans to fund Fuller Road Station jointly with the city and revisited plans to build a 700-space parking structure on Wall Street.
Since it was first proposed in 2008, dropped in 2009 and reintroduced this year, the garage has been a controversial proposed addition to the Wall Street neighborhood, but university officials say it's necessary to alleviate a mounting parking shortage at the health system.
The project will cost $34 million and construction bids "could be early as this fall," Schulte said.
Kellie Woodhouse covers higher education for AnnArbor.com. Reach her at kelliewoodhouse@annarbor.com or 734-623-4602 and follow her on twitter.