Posted on
Sun, May 12, 2013 : 5:58 a.m.
Three years after son's death, father returns to golf course they last played and finds closure
By Pete Cunningham
Three years ago, Bob Lemasters and his son Renden Lemasters played a round of golf at Ann Arbor Country Club. The front-nine was busy that day, so Bob and Renden played the back and finished their round on hole No. 9, a Par 3.
Bob stuck his tee-shot that day, parred the hole and won the friendly match. Renden left the course that night and stayed at a friend's house. He was supposed to meet his father the next day. They had made plans to go to Mexican Village in Detroit for Easter weekend.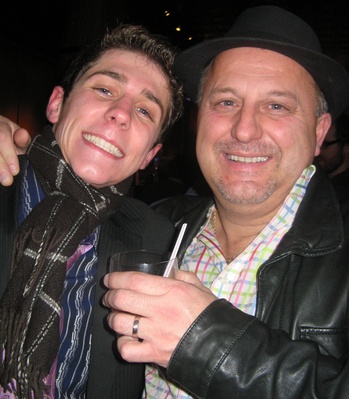 Photo courtesy of Bob Lemasters
But instead of Renden ringing the doorbell the next morning, the phone rang at 6 a.m. It wasn't Renden, but the Ann Arbor Fire Department. Renden had been
pulled from a house fire
on State Street in Ann Arbor and was fighting for his life at the University of Michigan Trauma Burn Center.
It was a fight Renden would lose. On April 3, 2010, he died with his family by his side. He was 22.
Bob Lemasters returned to Ann Arbor Country Club to retrieve his son's ball from the first hole. Their tradition was to play the first hole last and the second hole first because they lived halfway up the fairway and cut right through to home when they were done. With their match done, they hit their tee-shots and just left them. Bob found the ball on Easter Sunday, the day after Renden's death, and vowed never to play the course again.
Save for a memorial scramble a month after Renden's death, it was a promise Bob kept.
Until last week.
Since the fire
Much has happened in the time between Bob's rounds at the Ann Arbor Country Club, and for Bob, much of it has been sadness.
The Ann Arbor man had been a club member for 20 years and played countless rounds of golf there with Renden. But after his son's death, the memories were too painful, so he stayed away.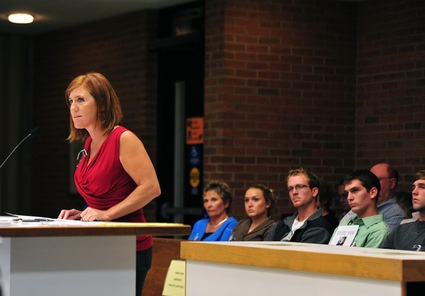 Ryan J. Stanton | AnnArbor.com
"There have been a lot of miserable days since, to be honest," Bob said quietly, pausing as he choked up. "You just try and do the best you can for your other kids "
Bob also has done much with other parents and their children in mind since Renden's death, becoming an advocate for the Ann Arbor city ordinance that banned couches on porches, commonly referred to as "Renden's Law." The blaze that caused Renden's fatal burns spread quickly to the whole house once an upholstered sofa on the porch caught fire.
Bob said even if it prevents just one parent from feeling the way he did, then those efforts were worth it.
"It's just the wrong order of life to have a child go before you," Bob said. "He wasn't an angel - he was like all college kids, but he was definitely in a good place - and it just doesn't make sense to you as a parent."
Returning to the course
Bob and his wife Deanna tried to get out for a round of golf at Stonebridge on Thursday, May 2, but had no luck finding an opening. They called around to three courses before Bob finally said he wanted to go to Ann Arbor Country Club.
"I said 'are you sure, I thought you said you never wanted to go back there?'" recalled Deanna, Renden's stepmother. "He said, 'I think it's ok, let's try there.' "
"I was a little apprehensive about going out to the course, but I said it's been three years," Bob recalls.
It was time.
Despite the fact that the four other courses they had called were all completely booked - Deanna and Bob were able to enjoy their round with practically no interruption.
"There was nobody out there, didn't see anybody else for seven holes, we basically had the course to ourselves," Deanna said. "It was totally wide open."
"The whole day was just kind of surreal. We couldn't get on any of the courses and then there's nobody (at Ann Arbor Country Club)," Bob said. "I think it was just the fate that we were just meant to go back to that course that day."
While Bob and Renden were good for 18 holes when they would play, Deanna describes herself as "more of a nine-hole kind of golfer," so Bob and Deanna would end on the last hole father and son had played together.
Deanna feared the round might be too much for her husband. Renden would have turned 26 on Thursday, May 9, and the three-year anniversary of his death had just passed. But as the two approached No. 9, Bob and Deanna talked about it being Renden's final hole and everything seemed just fine.
Bob teed up his ball and swung away.
"Renden - he was such a fun loving kid, I know he has probably looked down at me several times over the past three years and said 'Dad, stop being sad and live life,' " Bob said. "But it's been hard to do.
"Some tough times over the past few years. A parent's worst nightmare."
Photo courtesy of Bob Lemasters
The hole was in the back of the green, so Bob couldn't quite see where the ball ended up, but Deanna had.
It was in the hole. Bob had just hit his first-ever hole-in-one.
"He hit the ball and I'm watching it hit the green and I see it rolling right toward the stick, I said, 'ah, it's going to go in!' He didn't believe me, he thought it rolled off the back of the green and I said, 'no, I (saw) it drop, I (saw) it drop!' " Deanna said.
Driving up to the hole, Bob still couldn't believe it. He checked behind the green to see where his ball had rolled off of the green before finally checking the cup.
Bob had stayed strong throughout the round, but when he saw his ball — "Ren" written on the side, to remind him not to take the game too seriously — sitting in the hole, the tears finally came.
Niagara Falls.
"I just immediately kind of lost it," Bob said. "I'm not as spiritual as my wife, but I have no other way to explain that then my son had to be somewhere helping that into the hole."
"Afterward Bob thanked Renden, not for the hole-in-one, but just for a sign that things are good," Deanna said. "Just for saying 'Dad it's all fine, we're all going to be together again one day and be happy again.' "
To the bar
It's one of the most backward traditions in all of sports, After a hitting a hole-in-one, a golfer is to report to the clubhouse and buy everyone a round of drinks. This is not a friendly suggestion. It is a requirement.
While logic would suggest it should be the golfer who has the drinks bought for him, the tradition is what it is, old as the game itself.
And Bob would be damned if he wasn't going to honor it.
While most golfers might hope for an empty bar when finishing a round after an ace, Bob and Deanna made sure of the opposite. After crying together and calling their children, Bob and Deanna called some close friends, told them the news and had them meet at the Ann Arbor Country Club.
Before Renden's death, Bob said he might have done the same to brag about the shot, to pump his chest up a bit. Be man of the moment. But now he just wanted to share a happy moment with his wife and closest friends and share memories of his beloved son.
A $200 bar bill later: mission accomplished.
"I've thanked Renden 10 times probably for the hole-in-one since then," Bob said. "Not because of the hole-in-one, because as I've said, those sort of things don't really mean as much after you go through something like lose a child.
"I thanked him for the actual sign."
Pete Cunningham covers sports for AnnArbor.com. He can be reached at petercunningham@annarbor.com. Follow him on Twitter @petcunningham.