Posted on
Sat, Feb 25, 2012 : 5:59 a.m.
4 things to watch when No. 11 Michigan basketball team hosts Purdue
By Nick Baumgardner
All good things eventually come to an end.
Saturday will mark the end of an era, sort of, for the Michigan basketball program when senior co-captains Zack Novak and Stu Douglass take the floor at the Crisler Center for one final time when the 11th-ranked Wolverines host Purdue (6 p.m., BTN).
Novak and Douglass have been a part of 53 wins in Ann Arbor, and one more would give Michigan its first unbeaten home record in 35 years.
Here are four things to watch for in tonight's game: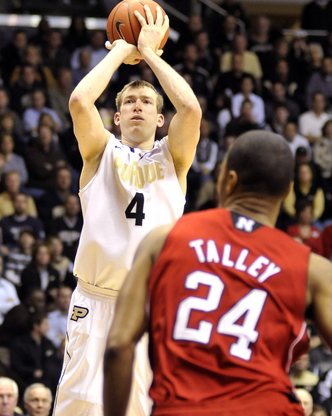 AP Photo
A red-hot Hummel
Robbie Hummel has started making up for lost time.
With Purdue scrapping to move off the bubble and into the NCAA Tournament fold, the Boilermakers' senior leader is averaging 24.8 points and 10.5 rebounds over the team's last four games.
Purdue is 3-1 in that stretch and Hummel is playing his best basketball of the season. He's scoring inside and out, and his rebounding has been tenacious.
"He's really playing well, he was rebounding like Dennis Rodman in the Nebraska game," Michigan coach John Beilein said. "He values this experience and is treasuring every moment of playing basketball."
Earlier this season in West Lafayette, Michigan limited Hummel to 16 points on 6-of-14 shooting. But then, he wasn't playing with a sense of desperation.
He certainly is now, and if Michigan's not careful, Hummel may prove that he still has more than enough ability to take over a game and steal it by himself.

Burke vs. Jackson

During Michigan's two-point win in West Lafayette on Jan. 24, Purdue point guard Lewis Jackson harassed the Wolverines' freshman point guard Trey Burke for most of the evening.
The speedy Jackson pressured Burke full-court, eventually forcing him into a 3-for-10 shooting night and a six-point performance, his third-lowest output of the year.
In an effort to take pressure off Burke against, Beilein played backup guards Eso Akunne and Carlton Brundidge in the first half, and also allowed Stu Douglass to shoulder some of the ball-handing duties.
Akunne is injured, so he can't help. But Brundidge may be back from a recent bout with asthma issues and Douglass is playing as well as he has all season.
Creating space against a defender like Jackson isn't easy, but Michigan will have to do a better job Saturday than it did in West Lafayette.

Another must-win

When Michigan traveled to Northwestern earlier in the week, it faced a Wildcat squad that seemed to be fighting for its life.
Well, buckle up again, because Purdue is in a similar spot.
If the Boilermakers (18-10, 8-7) can grab a win over Michigan, it would likely give their resume enough of a boost to push them into the NCAA Tournament fold.
If Purdue loses, it has serious work to do. The Boilermakers' RPI currently sits at No. 49 with games against Penn State and Indiana remaining.
Just like Tuesday in Evanston, Michigan has plenty to play for, as well.
"We're all into this thing now of trying to be the best team we can be," Beilein said. "Every coach, every player, every manager. They realize (what's at stake)."
AP Photo
One last time
Michigan seniors Zack Novak and Stu Douglass will close a chapter of their college career Saturday when they play their final game at the Crisler Center.
On Friday, both players brushed off any notion of emotions playing a role. But that's so much easier said than done.
Novak and Douglass -- along with Corey Person and Ben Cronin -- will be honored before the game.
And, once the standing ovation finally stops, it'll be business as usual.
Novak and Douglass have done an awful lot for the Michigan basketball program in four years, and ending their home careers with a win seems fitting.
If emotions get the best of them, though, Hummel and company surely have enough bullets in the chamber to spoil the party.
Nick Baumgardner covers Michigan basketball for AnnArbor.com. He can be reached at 734-623-2514, by email at nickbaumgardner@annarbor.com and followed on Twitter @nickbaumgardner.
Want to stay connected to Wolverine basketball in your Facebook newsfeed? "Like" AnnArbor.com's Michigan Basketball News & Views.