Posted on
Sat, Mar 10, 2012 : 9:31 a.m.
4 things to watch: Michigan vs. Ohio State in Big Ten Tournament semifinal
By Nick Baumgardner
INDIANAPOLIS -- So, who's better, exactly?
Michigan or Ohio State.
The Wolverines and Buckeyes have met twice this season, with each winning on its home floor. Ohio State won by 15 in Columbus in January, while the Wolverines grabbed a five-point win in front of ESPN's College GameDay in Ann Arbor.
On Saturday, the Michigan basketball team will have its rubber match with Ohio State (4 p.m., CBS) and a trip to the Big Ten Tournament championship game will be on the line.
Here are four things to watch: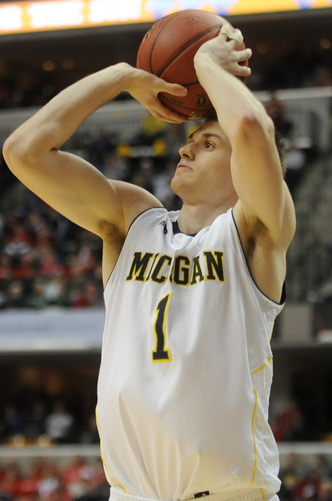 Melanie Maxwell | AnnArbor.com
Paging Zack and Stu
Trey Burke and Tim Hardaway Jr. were good enough Friday to beat Minnesota almost by themselves.
But Ohio State is not Minnesota. Not even close.
Novak and Douglass were both held scoreless for the first 35 minutes Friday. Against Ohio State, that can't happen.
Neither co-captain was overly sparkling during the Wolverines 56-51 win over the Buckeyes last month in Ann Arbor, but they did have a pulse, combining for 13 points.
Ohio State is going to rely on major contributions from three players, Jared Sullinger, William Buford and Deshaun Thomas. Michigan can likely counter with two on the scoreboard in Burke and Hardaway, but it definitely needs a third to produce -- and one of its two captains seem to fit the bill best.
Whether it's knocking down open 3-pointers, distributing, drawing charges or grabbing rebounds, Novak and Douglass have to have a presence Saturday.

Can Morgan do it again?

Jordan Morgan played out of his mind against Ohio State in Ann Arbor, and he's going to have to do it again Saturday in Indianapolis.
Morgan recorded the first double-double of his career in the face of Sullinger, putting up 11 points and grabbing 11 rebounds. At the same time, his defense against the Big Ten's best big man was outstanding.
Sullinger was flustered all night long at the Crisler Center, putting up 15 points, but only hitting 6 of 14 field goal attempts.
Ohio State's biggest interior weapon wasn't rendered useless, but Morgan was able to basically make things a push.
Morgan doesn't have to out-play Sullinger, but he does have to curb his damage. If Sullinger puts up anything close to the 30 points and 12 rebounds he had against Purdue on Friday, Michigan's in big-time trouble.
AP Photo
Overcoming Craft's impact
In his past three games, Ohio State point guard Aaron Craft has racked up nine steals.
The Big Ten Defensive Player of the Year, Craft is regarded as one of the best on-ball defenders in America, and Burke knows that all too well.
Burke was forced into five turnovers during Michigan's loss to OSU in Columbus earlier this season, thanks in large part to dogged defense by Craft.
In Ann Arbor, Burke did a better job of fighting through Craft's physical approach, and kept himself under control on screen-and-roll attempts, as well as any type of one-on-one matchup.
In fact, Burke's dominance of Craft in the game's final minute proved to be the difference. The Michigan floor leader blew by Craft for a layup to put the Wolverines up five in the game's closing moments, and then blocked Craft's shot attempt at the other end on the ensuing possession.
Craft finished the game 1-for-6 from the floor, while Burke dropped in 17 points.
Burke's not likely to put up 30 points again Saturday, but in the end, he has to win the one-on-one battle with Ohio State's bulldog defender.

Control the pace, remain calm

Since Ohio State's loss to Michigan in February, the Buckeyes have seemed to regain their focus.
Apart from a senior night loss to Wisconsin, OSU scored a gritty road win at Northwestern, blew out Illinois, shocked Michigan State in East Lansing and blasted Purdue by 20 in Indianapolis.
During the final 20 minutes against MSU and for the full 40 against Purdue, Ohio State looked very much like the team everyone expected it would be earlier this season, a team loaded with talent and the potential to dominate anyone in front of it.
On Saturday, Ohio State will be more fresh. Michigan needed overtime to beat Minnesota. In turn, the Wolverines need to force Ohio State to play at their pace.
The game in Ann Arbor was played in the 50s, with Michigan taking advantage of every possession, and seemingly controlling the ball for 75 percent of the game. That has to happen again Saturday.
If Ohio State is allowed to get out on the break, or scramble for wide open 3-point attempts, Michigan's in trouble.
But, if Michigan can shoot a strong percentage (it shot 46.8 percent vs. OSU in Ann Arbor) and pack in the lane defensively, forcing the Buckeyes to maximize the shot clock, it definitely has a chance.
There won't be any serious home crowd advantage, no extensive travel and no outside factors giving one team an advantage over another.
Michigan has to play under control, limit turnovers and not let itself fall apart emotionally if the Buckeyes make a run.
Calm down, be deliberate and give yourself a shot in the game's closing minutes.
Because if we've learned anything this season, it's that Michigan somehow always finds a way in a neck-and-neck game down the stretch.
Nick Baumgardner covers Michigan basketball for AnnArbor.com. He can be reached at 734-623-2514, by email at nickbaumgardner@annarbor.com and followed on Twitter @nickbaumgardner.
Want to stay connected to Wolverine basketball in your Facebook newsfeed? "Like" AnnArbor.com's Michigan Basketball News & Views.