Posted on
Fri, Mar 9, 2012 : 9:02 p.m.
Trey-mendous: Burke's 30 points leads Michigan basketball team to 73-69 overtime win against Minnesota
By Nick Baumgardner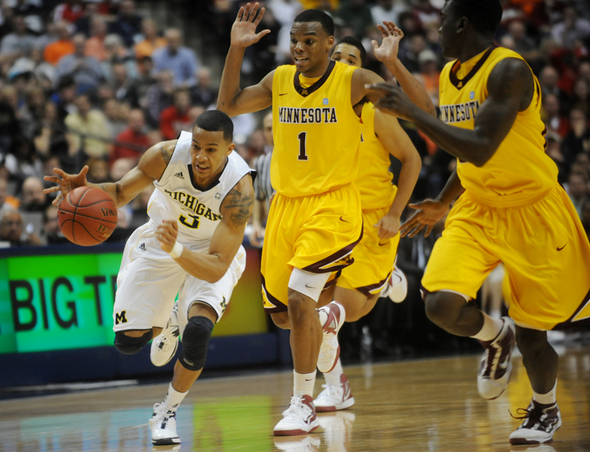 Melanie Maxwell | AnnArbor.com
This story was updated with additional details, post-game reaction and Saturday's semifinal opponent.
INDIANAPOLIS -- Trey Burke broke another record. Tim Hardaway Jr. wasn't far behind, and the Michigan basketball team survived.
Barely.
The 10th-ranked Wolverines erased a nine-point deficit late in regulation Friday and inched by the 10th-seeded Golden Gophers in overtime to grab a 73-69 win in the quarterfinals of the 2012 Big Ten Tournament at Bankers Life Fieldhouse in Indianapolis.
"We maintained our composure the whole game," said Burke, whose career-high 30 points set a new Michigan Big Ten Tournament scoring record. "We all stepped up."
The Wolverines (24-8), the tournament's No. 2 seed, advance to play No. 3 Ohio State in the semifinals on Saturday. The game is scheduled to get underway 25 minutes after Michigan State and Wisconsin open the semis at 1:40 p.m. (CBS).
Ohio State beat Purdue 88-68 on Friday.
MICHIGAN 73, MINNESOTA 69 (OT)

Nick Baumgardner's recap:
DYNAMIC DUO
Trey Burke played an impressive Batman and Tim Hardaway Jr. made for a more-than-formidable Robin. And, because of that, the Wolverines (24-8) are still alive in the 2012 Big Ten Tournament. Burke scored a career-high 30 points and Hardaway added 20 as Michigan erased a late nine-point deficit in regulation before out-gunning Minnesota (19-14) in overtime. Michigan has never lost to a lower-seeded team in the tournament under John Beilein.
BURKE GOES BERSERK
In Burke's first Big Ten Tournament game, he broke a Michigan record for points scored in a league tournament game, passing DeShawn Sims' 27 points in 2009. The co-Big Ten Freshman of the Year went 8-for-11 from the floor and 3-for-4 from 3-point range. He scored 11 of Michigan's first 12 points to open the game, and had 13 points before halftime.
SECOND-HALF HARDAWAY
After Burke carried Michigan in the first half, Hardaway countered with a load-bearing performance in the second half. He scored Michigan's first nine points after halftime, and tallied 18 of his 20 points after the break. He went 6-for-14 from the floor, 1-for-5 from behind the 3-point line and 7-for-8 from the free-throw line.
QUOTE
"Trey's done that for us all year. I'm running out of superlatives"
— Michigan captain Zack Novak on Burke's performance
RELATED CONTENT
Photo gallery
Michigan's 'Lamborghinis,' Trey Burke and Tim Hardaway Jr., making the difference in March
Michigan gets rubber match with Ohio State in B1G Tournament semifinal and more notes
Loss to Michigan a severe blow to Minnesota's tournament hopes
Video highlights from BTN
Boxscore
|
Top 25 scores
|
Big Ten scores
Hardaway put together a fine day himself, scoring 18 of his 20 points in the second half and overtime, but the real main event was Burke.
The freshman point guard's 30 points not only set a personal best, but also went down as the most points ever scored in a Big Ten Tournament game by a Wolverine, breaking DeShawn Sims' record of 27. It's also the most points by a freshman in a tournament game.
He finished 11-for-14 from the floor, 3-for-4 from 3-point range and 5-for-8 from the line, answering the bell every time the Wolverines called on him.
"Trey's done that for us all year," Michigan senior co-captain Zack Novak said. "I'm running out of superlatives."
The victory improved Michigan to 5-4 all-time in the Big Ten Tournament under John Beilein, and a Beilein-coached team has yet to lose to a lower-seeded team.
"I'm really proud of our guys with the way they fought back," Beilein said. "If you looked at our guys on the floor, there was always poise, there was a lot of diligence involved in what they were doing and the ball has to bounce our way.
"And it did, at the end."
After a 17-5 Minnesota second-half run gave the Golden Gophers their largest lead of 54-45 with 4:33 to play, Michigan began its comeback.
Burke snapped the run with a tough inside layup on the following possession, and Novak hit two 3-pointers in less than two minutes -- his first points of the game -- drawing the Wolverines within three, 56-53, with 1:12 to play.
Michigan then forced a Minnesota turnover with less than a minute to go, getting one last crack at the basket. Novak's 3-pointer fell short, but the ball bounced off a Minnesota defender out of bounds -- heading back to the Wolverines with 21.1 to play.
The comeback came to fruition moments later, when Evan Smotrycz buried a 3-pointer in front of the Wolverines' bench, his first points of the game, to tie it up at 56-all with 17.6 left, closing out a 12-2 Michigan surge.
After Burke swatted Andre Hollins' potential game-winner, the ball again went out of bounds, this time off Michigan, giving Minnesota one last gasp with 1.1 to play. It didn't matter, though, as Rodney Williams' miss sent the game into overtime.
The extra session was all Michigan early.
Stu Douglass got things started with a triple from the corner, which was followed by a deep Burke 3-pointer from the top of the key. And after Douglass followed with a runner in the lane a minute later, the Wolverines found themselves on an 8-1 run to open the frame, grabbing a 64-57 edge with 2:10 left.
The Gophers charged back, getting two straight triples from Williams and Andre Hollins, and a pair of Hollins' free throws, to make it a 67-65 game with 1:02 left.
But as he's done so many times this season, Burke eventually sealed the deal for the Wolverines, slicing through the Minnesota defense for a layup with 33.5 seconds to play, putting Michigan up four and essentially icing the game.
Burke added two more foul shots, as did Hardaway.
"We've been in these situations before, especially during the regular season," Hardaway said. "Against Northwestern we were down by seven or eight at halftime, fought back, got it into overtime and made sure we took care of business.
"We're not afraid of these type of moments."
Burke single-handedly kept the Wolverines in the game early, scoring 11 of Michigan's first 12 points, as Michigan opened the game 1-for-8 from the floor. He finished with points 13 in the first half, but the Wolverines entered the break down 23-20.
Hardaway then tagged Burke out to open the second, scoring nine straight points to open the frame, eventually giving the Wolverines their first lead of the game at 27-25 less than two minutes in.
But again, Minnesota responded, getting back-to-back triples from Julian Welch and Williams before a thunderous two-handed flush from Williams finished off the 17-5 spurt with 4:33 to play in regulation.
Hardaway finished 6-for-14 from the floor, 1-for-5 from 3-point range, but did go 7-of-8 from the foul line. Jordan Morgan added seven points for the Wolverines, while Novak finished with six.
Michigan finished 24-for-49 from the floor, 8-for-17 from behind the 3-point line. In overtime, Michigan was 4-for-6 from the floor, 7-for-8 from the stripe.
Andre Hollins led Minnesota (19-14) with 21 points, while Williams added 20.
Michigan is now 3-8 when trailing at the half, and all three of those wins have come in overtime.
The Wolverines rarely make things boring, and almost always find a way to fight back when time gets tight.
Not a bad characteristic to have in March.
"No matter what's happened in the game," Novak says, "that last four minutes comes, and we become different people." Nick Baumgardner covers Michigan basketball for AnnArbor.com. He can be reached at 734-623-2514, by email at nickbaumgardner@annarbor.com and followed on Twitter @nickbaumgardner.
Want to stay connected to Wolverine basketball in your Facebook newsfeed? "Like" AnnArbor.com's Michigan Basketball News & Views.