Posted on
Tue, Mar 13, 2012 : 2:33 p.m.
Nick Baumgardner's NCAA Tournament bracket: One cowardly pick at a time
By Nick Baumgardner
The last time I picked all four Final Four teams correctly, I was 12. I've had plenty of near misses and plenty of disasters since then.
So, if you're looking for any top-notch advice when it comes to who makes a deep run and who gets bounced early, I'm rarely the person to ask.
Sure, I watch more college basketball than most, but picking an accurate NCAA Tournament bracket often has nothing to do with how much hoops you watch, or how much knowledge you have.
A lot of this stuff is chance, which is what makes it so much fun.
Here are my choices. Let the mocking, ridicule and name-calling begin.

South Regional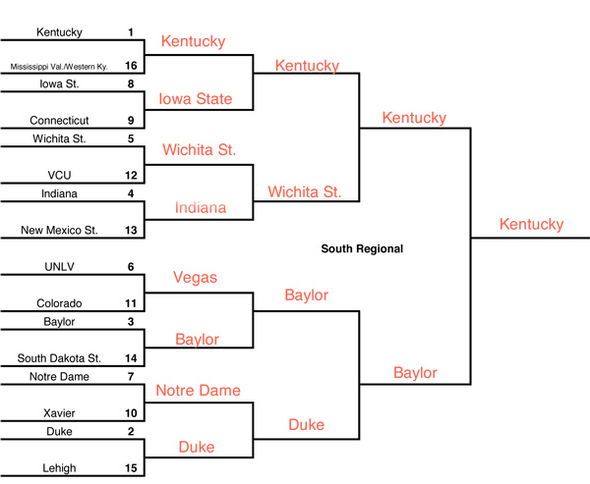 When the selections were announced Sunday, the immediate reaction of many was how extremely difficult the South Regional field was.
Possibly because it was the first bracket unveiled, and people were just waiting to use that line. Possibly because the regional contains Kentucky, and Wildcat fans think the NCAA hates them. Possibly because the regional contains Duke, and Blue Devil fans know everyone else hates them.
Who knows. In reality, though, it's actually a pretty loaded bracket. Which is probably why I cowardly went chalk through the first games.
Although, I'd be remiss if I didn't mention a team from one of my old stomping grounds, Western Kentucky. The Hilltoppers fired their coach midseason, finished sub-.500 and then decided to win their conference tournament. Also, their fans are nuts, they're probably angry with the play-in selection and already eyeing the biggest upset in the history of life by beating Kentucky.
Sorry, guys. I don't see it.
I've got everyone else in this regional beating each other's brains in, with Wichita State knocking out Indiana and Baylor bouncing Duke. But in the end, Kentucky doesn't break a sweat, and the Wildcats head back to the Final Four.

West Regional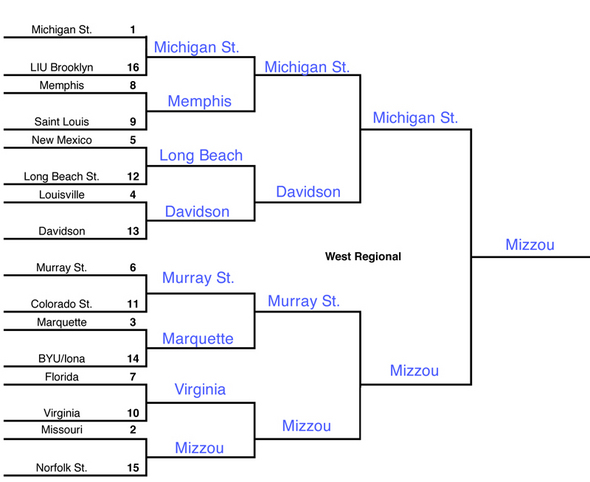 Outside of Michigan State and Memphis being an extremely intriguing possible round of 32 matchup, the theme in the West seems to be that of the Cinderella.
Long Beach State, Davidson and Murray State are all in the same boat. And, because at least one No. 12 always beats a No. 5, and one No. 13 generally gets a No. 4, I pushed the 49ers and Wildcats on to the third round. From there, I've got another upset, as Bob McKillop's bunch moves into the Sweet 16.
As far as the Spartans go, most eye the possible tilt with Memphis as a stumbling block. The Tigers are extremely athletic, and are much better than the team Michigan ran over on Maui in November. MSU survives, though, and dumps Davidson to move forward.
On the bottom half of the bracket, I've got OVC powerhouse Murray State dropping Final Four dark horse Marquette, but eventually falling at the hands of Missouri.
Early on this season, I saw Mizzou as a hot club that might be ripe for an upset come March. But then the Tigers just kept on beating the tar out of people.
Missouri has to feel like it was robbed of a No. 1 overall seed, and in the Elite Eight, I think the Tigers' scoring depth proves to be a touch too much an MSU squad that has a habit of relying too heavily on one player.

East Regional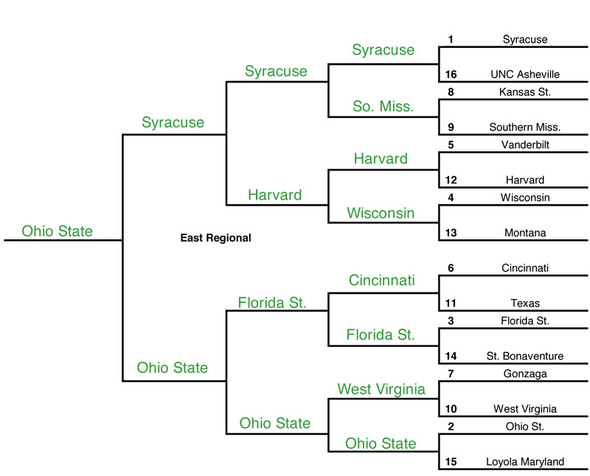 Outside of summoning the courage to pick
Tommy Amaker's
Harvard squad as a Sweet 16 qualifier, I was basically chalk in the East.
More cowardice, I know.
I like the Crimson to beat Vanderbilt (a sexy pick by many) simply because it's Vanderbilt. And, pretty much every spring, the Commodores get drop-kicked by someone they're not supposed to lose to.
Harvard's run continues with a gritty upset win over Wisconsin, sending Amaker's bunch back to Boston for a date with No. 1 seed Syracuse. The run stops there, though, as the Orange step on the glass slipper.
This one comes down to Ohio State and Syracuse, in my mind. The Orange have been fantastic all season, and defend as well as anyone in the tournament. But Ohio State is just loaded, talent-wise. And, I think Jared Sullinger is out to prove something this month.
I'll take the Buckeyes to advance to New Orleans, but barely.

Midwest Regional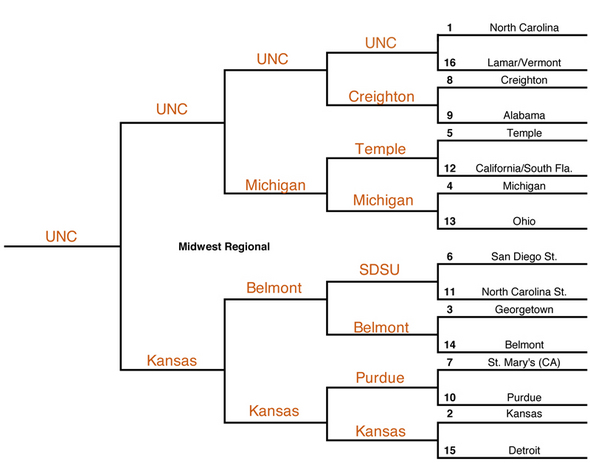 A lot of Michigan fans were a bit miffed at the Wolverines' slide to a No. 4 seed after being
bludgeoned by Ohio State on Saturday
in Indianapolis.
Well, the Buckeyes may have done the Wolverines a favor. Because if Michigan had scored a No. 3, it likely would've ended up in Columbus playing Belmont.
And Belmont, is not a team anyone wants to see early, in my opinion.
The Bruins, once again, have a ton of shooting depth and haven't lost since January. Belmont was a darling of many last season, but ended up falling flat early. I think the Bruins learn their lesson, and crash Georgetown's party in Ohio.
Detroit will give Kansas everything it wants, and more, but the Jayhawks are just too good. Outside of that, I pretty much played it safe here.
As for Michigan?
I think the Wolverines beat Ohio and Temple in a pair of close games, advancing to their first Sweet 16 since 1994.
Unfortunately for Michigan, though, the Sweet 16 is where that No. 3 seed could have helped. North Carolina is just an awful matchup for Michigan size-wise. And, even if the Wolverines are burying outside shots, I just don't see enough firepower in the tank to pull the upset.
From there, I think UNC pushes past Kansas and into the Final Four.

Final Four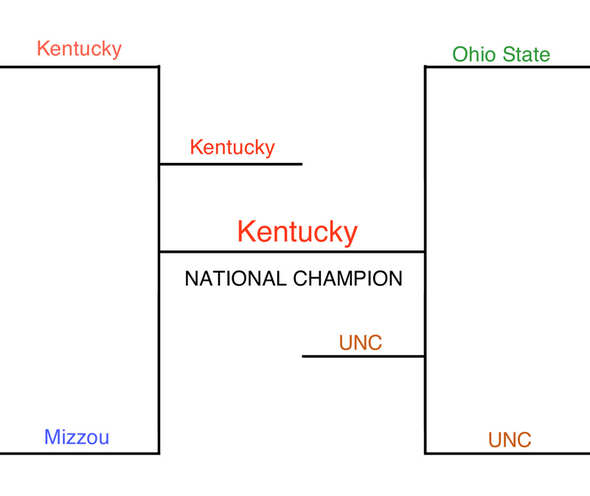 So, I've got two No. 1 seeds and two No. 2s. Pretty much the most boring, predictable, fear-laden Final Four picks ever.
I think Kentucky's loss in the SEC Tournament title game will provide just enough re-focus medicine to push the Wildcats by Missouri, and I believe the same will be true for North Carolina. John Henson will come back, and the Tar Heels will roll.
In the final, I'll take Kentucky.
In part because a Wildcat loss would cause the entire state to sink in on top of itself in a fit of rage and depression.
And no one wants to see that.
Nick Baumgardner covers Michigan basketball for AnnArbor.com. He can be reached at 734-623-2514, by email at nickbaumgardner@annarbor.com and followed on Twitter @nickbaumgardner.
Want to stay connected to Wolverine basketball in your Facebook newsfeed? "Like" AnnArbor.com's Michigan Basketball News & Views.