Posted on
Tue, Apr 3, 2012 : 3:24 p.m.
Ex-Michigan basketball forward Evan Smotrycz has narrowed his transfer list to six schools
By Nick Baumgardner
Evan Smotrycz is one step closer to finding a new home outside of Ann Arbor.
The former Michigan basketball forward told Scout.com on Tuesday that he has narrowed his transfer list to six schools.
"I kind of narrowed my list this weekend," Smotrycz told Scout.com's Ben Weixlmann,"to Colorado, Maryland, Baylor, Xavier, Clemson and Providence."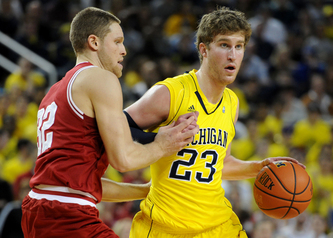 Angela J. Cesere | AnnArbor.com
Earlier this month, Smotrycz -- who averaged 7.7 points and 4.9 rebounds as a sophomore last season with the Wolverines -- was one of three players that opted to leave the Michigan program.
After being used as a part-time starter for his two seasons at Michigan, the 6-foot-9 Smotrycz is now in search of a better fit.
"This is something Evan's been thinking about for some time," Smotrycz's mother, Charleen, told AnnArbor.com at the time. "He was kind of assessing things along the way, things he needed to work on and things that he felt would make him a stronger player, not just at Michigan but moving forward.
"He's not an impulsive guy, he's pretty methodical. He did a review at the end of the year and just felt this was the right decision for him. ... But he owes so much to Michigan and John Beilein and that whole group, they've been unbelievable for him.
"He wasn't happy and he felt that he needed to take a pause, head home and kind of re-assess what he was looking for in the next step of his life, and we supported him."
Smotrycz told Scout.com that he'll be taking a visit to Providence this weekend before possibly stopping by Maryland and Colorado after that.
"I'm not looking to be flying all over the place and stretching out the decision," Smotrycz told Scout. "But at the same time, this is my only second chance, so I don't want to mess anything up and make sure I get the right spot. It would definitely have to be a little before summer school starts so I could get down to school for that."
Nick Baumgardner covers Michigan basketball for AnnArbor.com. He can be reached at 734-623-2514, by email at nickbaumgardner@annarbor.com and followed on Twitter @nickbaumgardner.
Want to stay connected to Wolverine basketball in your Facebook newsfeed? "Like" AnnArbor.com's Michigan Basketball News & Views.