Posted on
Wed, Aug 1, 2012 : 3:45 p.m.
Jalen Rose says he really likes Mary Sue Coleman, believes Michigan will find a way to honor Fab Five
By Nick Baumgardner
Jalen Rose's hard feelings toward his alma mater, its president and his beloved Final Four banners may be subsiding.
During an interview with WJR's Frank Beckmann on Wednesday, the former Michigan basketball star said he's not turning his back on the school he once played for -- and he's hopeful the Fab Five will be fully embraced in Ann Arbor once again.
"I really like Mary Sue Coleman, the president of Michigan, I love (athletic director) Dave Brandon, I still support the university," Rose said. "Dave Brandon feels that there is a way to still honor what our teams brought to the table, and it's up to him to decide how he's going to do it. That's out of my control.
"I do think the University of Michigan is going to do the right thing in 2013 and find a way to honor what we helped bring to the table."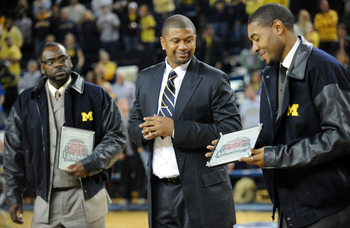 Melanie Maxwell | AnnArbor.com
Rose made headlines in April when he criticized Coleman on Twitter for her statement that the school may never replace its removed Fab Five Final Four banners, which were taken down as part of self-imposed sanctions resulting from the 2002 Ed Martin scandal.
At the time, Rose publicly wondered whether or not he should stop supporting Michigan altogether.
"I saw that U of Michigan has no plans to put back up our hoops banners," Rose tweeted. "Should I do like most of its former BBallers & never return?"
On Wednesday with Beckmann, Rose said that's not the case. He attended the Michigan football program's "Mott Takeover" event this spring, and said he has plans to be at Michigan's Sept. 1 season-opener against Alabama at Cowboys Stadium.
Moreover, he said his move to ESPN's college basketball "GameDay" next season will help him to get a better "snapshot of what's happening in Ann Arbor."
After Rose's comments in April, Brandon told AnnArbor.com that he wasn't sure whether or not the school could actually put the 1992 and 1993 Final Four banners back into the Crisler Center rafters, but did say he'd be "glad" to honor the club in some way, shape or form.
The university's 10-year disassociation period with Fab Fiver Chris Webber, one of the key figures in the Ed Martin scandal, ends in May of 2013.
Asked whether or not he could persuade Webber to "apologize" to the school and return for an embrace, Rose said that's not up to him.
"That's between him and the university," he said. "That's the lead domino for this. Situations take on their own forms, but this wasn't a Fab Five scandal. It was one individual.
"But that's your teammate and we all take the fall and I understand that had to be the course. The sanctions get lifted in 2013, we'll see how the university responds."
Nick Baumgardner covers Michigan sports for AnnArbor.com. He can be reached at 734-623-2514, by email at nickbaumgardner@annarbor.com and followed on Twitter @nickbaumgardner.