Posted on
Fri, Feb 3, 2012 : 5:34 p.m.
Michigan focused on Big Ten basketball title, not just MSU rivalry
By Nick Baumgardner
In the past, the opening line of questioning fired at Michigan basketball coach John Beilein before a visit to East Lansing may have read as follows:
"What will it be like to play in a hostile environment?"
"What will it mean for your program to win at the Breslin Center?"
"How important is this game for perception's sake?"
But on Friday, with a rematch against the Spartans just two days away, Beilein's press conference opened with markedly different queries.
They were less about the hated Spartans, and more about a Big Ten championship.
"We want to take the next step, we're trying to become champions," Beilein said Friday. "That's the goal of every team that puts on the maize and blue. They're trying to be champions of the Big Ten.
"That's the ultimate goal."
Entering its final matchup of the regular season against Michigan State on Sunday (1 p.m., CBS), Michigan is in the unfamiliar position of sitting higher than the Spartans in the league standings.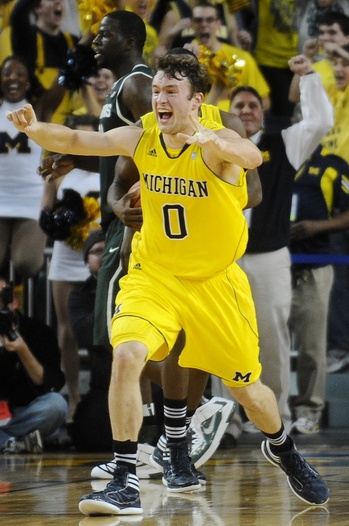 Melanie Maxwell I AnnArbor.com
With eight Big Ten games remaining, the 23rd-ranked Wolverines (17-6, 7-3) are percentage points ahead of the Spartans (17-5, 6-3) for second place in the conference.
Ohio State (19-3), which beat Michigan by 15 in Columbus last week, leads the league at 7-2.
Michigan is currently tied with Wisconsin for second, but the Wolverines own a tie-breaker versus the Badgers by way of a 59-41 win earlier this season.
And, a win at Michigan State wouldn't just give Michigan its fourth-straight win in the rivalry, it'd give the Wolverines an outright tiebreak over the Spartans heading down the stretch.
A year ago, Michigan's main focus was finding its way back to the NCAA Tournament, and it had to beat a team like Michigan State to get there.
But now, the Wolverines want a league championship -- something the program hasn't had since 1986.
And once again, it knows beating MSU is a large part of the equation.
"Our whole team established that goal early on," Michigan senior captain Zack Novak said. "That's the next step for this program."
After each team huddle last season, Michigan broke with an NCAA Tournament-focused chant.
This year?
"We end with 'Big Ten champs,'" Novak said.
Michigan and Michigan State will once again tangle for bragging rights, in-state superiority and old-fashioned pride Sunday.
But, for the Wolverines, the time has come to add another prize to the pot.
"You guys are always asking me 'is this a big game?'" Beilein said. "When you get down to this point in the season with eight games left, then each game becomes a little more important.
"Michigan State's got such a great program and a terrific coach, and this is one of the teams you've got to go through if you're going to be at the top of the Big Ten."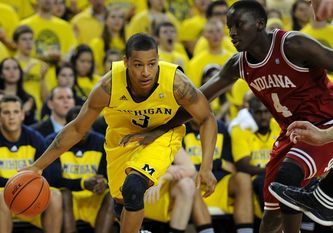 Angela J. Cesere | AnnArbor.com
Space for Burke
Beilein was asked if he was concerned that Indiana's strategy to send several larger defenders at Michigan freshman point guard Trey Burke would be something that'll catch on.
"We're trying to get him in space," Beilein said. "We're trying to get to that as much as we can, but he's still a strong young man, now. Not the biggest guy, but he's strong inch by inch.
"And, he still can turn the corner and use his quickness. When he uses leverage, he's very good with it."
The 5-foot-11 Burke was guarded at times Wednesday by 6-foot-3 Victor Oladipo and 6-foot-8 Christian Watford. As a result, he went on a scoring drought that lasted nearly 30 full minutes.
Burke still put up a team-high 18 points in spite of the dry spell.

Discipline on the glass

Michigan beat Michigan State last month despite being out-rebounded 31-18. Against Ohio State on Sunday, the Wolverines lost the battle on the glass, 38-29, and lost the game.
Beilein said Michigan will have to get back to fundamentals when it comes to rebounding against Michigan State on Sunday. The Spartans still lead the Big Ten with 39.9 rebounds per game.
"We'll put bubbles up (around the hoop in practice) and the scout team won't like it when they see a rim they can't score on," Beilein said. "We want to make sure we emphasize that we're going to box out every, single time.
"They will send three or four guys, maybe five guys, to the backboard and still play very good transition defense. That's why they're so good, and we have to be conscious of that."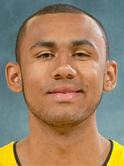 Jon Horford update
Michigan sophomore forward Jon Horford dressed but did not play Wednesday against Indiana, and his status remains a question mark moving forward.
Beilein said Horford was scheduled to go through a half-court workout Friday, but nothing more.
The 6-foot-10, 250-pound sophomore has missed the past 14 games with a stress fracture in his right foot.
Nick Baumgardner covers Michigan basketball for AnnArbor.com. He can be reached at 734-623-2514, by email at nickbaumgardner@annarbor.com and followed on Twitter @nickbaumgardner.
Want to stay connected to Wolverine basketball in your Facebook newsfeed? "Like" AnnArbor.com's Michigan Basketball News & Views.