Posted on
Sat, Mar 10, 2012 : 8:29 p.m.
Michigan's Trey Burke brought back to Earth in his worst outing of the season
By Nick Baumgardner
INDIANAPOLIS -- Less than 24 hours earlier, Trey Burke was the talk of the Big Ten Tournament.
The Michigan basketball team's point guard set a school and Big Ten Tournament freshman record with a 30-point showing in a quarterfinal win against Minnesota, willing the Wolverines into the semifinals.
Saturday, though, was a different story.
"It was definitely frustrating," Burke said after the poorest performance of his freshman season. "I just told myself not to show any type of emotion.
"At the end of the day, we're still playing."
What a difference a day makes.
In one short time period, Burke went from a career highlight to a season-worst.
He went 1-for-11 from the floor, 0-for-7 from 3-point range and committed a career-high eight turnovers as the Wolverines were shellacked by Ohio State in the semifinals of the Big Ten Tournament.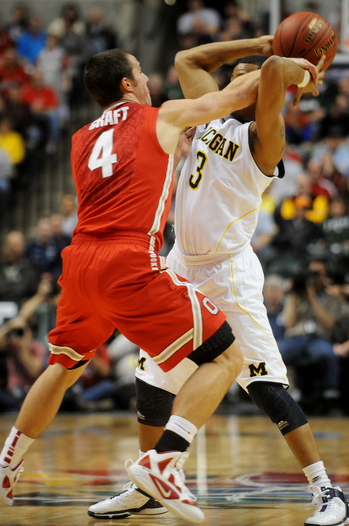 Melanie Maxwell | AnnArbor.com
Less than a day after playing the full 45 minutes in an overtime win against Minnesota, Burke never found any type of groove against the Buckeyes.
Dogged by Big Ten Defensive Player of the Year Aaron Craft for most of the night, the freshman floor leader didn't record a field goal until the 6:55 mark of the second half -- when his team was down 20 points.
"Craft's a great defender, I'm not going to say it wasn't him, because he was definitely a reason why we were a little flustered out there," the Columbus, Ohio native said. "They tend to corner me on the ball-screens. Craft makes sure I can't use it and Jared (Sullinger) is right there, so it's kind of like a mini-trap.
"It's a look we really don't see a lot, and it kind of throws our offense off."
Craft tried to shake off most of the attention afterward, saying it was more of a team effort in limiting Burke's game.
But anyone who tuned in Saturday knew those comments were more for show than anything. Craft erased a rough performance against Burke in Ann Arbor earlier this season with a masterful defensive effort in Indianapolis.
"(I was) just trying to not make it about me against him because that's not what it's about," Craft said. "And our bigs did a great job hedging ball screens today and everyone else did a good job of zoning up and not giving easy baskets for the most part."
OHIO STATE 77, MICHIGAN 55

Playing against a Buckeye team with extreme length and girth at just about every position, Burke was rendered completely ineffective throughout.
He picked up two fouls midway through the first half, only the second time he's done that all season. But unlike the previous instance at Iowa, Michigan coach John Beilein re-entered Burke later in the half with the two fouls, hoping to provide a spark to his otherwise lifeless team.
But it didn't work. Craft and Sullinger continued to turn Michigan's ball-screen into a nightmarish trap, and the Wolverines remained stagnant.
"I don't know if humbling is the right word, but it is a learning experience for him," Beilein said. "(Despite) his performance today, his attitude was outstanding the entire time.
"There's a lot involved when he's playing against his hometown team and the defensive player of the year, but I never saw him get shook. That shows a lot about who he is."
Burke's best Michigan moment to date on Friday quickly turned into his worst a day later.
The Wolverines have yet to lose two straight games as a team this season, and Burke rarely puts in back-to-back duds.
He took full responsibility for his performance afterward, refusing to make excuses and simply explaining how his Ohio State nightmare won't happen again.
"It's just one game," Burke said. "One of my worst games. But I wasn't going to show any type of emotion.
"I know my team has my back."
Nick Baumgardner covers Michigan basketball for AnnArbor.com. He can be reached at 734-623-2514, by email at nickbaumgardner@annarbor.com and followed on Twitter @nickbaumgardner.
Want to stay connected to Wolverine basketball in your Facebook newsfeed? "Like" AnnArbor.com's Michigan Basketball News & Views.