Posted on
Mon, Feb 6, 2012 : 2:36 p.m.
Michigan basketball team suffered communication breakdowns in Michigan State loss
By Nick Baumgardner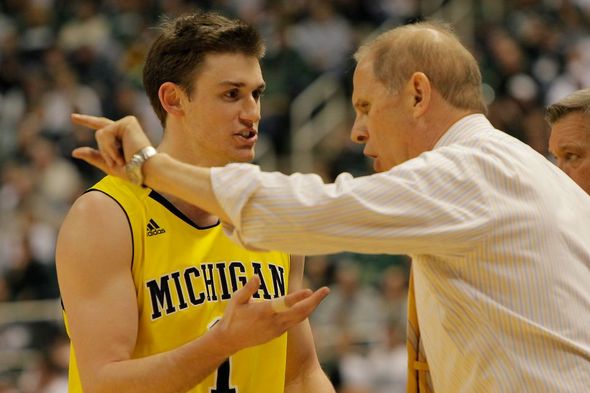 Chris Asadian | AnnArbor.com
At one point this season, John Beilein wanted more 'yes faces.'
With seven games left to play in the regular season, the Michigan basketball coach still wants those same faces.
But he also wants them to communicate better.
"Part of execution is communication," Beilein said Monday. "That ties in with ... we didn't execute and we're still on the last play (mentally). Guess what? The ball's coming the other way.
"We have to be able to move forward."
Beilein said the team's execution was lacking during a 64-54 loss at Michigan State on Sunday and gave MSU credit for a large part of that.
He also pointed to his team's inability to get over a poor shot or poor defensive set quickly enough.
"With every team or every player, it's always an issue," Beilein said. "It's a problem with me if I'm driving home from work, thinking about a play, I might get into an accident or something."
Against the Spartans, Michigan was out-rebounded 40-16, had eight turnovers before halftime, shot less than 40 percent from the floor and got a combined 5-for-21 shooting performance from its two leading scorers -- freshman point guard Trey Burke and sophomore wing Tim Hardaway Jr.
Afterward, both Burke and Hardaway said their on-court chemistry could be better. Both added that they intend to work on their in-game cohesion.
"It's not just me and Trey, it's the whole entire team," Hardaway said Sunday. "The chemistry is there, we just need it to be on a consistent basis. Just try to make a consistent effort.
"(Burke) still is learning where people are on the floor, and he's just got to keep working at it. We trust him with the ball 100 percent, and he's making the right plays."
Beilein didn't single out any one player or one play Monday. He said the entire group needs to find a way to better deal with the ups and downs of a game as they occur.
"You have to be able to move forward and stay in the moment," he said. "We're struggling with that, like many teams."
Meantime, the Wolverines (17-7, 7-4 Big Ten) find themselves two losses behind first-place Ohio State in the Big Ten standings.
Michigan fought through perhaps the toughest six-game stretch of its season with a 3-3 mark, a run that included three straight games against Top 25 opponents (two on the road).
The Wolverines' remaining schedule features just one currently-ranked opponent (Feb. 18, vs. No. 3 Ohio State), but even so, Beilein says Michigan has to learn from its recent ups and downs.
And find a way to level them out.
"It could've been better, but it could've been worse, too," he said of the past six-game stretch, dating back to a Jan. 17 home win against Michigan State. "We're very fortunate to win some tight games and winning on the road against anybody -- let alone teams in this league -- is very difficult.
"We got through it the best that we could. And we're learning from the experience of that."
Nick Baumgardner covers Michigan basketball for AnnArbor.com. He can be reached at 734-623-2514, by email at nickbaumgardner@annarbor.com and followed on Twitter @nickbaumgardner.
Want to stay connected to Wolverine basketball in your Facebook newsfeed? "Like" AnnArbor.com's Michigan Basketball News & Views.