Posted on
Mon, Jan 16, 2012 : 3:40 p.m.
Michigan basketball team tries to prove last season's Spartan sweep was no 'fluke'
By Nick Baumgardner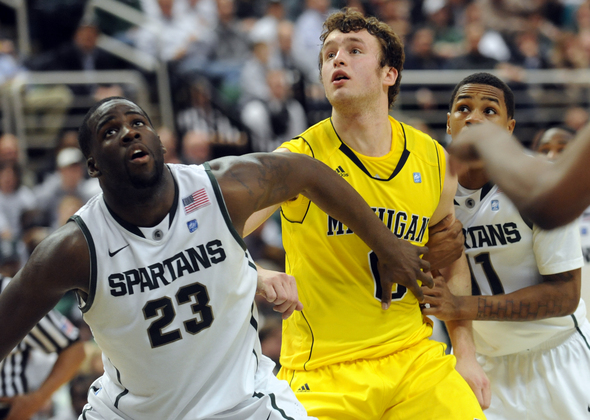 Melanie Maxwell | AnnArbor.com
The Michigan basketball program took two large steps forward last season with regard to restoring the luster of its biggest on-court rivalry.
But two steps aren't enough, and now the Wolverines say there's plenty of work left. And plenty left to prove when it comes to the Michigan-Michigan State basketball series.
"Everybody was saying it was a fluke last year, (and that Michigan State) had emotional problems," Michigan sophomore forward Tim Hardaway Jr. said Monday. "We're just trying to come out there and be the tougher team."
The 20th-ranked Wolverines, who will host the ninth-ranked Spartans at 7 p.m. Tuesday (ESPN), swept the series with Michigan State last season for the first time in 14 years. Michigan earned a four-point victory in East Lansing and a seven-point home win in the regular-season finale.
JOIN OUR LIVE CHAT
Visit AnnArbor.com for a live chat during the Michigan vs. Michigan State game on Tuesday night. Sports reporters Nick Baumgardner and Kyle Meinke will kick things off from the Crisler Center at 6:30 p.m., 30 minutes before tipoff.
After going 3-18 in 21 previous games against the Spartans from 1998-2010, the Wolverines are in position to earn their third consecutive victory in the series for the first time since winning five straight from 1996-98.
The game Tuesday will mark the first time since 1998 that Michigan and Michigan State will both be ranked when they face each other.
"We've still got a ways to go before we get our program to the level they've been at," Michigan senior guard Stu Douglass said. "They've been to Final Fours and have been very good the past 10 to 15 years.
"We know we've got a ways to go, and we respect them a lot. But we can't dwell on sweeping them last year and thinking it was the greatest thing ever. I want to go out and sweep them again this year."
If Michigan's series sweep over Michigan State last season breathed life back into a rivalry that seemed dormant for the better part of the 2000s, it also got the Spartans' attention.
Earlier Monday, Michigan State coach Tom Izzo said Tuesday's game shouldn't be looked at as "life and death," however, that doesn't mean it won't be personal.
"I don't want to lose to Michigan, never want to lose to Michigan," Michigan State senior forward Draymond Green said. "And when I leave here, I never want to see Michigan State lose to Michigan. It's not going to change the rest of my life."
The Spartans are also hoping to erase the sting of a loss at Northwestern on Saturday — a defeat that snapped MSU's 15-game winning streak.
Michigan, meanwhile, is entering its first rivalry game of the season on the heels of its ugliest loss to date, a 75-59 setback at Iowa.
It will be emotional, physical and anything but friendly.
But players say it needs to retain some semblance of normalcy.
"Everybody knows each other. I know Day-Day, and I played with (Michigan State sophomore guard Keith Appling) over the summer," Hardaway said. "Once we're on the court, there are no friends, and you can see that out there.
"(But) you have to just go out there and have fun. Try not and get emotionally drunk out there in front of the crowd and take everything one step at a time."
Michigan senior captain Zack Novak agreed, admitting the game is not just any other regular-season Big Ten battle, but it has to be approached as such.
"It's not (just) any other game," Novak said. "It's a rivalry game, and there's going to be more emotion to it, but the way we prepare will be the same."
The 2010-11 Michigan basketball team earned two program-enhancing victories last season against Michigan State.
But the 2011-12 team hasn't done anything.
Not yet, anyway.
"Hopefully we can look back and say (sweeping MSU) was a little bit of a turning point for the program," Douglass said. "With the recruiting thing, the Michigan-Michigan State battle, guys in Michigan not wanting to play for coach (John) Beilein because of his system, and stuff like that.
"Hopefully that's all gone by the time I leave. (Sweeping MSU) was big, but that was last year. If we lose twice to them this year, it won't be good at all."
Nick Baumgardner covers Michigan basketball for AnnArbor.com. He can be reached at 734-623-2514, by email at nickbaumgardner@annarbor.com and followed on Twitter @nickbaumgardner.
Want to stay connected to Wolverine basketball in your Facebook newsfeed? "Like" AnnArbor.com's Michigan Basketball News & Views.