Posted on
Fri, Jan 6, 2012 : 12:29 a.m.
Michigan battles, but becomes latest ranked basketball team to lose, 73-71, at Indiana
By Nick Baumgardner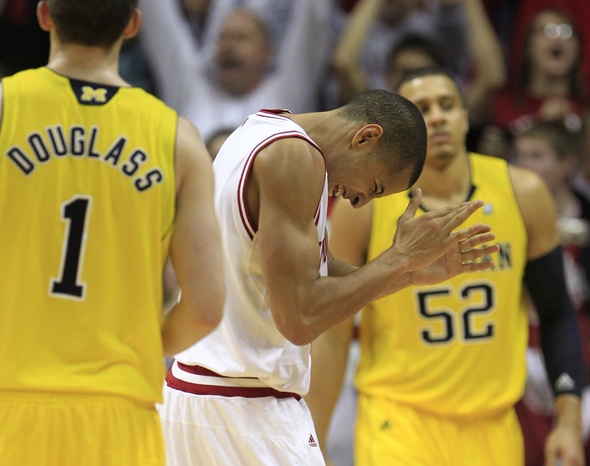 AP Photo
Updated 12:29 a.m.
BLOOMINGTON, Ind. -- In the most hostile environment it has faced all season, the Michigan basketball team found itself on the brink not once, but twice.
And both times, the resilient Wolverines found a way to claw back.
Just not all the way.
No. 16 Michigan erased two separate double-digit leads but never found a way to pull in front as 12th-ranked Indiana got 25 points from Christian Watford and 18 from freshman Cody Zeller in a nail-biting 73-71 win at Assembly Hall on Thursday night.
"I like our team and I like coaching our team, but I never believed we were going to go 18-0 in the Big Ten," Michigan coach John Beilein said after the loss. "Nobody's going to (do that). We've got to make sure we learn from this.
"It's disappointing, but it's also part of life right now in this league."
The loss snaps the Wolverines seven-game win streak and leaves Michigan (12-3, 2-1 Big Ten) at 0-2 on the road this season, with its other setback coming via a 12-point loss at Virginia in November.
INDIANA 73, MICHIGAN 71

Nick Baumgardner's recap:
RESILIENCE IN LOSS
Twice Michigan (12-3, 2-1) battled back from double-digit deficits to pull even on the road at No. 12 Indiana (13-1, 2-1), but in the end the Wolverines never led. Michigan trailed by two with possession at the one-minute mark, and had one final chance to steal its first road game of the season at the horn, but Zack Novak's half-court heave was too strong, leaving the Wolverines just short. Michigan showed resiliency, but is still 2-20 in its last 22 trips to Bloomington.
BETTER ROAD EFFORT
In Michigan's lone other road test this season (at Virginia), adversity turned into a snowball the Wolverines couldn't avoid. In Bloomington, Michigan found a way to battle through various bouts with adversity before coming up just short. Tim Hardaway Jr., who scored five points in the road loss at Virginia, finished with a gritty 19 points to pace Michigan. Freshman Trey Burke had a poor shooting night (4-for-15), but managed to score 10 points while handing out eight assists and grabbing seven rebounds.
TOO MUCH WATFORD, ZELLER
Indiana junior Christian Watford and freshman Cody Zeller may as well have been playing horse. Neither saw many shots they couldn't make. The duo combined to shoot 16-for-21 from the floor and score 43 points, 59 percent of Indiana's output.
QUOTE
"We're not going to win them all. I like our team and I like coaching our team, but I'd never believed we were going to go 18-0 in the Big Ten. Nobody's going to (do that). … It's disappointing, but it's part of life right now in this league."
— Michigan coach John Beilein
RELATED CONTENT
Michigan not interested in any silver linings after two-point loss at No. 12 Indiana
Boxscore
|
Top 25 scores
|
Big Ten scores
In the Wolverines last 22 trips to Bloomington, Michigan has gone 2-20.
Indiana, meanwhile, continued its torrid play at home. The Hoosiers are now 11-0 at Assembly Hall with wins over a top-ranked Kentucky squad and a second-ranked Ohio State team.
"The effort is there on our team," Michigan sophomore Tim Hardaway Jr. said. "But give them credit, they made more tough plays than we did and they were a little bit more physical in some areas.
"We've got to bounce back."
Hardaway paced four Michigan players in double figures with 19 points, while Jordan Morgan finished with 12 points and nine rebounds.
Freshman point guard Trey Burke added 10 points to go along with eight assists and seven rebounds, but shot just 4-for-15 from the floor.
Zeller and Watford combined to shoot 16-for-22 from the floor, and accounted for 43 of Indiana's 73 points.
Indiana shot 27-for-49 from the floor, 7-for-11 from 3-point range.
"We've got to figure out something to (defend) better," Michigan senior Zack Novak said. "We had a gameplan, but (Watford) is a good player and he's going to get some shots over you. He made some tough ones tonight, you've got to give him credit."
Michigan seemed to play catchup all night long, falling behind by 15 in the first half before battling back -- then trailing by 10 after a highlight-reel stuff by Victor Oladipo with 7:16 to go in the game made it 65-55 Hoosiers.
Still, the Wolverines managed to fight back again.
A Burke 3-pointer brought Michigan back within six at the 6:24 mark, and back-to-back layups by the Wolverines' freshman sensation made it a three-point game with 4:01 to play.
Hardaway would then bring the Wolverines the rest of the way back, splitting a one-and-one free-throw opportunity and polishing off an Indiana turnover with a two-handed breakout dunk, leaving the score at 68-all with just 3:03 remaining.
Indiana reclaimed the lead on its next possession on a pair of Verdell Jones foul shots, but Michigan found itself with chances to tie or take the lead on its next four possessions.
Stu Douglass missed a 3-pointer with 2:43 left, Hardaway missed a 3-pointer with 2:04 left, Burke missed a layup with 1:04 left and Hardaway missed another 3-pointer with 1:01 left.
After securing the rebound off Michigan's final miss, the Hoosiers then killed some clock, and Jones delivered the ultimate dagger -- burying a 15-footer from the wing to make it a 72-68 game with just 23 seconds to play.
"A lot of their stuff (came down to) one-one-one," Beilein said. "Watford making a pull-up, Jones making a pull-up.
"That was certainly a big one."
Novak was whistled for a travel on Michigan's next possession, but all hope wasn't lost.
Jones missed the front end of a one-and-one, allowing Douglass to drop in a triple with less than two seconds to play, making it a 72-71 game.
Michigan then fouled Watford, who split a pair of foul shots, giving the Wolverines one last chance. Novak's half-court heave was too strong off the backboard, leaving Michigan two points shy.
Douglass finished with 11 points for Michigan, while Novak and Evan Smotrycz each added eight.
Indiana (14-1, 2-1 Big Ten), had no other players finish in double figures.
As a team, the Wolverines shot 27-for-58 from the floor.
Michigan returns to the court Sunday when it hosts Wisconsin (1:30 p.m., CBS).
The end result of Michigan's second venture onto the road this season wasn't nearly as poor as the first.
But it was still a loss, nothing more, nothing less.
"I didn't learn anything new," Novak said. "I knew we were a tough team, I knew we'd respond, it was disheartening the way it ended.
"It happens."
Nick Baumgardner covers Michigan basketball for AnnArbor.com. He can be reached at 734-623-2514, by email at nickbaumgardner@annarbor.com and followed on Twitter @nickbaumgardner.
Want to stay connected to Wolverine basketball in your Facebook newsfeed? "Like" AnnArbor.com's Michigan Basketball News & Views.