Posted on
Wed, Apr 25, 2012 : 5:59 a.m.
Michigan unsure if Fab Five banners can be replaced, not opposed to alternate celebration
By Nick Baumgardner
Story was updated at 8:50 a.m.
Jalen Rose wants his banners back, Mary Sue Coleman has no interest in replacing them and Dave Brandon isn't sure Michigan could re-raise them if it wanted to.
The Michigan athletic director said earlier this week that the university is currently spending "zero time" on the topic of the Michigan basketball program's removed banners until the disassociation between the school and former Fab Five member Chris Webber ends in 2013.
And even when it does end, he's not positive he can restore the physical remnants of the famed Fab Five to the Crisler Center rafters.
"We're not even sure that we could put those banners up," Brandon said. "If you vacated wins and forfeited wins and basically cleared the record books of any activity, it's hard to believe we could put back up the banners. We've never even gauged with the NCAA to see if that were possible.
"And, truthfully, if we had to forfeit the wins, it doesn't seem appropriate."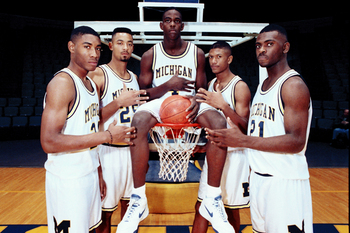 Associated Press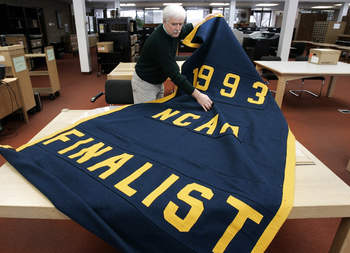 Associated Press
Coleman, Michigan's president, stoked the fire of the long-standing banner debate earlier this month when she addressed the subject during a public forum with students.
The Michigan Daily was on hand to record Coleman's comments at the time, which reaffirmed her stance on never replacing the tarnished banners linking Michigan to the famed Ed Martin basketball scandal.
"What happened was not good, and I don't think they'll ever go back up. I don't," Coleman said at the time.
After Coleman's comments, Rose -- an former Fab Five guard -- made his frustrations known on Twitter.
"I saw that U of Michigan has no plans to put back up our hoops banners," Rose tweeted at the time. "Should I do like most of its former BBallers & never return?
"Or should I ask for the $250k I donated for my Endowed Scholarship back & move it to another school? Stay tuned."
Following the Martin scandal, Michigan imposed several sanctions on its men's basketball program in 2002 -- including the forfeiture of wins and four banners.
The school removed banners acknowledging the Fab Five's Final Four appearances in 1992 and 1993, as well as the 1997 NIT Championship banner and the 1998 Big Ten Tournament banner.
Additionally, Michigan began a 10-year disassociation between itself and four former players involved -- Webber, Robert Traylor, Louis Bullock and Maurice Taylor.
Webber's disassociation ends in May of 2013.
Though that date is rapidly approaching, Brandon says the school is currently putting no time into figuring out what might happen when it gets here.
"It's a moot point now," he said. "There's a lot of time that'll pass between now and 2013."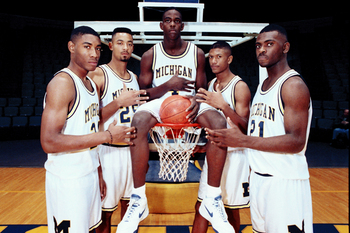 Associated Press
Brandon's not sure if Michigan can put the banners back up in the Crisler Center, but that doesn't mean he's opposed to honoring the Fab Five for its accomplishments.
"Are there (different) banners we could put up, though? Yeah, there are," he says. "I'd love to celebrate the Fab Five. Are there conditions on which that has to happen? For sure.
"But we've been very open and vocal about that, and there's just nothing new on this subject."
It wouldn't be the first time Michigan has gone outside the box with its honor and celebration practices. Heisman Trophy winner Desmond Howard was given the distinction as a "Michigan Football Legend" prior to a Michigan football game against Notre Dame last September.
Of course, Howard and the Fab Five are in completely different categories.
Additionally, any type of honor featuring all five members of the legendary recruiting class would likely hinge on an admission of guilt, or apology, from Webber.
Something that obviously hasn't happened.
"There are a lot of things that we admitted where we had made mistakes, could have done things better and we apologized," Brandon said during ESPN's 2011 documentary about the team. "What we're looking for is the same thing from Chris.
"Chris simply needs to acknowledge that he made a mistake, made some mistakes, some errors in judgment as a youth, apologize for those mistakes and I believe it would have an enormous impact on this situation and move forward in a very positive way."
Plenty of hurdles still seem to stand in the way of a full Michigan-Fab Five reunion.
But that doesn't mean it's something Brandon is opposed to.
"I'd love to do it," he said.
Nick Baumgardner covers Michigan basketball for AnnArbor.com. He can be reached at 734-623-2514, by email at nickbaumgardner@annarbor.com and followed on Twitter @nickbaumgardner.
Want to stay connected to Wolverine basketball in your Facebook newsfeed? "Like" AnnArbor.com's Michigan Basketball News & Views.