Posted on
Mon, Jan 25, 2010 : 6:17 p.m.
More Manny Harris - 'poor decision' led to 1-game suspension for Michigan basketball guard
By Michael Rothstein
Junior guard Manny Harris returned to Michigan basketball team after a one-game suspension with an apology expressing his disappointment in himself and acknowledgment that coach John Beilein made the right decision.
It was the timing of Harris' suspension, though, that frustrated his teammates.
"I was upset, yeah, I was definitely upset because of the timing of whatever happened, but I definitely wasn't angry with him," senior forward DeShawn Sims said. "Sometimes you can't control certain things, and that was an instance sometimes you take it back as soon as it happens, but I wasn't angry with him."
No one associated with the Michigan program will say what Harris did to warrant the suspension beyond the "unsportsmanlike" act that occurred in the last five minutes of Michigan's practice Friday before leaving for Purdue, a game the Wolverines lost 69-59.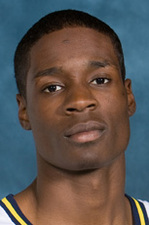 Beilein said he made the decision to suspend Harris about five minutes after practice ended.
"I made a poor decision during last Friday's practice which I regret very much," Harris said in a statement. "I fully accept the suspension from the coaching staff. It was the correct decision.
"I cannot tell you my disappointment for letting my teammates down and showing the lack of leadership that I normally try to provide."
Harris was not made available to reporters Monday during a press conference heading into Tuesday's game at Crisler Arena against No. 5 Michigan State (7 p.m., ESPN)
Michigan's leading scorer at 19.2 points a game, Harris is expected to play against the Spartans. Beilein believes he'll see a different Harris on Tuesday.
"He wouldn't be practicing today if I didn't feel strongly about that," Beilein said.
Sims, one of Harris' closest friends, said he saw Harris atoning for his undisclosed action after practice Sunday to help rectify the suspension that helped cause Michigan's 69-59 loss to Purdue on Saturday. Sims, one of Harris' closest friends, declined to be specific about what led to Harris' suspension.
"It's an incident that happens with everybody, a situation that can happen in practice can escalate to more than it is," Sims said. "It's just happened to be a suspension this time."
Sims also said one other thing about Harris - he might have a special game against Michigan State.
"Manny will come out and probably play one of his best games," Sims said. "He'll come out and play exceptional tomorrow, I think."
Michael Rothstein covers University of Michigan basketball for AnnArbor.com. He can be reached at (734) 623-2558, by e-mail at michaelrothstein@annarbor.com or follow along on Twitter @mikerothstein.