Posted on
Sat, Feb 25, 2012 : 8:46 p.m.
Purdue's 75-61 win spoils Michigan basketball team's bid for a perfect home record and likely its Big Ten title chances
By Nick Baumgardner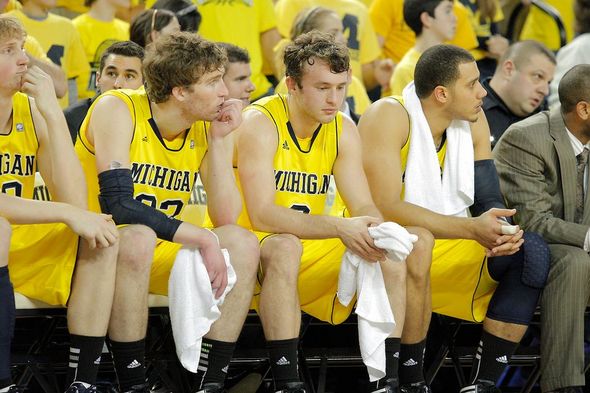 Chris Asadian | AnnArbor.com
Updated 8:46 p.m.
For the Michigan basketball team, Saturday started with plenty of emotion, smiles and hugs.
But it ended with a thud.
Purdue guard Terone Johnson scored a game-high 22 points as the Boilermakers not only spoiled No. 11 Michigan's senior night, but also ruined the Wolverines' bid at their first perfect home record in 35 years and possibly the program's first Big Ten title in 26 years with a 75-61 win at Crisler Center.
"There's an element of embarrassment from being honored like that and then coming out and getting killed on your home court," said Michigan senior co-captain Stu Douglass after his final home game. "There's no sentimental emotions, just more upset than anything."
The loss was Michigan's first home setback since losing to Wisconsin on Feb. 23, 2011, giving the Wolverines a 15-1 mark at home this season.
PURDUE 75, MICHIGAN 61

Nick Baumgardner's recap:
Senior night blues
So much for a senior night to remember, and perhaps, so much for a Big Ten championship. Michigan spent the entire game fighting from behind, leading for just 49 seconds, as Purdue (19-10, 9-5) wrecked its perfect home record. The loss dropped the Wolverines (21-8, 11-5) into third place in the Big Ten standings with just two games remaining. Michigan finishes its home schedule 15-1.
Tough final act
Michigan co-captains Zack Novak and Stu Douglass were joined by fellow seniors Ben Cronin and Corey Person for senior night festivities prior to tipoff before ending their Crisler Center careers in disappointment. Novak went scoreless in the first half before dropping in 12 second-half points. Douglass finished with seven points, four rebounds and five assists.
Coughing it up
Neither Michigan freshman point guard Trey Burke nor sophomore wing Tim Hardaway Jr. looked completely comfortable Saturday. Burke finished with 12 points and Hardaway with 10, but they committed four turnovers apiece.
QUOTE
"There's an element of embarrassment from being honored like that and then coming out and getting killed on your home court. There's no sentimental emotions, just more upset than anything."
— Michigan senior guard Stu Douglass
RELATED CONTENT
Photo gallery
Notebook: Defensive collapses haunt Michigan in loss to Purdue, and more notes
Video highlights of Michigan basketball team's senior day festivities
Boxscore
|
Top 25 scores
|
Big Ten scores
Additionally, Michigan may have seen its shot at a Big Ten championship vanish, as the loss dropped the Wolverines (21-8, 11-5 Big Ten) back into third place in the league standings with just two games remaining.
With Michigan State's 62-34 win over Nebraska on Saturday, the Wolverines are now two games back of the first-place Spartans with just two left to play.
Prior to tip, Michigan honored seniors Douglass, Zack Novak, Corey Person and Ben Cronin.
But there would be no signature farewell moment for the Wolverine seniors. Michigan coach John Beilein pulled Douglass and Novak in the game's final minutes -- with the team trailing by double digits.
"Senior nights are weird, everybody's kind of up before the game more than normal and sometimes you get to the game and you're a little gassed," Novak said. "I don't think that was a huge thing tonight, we just missed some easy ones.
"We dug ourselves in a hole and they really executed."
Novak finished with 12 points -- all in the second half -- on 4-for-11 shooting, while Douglass ended his final game at the Crisler Center with seven points, four rebounds and five assists.
Freshman point guard Trey Burke had 12 points on 4-of-12 shooting, but also committed four turnovers. Sophomore Tim Hardaway Jr. had 10, but also had four turnovers.
Purdue senior Robbie Hummel finished with 17 points and nine rebounds for the Boilermakers (19-10, 9-7).
"I think we're being a little bit more unselfish and making the extra pass (right now)," Purdue coach Matt Painter said. "Michigan had a couple shots that they normally make that didn't go in, and we made a couple plays and a couple shots.
"Sometimes you're fortunate."
After the pregame senior night festivities ended, the Wolverines began the game in a funk.
Michigan opened the game 1-for-8 from the floor, and Purdue took advantage, jumping out to a 12-2 start before a Lewis Jackson triple made it 22-11 Boilermakers midway through the frame.
The Wolverines eventually came to life, using a pair of 7-0 runs to draw within four before a late Burke triple made it 32-28 Boilermakers at the break.
Purdue extended its lead back out to eight early in the second, but Novak sparked Michigan's biggest run of the game with a deep triple, his first bucket of the game.
Michigan eventually pulled even for the first time after a pair of Burke free throws with 13:02 to go, and then took its first lead of the game when Burke found Jordan Morgan underneath for a layup, capping a 12-2 run and putting the Wolverines up 42-40 with 12:17 left.
The lead didn't last long, though, as Purdue responded with a 12-3 run of its own, moving back in front by seven after a Jackson layup made it 52-45.
It only got worse from there for Michigan, as back-to-back Hummel triples three minutes later put the Boilermakers back up 10 at 61-51 with 3:36 left.
Michigan got no closer, as the Boilers cruised over the final three minutes to score their best RPI win of the season.
Purdue out-scored Michigan 35-19 in during the game's final 12 minutes, finishing the game an even 50 percent (27-for-54) from the floor. Michigan shot 41.7 percent from the floor, and went 9-for-32 from 3-point range.
"We're disappointed because of the circumstances, we don't like losing ever, but 15-1 at home isn't a bad year," Beilein said. "We'll try it again next year, and do the best we can to, one of these years, go undefeated at home."
Michigan will close the regular season on the road with tilts at Illinois (Thursday) and at Penn State (Sunday) before prepping for the Big Ten Tournament.
As for the team's mental state after a deflating senior night loss?
Novak said he's not too worried about it.
"I don't think we needed a wakeup call, it's not like we came out and didn't play hard or had a poor week leading up," he said. "Some nights you don't have it, some nights the other team is spot on.
"I think that's what happened tonight."
Nick Baumgardner covers Michigan basketball for AnnArbor.com. He can be reached at 734-623-2514, by email at nickbaumgardner@annarbor.com and followed on Twitter @nickbaumgardner.
Want to stay connected to Wolverine basketball in your Facebook newsfeed? "Like" AnnArbor.com's Michigan Basketball News & Views.