Posted on
Sun, Feb 5, 2012 : 4:17 p.m.
Streak snapped: Michigan goes cold in 64-54 loss at Michigan State
By Nick Baumgardner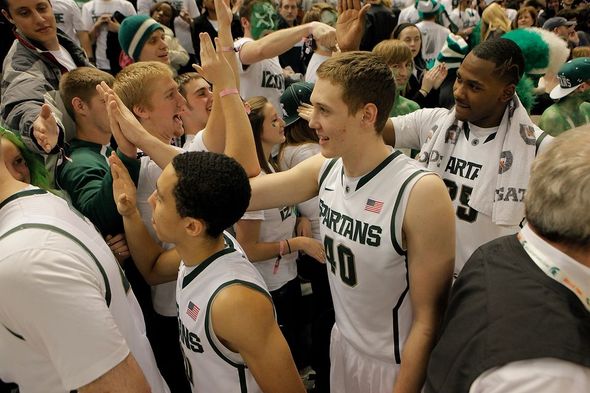 Chris Asadian | AnnArbor.com
EAST LANSING -- The Michigan basketball team entered Breslin Center looking for its first four-game winning streak against Michigan State in more than a decade.
But all the Wolverines found were flat jumpers and one fired-up Spartans defense.
No. 23 Michigan shot just 39.6 percent from the floor and was out-rebounded by 24 as No. 9 MSU earned a regular-season split with a convincing 64-54 victory at the Breslin Center.
"As a team, we didn't really stay together like we should have," Michigan freshman point guard Trey Burke said. "We kind of gave them the game, kind of gave up.
"It's just another lesson to be learned."
The loss snapped Michigan's first three-game winning streak in the series since 1998. The Wolverines have not won two straight games in East Lansing since 1997.
MSU 64, MICHIGAN 54

Nick Baumgardner's recap:
GOING GREEN
Draymond Green looked pretty healthy and Michigan seemed to leave its offense in Ann Arbor. The MSU senior captain shook off any questions about a knee injury with 14 points and 16 rebounds -- which matched Michigan's entire output as a team. Michigan was outscored 36-20 in the paint.
HARDAWAY'S RUT
Tim Hardaway Jr. hasn't had the best month and a half, but Sunday may have been a low point. Michigan's 6-foot-6 sophomore wing went 1-for-10 from the floor, finishing with a season-low four points. He's now shooting 36.7 percent from the floor in Big Ten play.
REBOUNDING NIGHTMARE
Michigan was annihilated on the glass for 40 minutes, getting out-rebounded 40-16. The Wolverines grabbed just three offensive boards, while Michigan State ripped down 14. Earlier this season in Ann Arbor, Michigan was out-boarded by 13 against MSU, but still managed to win. On Sunday, it wasn't nearly as fortunate.
QUOTE
""As a team, we didn't really stay together like we should have. We kind of gave them the game, kind of gave up. It's just another lesson to be learned."
— Michigan guard Trey Burke
RELATED CONTENT
Photo gallery
Tim Hardaway Jr. struggles again; is chemistry the issue?
Notebook: Trey Burke struggles to find breathing room for a second straight game, and more notes
Draymond Green 'looked better than he usually does' in win over Michigan
MSU coverage from MLive.com
Boxscore
|
Top 25 scores
|
Big Ten scores
For Michigan State, the victory catapulted the Spartans (18-6, 7-3 Big Ten) back in front of the Wolverines (17-7, 7-4) for second place in the Big Ten standings.
And perhaps more importantly, it gave MSU some of its in-state bragging rights back for the first time since 2010.
"They deserved to beat us the other three (times), but hopefully we switched the trend and it'll start going the other way again," Michigan State coach Tom Izzo said. "(Today), it was more about the rivalry than it was the Big Ten (race).
"It was way more about the rivalry."
Michigan's two leading scorers, Tim Hardaway Jr. and Burke, went a combined 5-for-21 from the floor. Burke finished with 11 points, Hardaway, who shot 1-for-10 from the field, had four.
On the flip side, Michigan State senior Draymond Green shook off any questions about lingering knee pain, going for 14 points, 16 rebounds and four assists.
Green's 16 rebounding number equaled Michigan's team total. The Spartans, meanwhile, grabbed 40 boards and went 24-for-46 from the field and out-scored Michigan 36-20 in the paint.
"He has a huge desire," Michigan senior guard Stu Douglass said of Green. "He looked good."
Neither team opened the game with much success on offense, but it was Michigan State's defense that did all the talking during the first 20 minutes.
The Wolverines found no room offensively, and had trouble hanging onto the ball (nine first-half turnovers). It all showed on the scoreboard.
Michigan opened the game 5-of-17 from the floor, and after an inside runner by Brandon Wood with 4:48 to play in the first, Michigan State found itself up 25-11.
Burke gave Michigan slight life with a deep 3-pointer at the first-half buzzer, cutting the Spartans' lead to 30-22 at the break -- but Michigan opened the second half 0-for-5, and MSU got two quick buckets from Adreian Payne and Green to push the lead back up to 12.
Things then went from bad to worse for Michigan three minutes later, as Zack Novak was whistled for the Wolverines' 10th turnover, prompting an argument from Michigan coach John Beilein and a technical foul for his trouble.
Austin Thornton knocked down both foul shots, Keith Appling finished the possession with a runner, the Breslin Center exploded and Michigan State held a 40-26 lead with 14:00 to go.
"They've got some girth inside and some length inside that makes it really, really tough," Beilein said. "They just pound the ball in the post and pound the ball in the post. Some of the teams we've played, we've been able to deal with some of that.
"Today, we couldn't."
Michigan got it under 10 points on three separate occasions during the final eight minutes, but each time, MSU had an answer.
Green created the first two answers with back-to-back buckets before Appling and Derrick Nix notched two straight hoops inside to make it 53-40 with 4:28 left, effectively ending any hopes of a Wolverine comeback.
"They were more of a team than us tonight," Burke said. "Especially down the stretch.
"But it's something we can fix."
Morgan finished with 11 points for Michigan, while Novak ended his day with 14 points before fouling out.
Appling and Branden Dawson each finished with 10 points.
The Wolverines fell to 1-6 on the road this season, and will play four of their final seven regular-season games away from Crisler Center, the first coming Wednesday with a trip to Nebraska.
The loss also marked the second-straight weekend Michigan has fallen by double-digits to a rival on national television, leaving the Wolverines looking for yet another bounce-back performance.
"In Ann Arbor (against Michigan State), we made shots," Beilein said. "Draymond was much better today than he was in Ann Arbor, and that's a big difference.
"We can't get taller, we can't get bigger, and they just smashed us inside and said 'stop this,' and we just couldn't do that today."
Nick Baumgardner covers Michigan basketball for AnnArbor.com. He can be reached at 734-623-2514, by email at nickbaumgardner@annarbor.com and followed on Twitter @nickbaumgardner.
Want to stay connected to Wolverine basketball in your Facebook newsfeed? "Like" AnnArbor.com's Michigan Basketball News & Views.