Posted on
Thu, Mar 1, 2012 : 9:12 p.m.
Tim Hardaway Jr. nearly perfect in Michigan basketball team's 72-61 win at Illinois
By Nick Baumgardner
This story was updated with postgame quotes and more information.
CHAMPAIGN, Ill. — Tim Hardaway Jr. looked re-invigorated, Trey Burke went into the history books and the Michigan basketball team stayed above water.
And now, with one regular-season game left, the Wolverines' hope for the program's first Big Ten championship in 26 years is very much alive.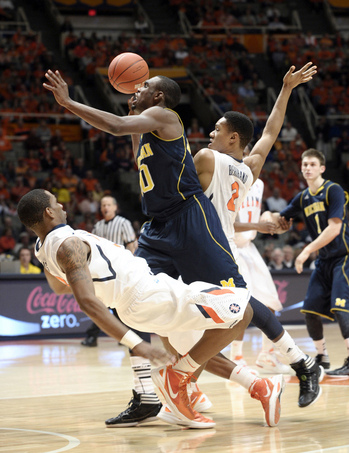 AP Photo
Hardaway finished with 25 points and 11 rebounds as No. 13 Michigan willed its way by host Illinois on Thursday, 72-61 at Assembly Hall in Champaign, Ill., the Wolverines first win in Assembly Hall since 1995.
"The whole memo coming into this game was 1995," Hardaway said afterward. "We had a blank (spot) on our board at practice and (assistant coach LaVall) Jordan said 'You want to change that? Then go out and play hard and play smart, and it'll say March 1, 2012.'
"We made sure we got that done."
With the win, Michigan (22-8, 12-5) pulls even with Ohio State for second place in the Big Ten standings with one game remaining. The Wolverines' 12 league wins is the most the program has had since 1993-94.
Should the Wolverines earn a win at Penn State on Sunday (1 p.m., ESPN) in their regular-season finale, and should Michigan State fall to Ohio State, Michigan will earn a share of the 2011-12 Big Ten title.
The program's last league championship came in 1986.
"We won't think more about (Sunday) other than that we have to take care of our business," Michigan coach John Beilein said. "Then (we'll) worry about what (Michigan State and Ohio State) do."
MICHIGAN 72, ILLINOIS 61

Nick Baumgardner's recap:
STILL A SHOT
Michigan's hopes for its first Big Ten title in 26 years remain alive and well after its fourth Big Ten road win of the season and fifth victory in its past six games. The Wolverines (22-8, 12-5) pulled even with Ohio State for second place. Should the Wolverines beat Penn State on Sunday, and get help from Ohio State with a win over first-place Michigan State, they'd share their first Big Ten title since 1986.
HARDAWAY BLOWS UP
Sophomore forward Tim Hardaway Jr. has been criticized often this season while struggling to remain consistent on both ends of the floor. On Thursday, there was nothing but praise. Hardaway put up 25 points and a career-high 11 rebounds, the third double-double of his career, and almost single-handedly kept Michigan in the game midway through the second half.
BURKE IN THE BOOKS
Michigan point guard Trey Burke found his way into the school record book by passing Gary Grant for the school's freshman single-season assist record. Burke now has 143 assists on the season.
QUOTE
"It'd be different if we were playing Michigan State for the championship, but some things we have no control over. We're focused 100 percent on Penn State and we know we've got to win."
— Michigan senior captain Zack Novak
RELATED CONTENT
Notebook: Trey Burke turns in record-setting performance, and more notes

Photo gallery

Boxscore | Top 25 scores | Big Ten scores
Michigan has now wrapped up a first-round bye in next week's Big Ten Tournament, and can't finish worse than a No. 3 seed overall.
Hardaway finished with his best overall performance since putting up 26 points in Michigan's Big Ten-opening win over Penn State in January. The 6-foot-6 sophomore wing went 6-for-7 from the floor, and shot 4-for-4 from 3-point range.
The double-double was Hardaway's second of the season and third of his career.
Burke, meanwhile, ended his night with 21 points and five assists. With an assist early in the second half, Burke broke ex-Wolverine point guard Gary Grant's single-season freshman record. The rookie from Columbus now has 144 assists on the season.
"I didn't even know about that until recently," said Burke, whose team still hasn't lost two straight games this season. "That's a blessing in disguise."
Illinois (17-13, 6-11) has now dropped 10 of its last 12, and now appears to be in grave danger of missing the NCAA Tournament altogether.
"We just didn't seem to have any answers against them," Illinois coach Bruce Weber said. "You look at Hardaway's shooting over the last five or for the season, it's nowhere near (this).
"But today he was special."
Michigan shook off any rust from its previous loss against Purdue early on, as Burke capped off a personal 8-0 run with a two-handed slam -- his first of the season -- to give the Wolverines a 22-14 edge midway through the first.
The lead grew to 11 five minutes later after a reverse layup from senior captain Zack Novak, and up to as many as 13 after a Burke jumper with less than four minutes to go.
Illinois did manage to get back within single digits before the half, though, scoring the final five points of the frame to make it 35-27 Michigan.
The Illini kept coming after the break, as well, getting six early points inside from Meyers Leonard during a 9-2 push to draw within one.
But thanks to a surge by Hardaway, Illinois got no closer.
Hardaway rattled off 11 straight Michigan points, keeping the Illini at bay. And after Burke found Jordan Morgan underneath for a dunk with 7:48 to go, the Wolverines found themselves in control once again, up 53-44.
Illinois got back within five late, but ran out of gas, as Michigan went 14-for-16 from the free throw line during the game's final four minutes. Michigan went 21-for-23 from the foul line for the game.
The win also pulled Michigan even on the road in the Big Ten at 4-4, answering any questions about the team's ability to win away from Crisler Center.
"Everyone kept wondering when we'd win on the road," Novak said. "But everyone in here knew we were typically good on the road, .500 on the road in this conference is pretty darn good.
"And now, we've got a chance to make it 5-4."
Novak finished with eight points and five rebounds, while Morgan ended his night with seven points and seven rebounds.
Leonard paced Illinois with 18 points and nine rebounds.
The Wolverines have already secured their best Big Ten season in 18 years, but still have work to do.
And, if Michigan can do its part on Sunday, it'll be in the unique position of rooting for rival Ohio State. But for now, that's not on the radar.
Lose to Penn State, and none of it matters anyway.
"It'd be different if we were playing Michigan State for the championship, but some things, we have no control over," Novak said. "We're focused 100 percent on Penn State and we know we've got to win."
Nick Baumgardner covers Michigan basketball for AnnArbor.com. He can be reached at 734-623-2514, by email at nickbaumgardner@annarbor.com and followed on Twitter @nickbaumgardner.
Want to stay connected to Wolverine basketball in your Facebook newsfeed? "Like" AnnArbor.com's Michigan Basketball News & Views.