Posted on
Sun, Mar 20, 2011 : 8:15 p.m.
Duke hangs on to end Michigan's season, 73-71, in NCAA tournament
By Michael Rothstein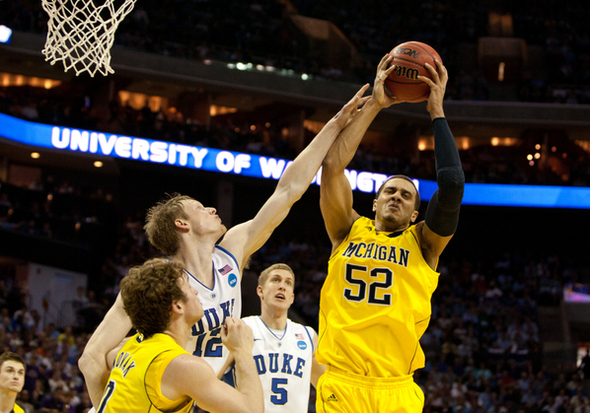 Jake Drake | Icon Sports Media
Updated 8:15 p.m.
CHARLOTTE — Darius Morris made this shot countless times before in the parks of Los Angeles, at Windward High School, even for the Michigan basketball team's first basket Sunday.
At the end, the little floating jump shot from just inside the free-throw line was open again. And the shot he almost always sinks hit the rim and caromed off.
One six-inch bounce that ended up being the difference between overtime and top-seeded Duke advancing to the Sweet 16 with a 73-71 over eighth-seeded Michigan in the NCAA tournament.

One bounce that left Morris, walk-on Corey Person and redshirt freshman forward Jordan Morgan almost inconsolable in the Michigan locker room. One bounce that kept Michigan from one of the most signature wins in its program history.
One bounce.
"When it left my hand, I thought it was going to overtime," Morris said.
"I was positive it was going in. I was right behind him, it was straight and he's made it before. Just hit back rim," Morgan said.
"I pumped my fist, thought it was going in. Thought we were going to overtime. We fought so hard, I thought there was no way it was not going in, but it was inches away," said junior guard Stu Douglass, open at the 3-point line on the final possession.
As the shot fell away, Morris grabbed the back of his maize No. 4 jersey, took a few steps and fell down, crushed. He and Michigan (21-14) had fought from 12 points down against Duke (32-4), a team that doesn't fritter leads away easily.
ANNARBOR.COM THREE STARS
First Star: Nolan Smith, Duke
The Naismith Player of the Year finalist had a game-high 24 points, including a personal 10-0 run in the second half that helped the Blue Devils lead by as many as 15 points.

Second Star: Kyrie Irving, Duke
The freshman point guard made a floater to give Duke a 72-69 lead in the final minute. Although he didn't have huge numbers (11 points, two assists) Duke coach Mike Krzyzewski said the Blue Devils would have lost without him.

Third Star: Tim Hardaway Jr., Michigan
The freshman guard carried Michigan to the brink of toppling top-seeded Duke, scoring seven straight points to cut the lead to one, 70-69. He finished with 15 points.

Readers' choice

All season, the Wolverines made late runs. They forced overtime against Kansas and scared Ohio State, and rallied from 15 behind to beat Illinois in the Big Ten quarterfinals, a win that pushed them into the NCAA tournament.
So Michigan almost expected this run to come, even if it was against Duke and its legendary coach, Mike Krzyzewski, who picked up his 900th win Sunday.
Morris hit free-throw line jumpers for part of his team-high 16 points, Morgan had layups and dunks and then freshman guard Tim Hardaway Jr. scored seven straight points, including a 3-pointer, to cut the Duke lead to one point, 70-69, with 1:28 remaining.
Michigan had rallied again.
"We just did what we've done all year," Morgan said. "We looked dead in the water and just refused to give up. Just fight and fight and fight and fought back and refused to give up, roll over and let them just walk over us.
"We didn't care what they were ranked or what they were supposed to do. We wanted to win."
Duke had a chance to end Michigan's chances fast in the second half. Nolan Smith, one of the four finalists for the Naismith Player of the Year Award, scored 10 straight points midway through the second half.
His run, part of his game-high 24 points, gave Duke a 49-39 lead with 14:12 left, and the Blue Devils looked like they might coast.
Michigan switched to the 1-3-1 zone defense the Wolverines practiced often this year but rarely used. It slowed Duke down, didn't give Smith and freshman point guard Kyrie Irving driving lanes and let Michigan slowly climb back.
DUKE 73, MICHIGAN 71
It gave the Wolverines confidence they might do what junior guard Zack Novak suggested a day earlier, when he said in one of these games against a top-ranked team, they'd "get over the hump."
The hump resurrected itself in the final seconds when Morris' shot fell away.
Michigan walked into its locker room and it stayed almost silent, save for when Wolverines head coach John Beilein had his team sing the school fight song, 'The Victors.' None of the players could say anything, wanted to say anything.
What else could they say?
"As soon as that buzzer ends and you look up and you're on that losing score and you're on the losing end, it definitely hits you," Morris said. "That's it.
"That's the end of the season."
Michael Rothstein covers University of Michigan basketball for AnnArbor.com. He can be reached at (734) 623-2558, by e-mail at michaelrothstein@annarbor.com or follow along on Twitter @mikerothstein