Posted on
Sun, Jun 24, 2012 : 5:58 a.m.
3 reasons why Michigan QB Denard Robinson will be a Heisman finalist, and 3 why he won't
By Kyle Meinke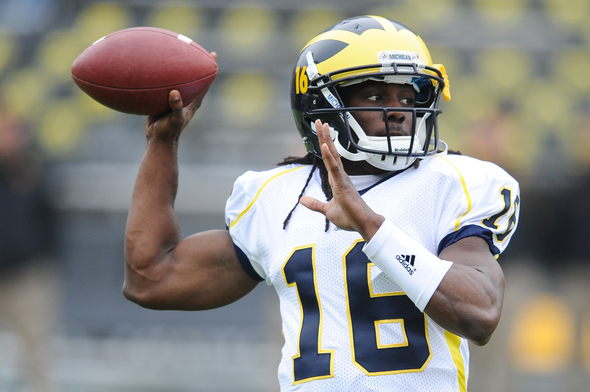 Melanie Maxwell | AnnArbor.com
The hype is building for Denard Robinson -- and he's earned it, after two electrifying seasons as the Michigan football team's starting quarterback.
But is he a legitimate Heisman Trophy contender?
Robinson said before last year's ceremony that winning college football's top individual honor is not a goal of his -- yet, he's already been named to several preseason watch lists.

Robinson is no stranger to Heisman chatter, after a torrid start in 2010 landed him on the national stage. Since then, though, he's had trouble maintaining that pace for long stretches.
He's been bad at times, especially in the passing game.
Robinson will need to find some consistency -- and a way to hold onto the football -- if he's to earn an invitation to New York City for next year's Heisman presentation.
Can he do it?
A look at both sides of that argument:

Robinson will be a Heisman finalist because of ...

Experience

Robinson returns for his third season as starter, and will operate the same offense he did last year, an advantage that cannot be understated.
College players talk at length about the difficulties associated with executing coaching and scheme changes. That's particularly true of quarterbacks, who must understand not only the intricacies of their own offenses, but also what defenses are doing to counter them. For Robinson, that recognition came too slowly, too often last year.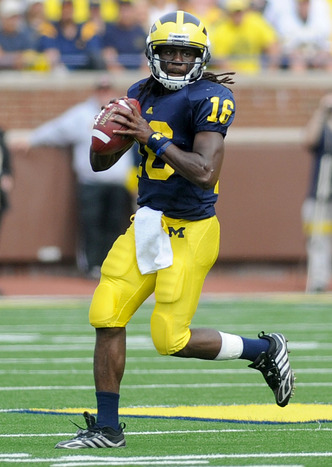 Angela J. Cesere | AnnArbor.com
Now, Robinson becomes the first Michigan quarterback since Chad Henne in 2007 to start consecutive seasons in the same offense. That should provide built-in improvement for him next year, based off his command of the offense.
Improved passing

Robinson was explosive on the ground last year, but he struggled in the air. He completed just 55.0 percent of his passes and tossed 15 interceptions.
Michigan's 155 completed passes as a team was a 22-year low.
It's difficult enough to beat teams when they have to respect only one dimension -- Michigan State and Virginia Tech dared Robinson to pass last year, and were extremely effective doing it -- let alone win a Heisman.
But offensive coordinator Al Borges has maintained he expects Robinson to make a major leap forward in the passing game during their second year together. He has cited Cade McNown, the quarterback he inherited in 1996 at UCLA, as an example.
McNown was last among Pac-10 quarterbacks in passer efficiency in his first season under Borges. He led the country in passer efficiency the following year.
If Robinson makes a similar leap with his arm next year, and manages to maintain his production as a runner, he almost certainly will be a Heisman finalist.
Limited turnovers

Robinson's biggest weakness last year was the passing game. More specifically, though, it was the turnovers.
He finished with 15 interceptions. Only five quarterbacks threw more.
But Borges said after the spring game this year that Robinson through one-fourth the interceptions this spring that he had in last year's camp.
"The two things that have gone away in Denard's game is falling off throws, or throwing off your back foot, as you say, and No. 2 is indiscriminate decision making," Borges said. "He had very, very few interceptions this spring. Very few."
Fewer turnovers mean longer possessions, better field possession -- and more scoring chances, which would lift Robinson's Heisman hopes.

Robinson will not be a Heisman finalist because of ...

A diversified backfield

In Rich Rodriguez's spread-option offense, much of the production was consolidated to the quarterback position. That helped to spring Robinson for an NCAA quarterback-record 1,702 rushing yards in 2010, his first season as a starter.
But when Borges arrived last year, he warned Robinson's numbers would drop because he planned to distribute the ball more evenly. He also planned to install a featured tailback who would receive more than 20 carries per game -- carries that, under Rodriguez, would go to Robinson.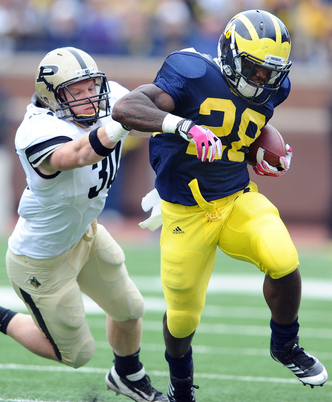 Melanie Maxwell | AnnArbor.com
Sure enough, Fitz Toussaint emerged in the backfield. With Robinson, the pair paced a rushing attack that finished 13th in the country and second in the Big Ten. Both players finished with 1,000-yard rushing seasons, the first time that's happened at Michigan since 1975.
But Robinson's personal rushing total fell from 1,702 yards in 2010 to 1,176 in 2011.
Now, Michigan's rushing attack was prolific last year, and the team actually averaged .5 more points per game under Borges than it did in 2010. So, team-wise, there was nothing wrong with how the numbers played out.
But the Heisman is an individual award, and it's about numbers. If Michigan continues to spread around the ball -- especially now that Toussaint is solidified as the featured back -- it could hurt Robinson's chances of winning the award.
The schedule

Robinson's home/road splits last year were unsightly -- and next year, he doesn't have the luxury of playing eight home games, nor of playing a relatively soft road schedule.
Michigan opens the season by traveling to Arlington, Texas, to face defending national camp Alabama (which also faces the nation's reigning No. 1 defense). They later travel to face Notre Dame, Nebraska and Ohio State.
They are the only Big Ten team to play six games.
Meantime, Robinson had four of his worst games last year against Michigan State, Iowa, Illinois and Virginia Tech last year -- each of which were played on the road. Overall, he was 58-of-118 passing (49.2 percent) for seven touchdowns and seven interceptions away from Ann Arbor.
And next year, he has two extra games away from Michigan Stadium.
Injuries

When Borges joined the staff before last season, he said he needed to dial down Robinson's usage -- and to a degree, he has.
But he also conceded it's "intoxicating" to call Robinson's number, because of what he can do with his legs. And those legs have helped Michigan win games.
However, that also means Robinson was dinged up because of the volume of hits he absorbs. He left several games with injuries last year, and almost every game in 2010.
And it's hard to win a Heisman when you're not on the field.

My call:
Robinson is one of the most explosive players in the country, and that's not going to change. He will be the best quarterback in the Big Ten -- maybe not the best passer, but he moves an offense better than any other player at that position in the league.
Yet, he has never played with consistency in the passing game, and that is bound to catch up with him against what is shaping up to be a brutal schedule.
Robinson could still be great, but it won't be enough to contend for a Heisman Trophy.

Your call:
Kyle Meinke covers Michigan football for AnnArbor.com. He can be reached at 734-623-2588, by email at kylemeinke@annarbor.com and followed on Twitter @kmeinke.