Posted on
Thu, Dec 2, 2010 : 9:52 p.m.
An emotional Rich Rodriguez makes his case to remain Michigan's football coach
By Pete Bigelow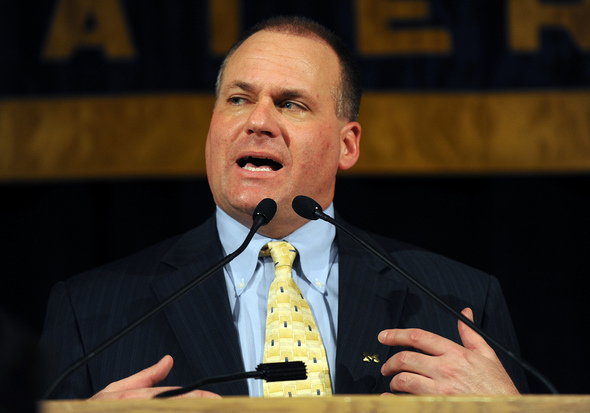 Lon Horwedel | AnnArbor.com
LIVONIA -- With athletic director Dave Brandon sitting only a few feet away on the dais, Michigan football coach Rich Rodriguez fought for his job Thursday night during the team's annual banquet.
His voice cracking with emotion and, at times, tears rolling down his cheeks, Rodriguez recounted the struggles of his three-year tenure and expressed steadfast optimism for the program's future during the evening's concluding remarks.
"My name is Rich Rodriguez," he said. "I'm honored to be the football coach at Michigan. I hope you realize I want to be a Michigan man."
With many members of the 1985 Wolverines team and dozens of other former players in attendance -- but not Stanford coach Jim Harbaugh -- Rodriguez called for healing among a fractured group of alumni.
Addressing the Wolverines from bygone eras of Michigan's storied past in attendance, Rodriguez asked them to rally around a group of current players who have compiled a 15-21 record over his three seasons in Ann Arbor.
"We don't compare eras," Rodriguez said. "Even though we want to rely on the past, we don't say 'this era was better.' .... I'm proud to brag on the 90s or the 80s, but we all need to be one Michigan."
Brandon has not addressed Rodriguez's job status since the Wolverines closed the regular season with a 37-7 loss at Ohio State. The first-year athletic director said he will wait until the conclusion of the team's bowl game before evaluating the football program.
Michigan's bowl destination will be announced Sunday.
For the bowl game and beyond, Rodriguez was steadfast in his belief that he will return the Wolverines to national prominence.
"I came here three years ago, leaving my comfort zone, because I thought this was a great opportunity," he said. "… I knew after being on the job for a few months there were going to be some challenges. And more come out in front of us. We never ran away from it.
"It's going to happen, and it's going to happen in a big way," he continued. "I wish it happened yesterday, last year, the first year. Believe me, my life would be a lot easier."
As speculation regarding his job reached a crescendo in recent days and weeks, Rodriguez talked openly about the toll the uncertainty has taken on his family, coaches and players.
He said he had found some solace in the lyrics of the Josh Groban song "You Raise Me Up."
He read the first verse of lyrics aloud.
"This may seem kind of cheesy or sappy or what have you, but I've been listening to it the last few weeks, and it kind of fits the mood of what we're in right now," Rodriguez said.
Speakers in the ballroom then played the song for the team's 21 departing seniors and several hundred others gathered in the ballroom.
As the song concluded, Rodriguez grabbed the hands of his wife, Rita, and the night's emcee, Frank Beckmann, and raised them above his head.
Several seconds passed before others on the dais, including Brandon and the entire Wolverines team, followed suit.
"Sometimes we're evaluated strictly on wins and losses," Rodriguez said. "That's OK. I'm a big boy in a big-boy world. I understand that. Our players understand. My wife understands it and my 14-year-old daughter and 12-year-old son understand. That's the world we live in."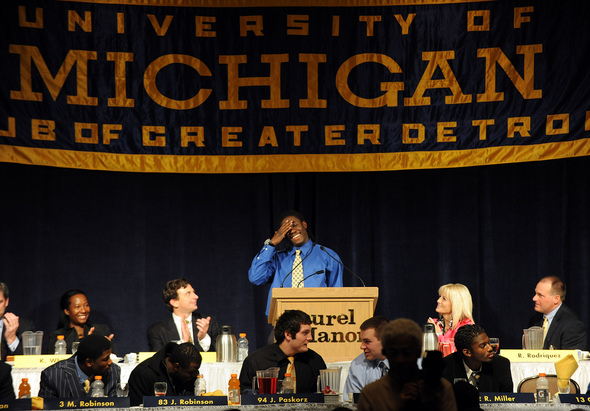 Lon Horwedel | AnnArbor.com
Award Winners Earlier in the evening, Denard Robinson was presented with the Bo Schembechler Award, given to the team's most valuable player. Other award winners included:
• Dr. Arthur D. Robinson Scholarship Award (top senior scholar): Zac Ciullo.
• Hugh R. Rader Memorial Award (top offensive lineman): David Molk and Stephen Schilling.
• Roger Zatkoff Award (top linebacker): Jonas Mouton.
• Robert P. Ufer Bequest (enthusiasm): Mark Moundros.
• Richard Katcher Award (top defensive lineman): Mike Martin
Pete Bigelow covers the Michigan football team for AnnArbor.com. He can be reached at 734-623-2551, via email at petebigelow@annarbor.com and followed on Twitter @PeterCBigelow.