Posted on
Tue, Jun 14, 2011 : 5:59 a.m.
Ann Arbor sports memorabilia expert: 'We would never touch a college guy'
By Jim Knight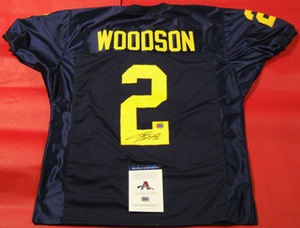 They're all a bit different. Charles Woodson's signature is low on the No. 2 Michigan jersey. Desmond Howard's autograph is on the center of the two in "21," and he added "'91 Heisman." Jim Harbaugh angles his name up the No. 4 jersey.
The autographed jerseys of former Michigan football stars go for $125 to $270 and are easy to find on Brent Newhouse's sports memorabilia website.
Current Michigan quarterback Denard Robinson isn't there. Neither is guard Tim Hardaway Jr. from the Michigan basketball team. A search for gear or autographs from any current Michigan athlete comes up empty.
"We would never touch a college guy," said Newhouse, a 38-year-old Ann Arbor man who operates AllAmericanSportsHouse.com. "We know that's the ultimate taboo thing."
Newhouse, a former packaging supervisor at Pfizer, wasn't surprised to field a question about college sports memorabilia. He expected as much in the wake of the NCAA investigations in the Ohio State football program that started with players receiving cash and tattoos in exchange for autographs and Buckeyes gear.
ESPN reported Terrelle Pryor earned $20,000 to $40,000 for autographs while he was a quarterback at Ohio State.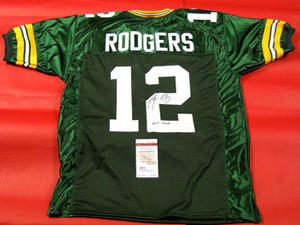 "That's just stupid," Newhouse said. "It makes no sense, and people should know better, especially if it's a team you like. These are Buckeyes fans who ruined their team for years. It just doesn't make a lot of sense to me."
As the Cleveland Plain Dealer reported last week, top-tier college football players can cash in for much more than $40,000 once they turn pro. And a player doesn't have to wait long. Newhouse said he was among the first -- if not the first -- to have items for sale from recently-drafted defensive tackle Nick Fairley of the Detroit Lions.
Newhouse said he tries to work one on one with athletes to obtain autographed memorabilia. That's why it's rare for him to offer anything from former Michigan quarterback Tom Brady, who has an exclusive deal with a national dealer.
"It's kind of a dicey, shady business," Newhouse said. "Reputation is everything. I only work with athletes up close or guys I know."
Woodson already was a top seller for Newhouse, and a Super Bowl victory enhanced that market. Newhouse said Woodson's reputation as a community person who helps raise funds for C.S. Mott Children's Hospital is another reason fans want to own his jersey.
"I really can't keep him in stock," Newhouse said. "Even Ohio people (want it)."
Jim Knight is the sports director at AnnArbor.com. He can be reached at 734-623-2551 or jimknight@annarbor.com. Follow him on Twitter @JimKnight62.