Posted on
Mon, Jun 18, 2012 : 5:59 a.m.
Brady Hoke says Michigan's 'aggressive' drug policy is primarily for the safety of players
By Nick Baumgardner
Earlier this month, a published report investigated the punishments doled out by schools in the Southeastern Conference with regard to marijuana testing.
At one school, Ole Miss, the investigation found that a second positive marijuana test only resulted in a possible forfeiture of free family tickets.
And, in most cases, the report found that players repeatedly got three to five chances to fail a drug test before being removed from the team.
Inside the Michigan football program, things are quite a bit different.
They test. A lot. And punish plenty.
It's a practice Wolverines coach Brady Hoke says is more about the well being of the student-athletes than anything else.
"You want to help kids," Hoke said earlier this month. Kids make bad decisions, they're 18 to 23. ... I'm 53, and once in a while, I'll make a bad decision.
"We've got an aggressive policy, we've got an athletic department that takes it very seriously and whatever we can do to help our kids is what it's all about."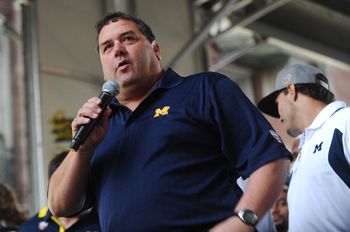 Melanie Maxwell | AnnArbor.com
Michigan athletic director Dave Brandon has been very vocal about a department-wide initiative to curb marijuana -- and other drug use -- inside its programs.
The department's new policy offers no free passes, and immediate punishments for anyone failing a test.
The first offense results in a 10-percent forfeiture of one's season. The second is 33 percent of the year and the third means the player will miss the entire season.
Michigan also tests very frequently, something Brandon said prohibits student-athletes from playing "Russian roulette" and taking their chances.
"The last year, I would put our results up against anybody in the country," Brandon said recently.
Hoke says he has no problem with the threat of lost playing time for failed drug testing, no matter who the player is.
He insists there can't be a double standard, and everyone needs to play by the rules.
"There's the old saying, 'one way you discipline guys is to take away playing time, the other is to take away food,'" Hoke quipped. "That'd be a problem for me if they took away the food part."
Michigan's aggressive drug policy seems to reinforce Hoke's constant message to his current and future players to "make good decisions." Whether it be on the field, in the classroom or in social situations, Hoke's concern for player welfare remains high.
At the end of the day, he's responsible for everyone who sets foot inside Schembechler Hall.
On the field, and off.
"You're in charge of the decisions that you make, you're in charge of where you go and you're in charge of who you are," Hoke said last week at the Sound Mind, Sound Body football camp in Southfield. "Because I had the opportunity to work with young men, and because I had coaches and (because I was around) people who really cared about young men, I decided to go into coaching -- because I had a college coach who helped me save the direction I was going.
"I made a ton of bad decisions, a ton. And if it weren't for a coach who cared for me as a person, I can promise you I wouldn't be in front of you today."
Nick Baumgardner covers Michigan sports for AnnArbor.com. He can be reached at 734-623-2514, by email at nickbaumgardner@annarbor.com and followed on Twitter @nickbaumgardner.