Posted on
Tue, Mar 13, 2012 : 5:59 a.m.
Combine snub helps fuel ex-Michigan tight end Kevin Koger as pro day looms
By Kyle Meinke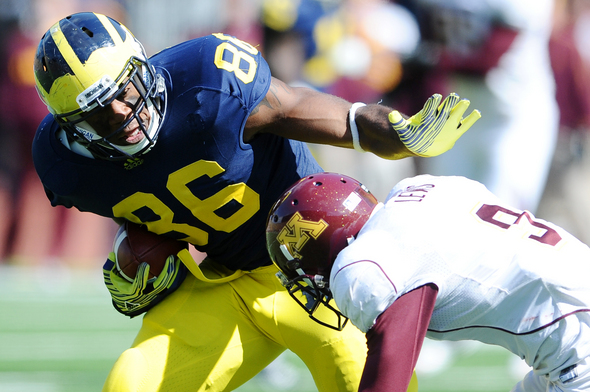 Melanie Maxwell | AnnArbor.com
Kevin Koger started 31 times at tight end for the Michigan football team. He appeared in all but three games in his four-year career, and became a captain last season as a senior.
ESPN NFL draft analyst Mel Kiper Jr. now ranks Koger among his 10 best tight end prospects, and projects him as a fifth- or sixth-round pick in next month's draft. CBS Sports pegs him the No. 8 tight end and a fifth-round pick.
And yet, where was Koger during last month's NFL Scouting Combine?
His couch.
Koger wasn't among the 14 tight ends invited to Indianapolis. Instead, he watched the combine from his Ann Arbor apartment, which he shares with former teammates Elliott Mealer and J.B. Fitzgerald.
"I was more disappointed than anything else," Koger said of the snub during a phone interview this week. "I forced myself to sit down and watch it, even though that was probably the last thing I wanted to do at that time.
"But, I just thought it was important to sit down and not only use it as motivation, but see where I fit in among the top tight ends in the country."
Koger is among at least 15 former Michigan players who will participate in the school's pro day, which is scheduled for Thursday morning at Schembechler Hall. It is not open to the public or media.
For defensive lineman Mike Martin, center David Molk and receiver Junior Hemingway -- each of whom attended the combine -- it's a chance to leave a second impression. For everyone else, this could be their last shot at catching the eye of an NFL team.
MICHIGAN PRO DAY
Confirmed participants in Michigan's pro day on Thursday:

CB Tony Anderson
LB Marrell Evans
WR Kelvin Grady
WR Junior Hemingway
LB Brandon Herron
OL Mark Huyge
TE Kevin Koger
DT Mike Martin
C David Molk
WR Martavious Odoms
LS Tom Pomerico
TB Michael Shaw
DL Ryan Van Bergen
TE Steve Watson
CB Troy Woolfolk

Koger said he hopes to use it to showcase his speed. And, yes, prove he should have been invited to the combine.
"I just want to show everyone I'm faster than predicted," he said. "I think people have me around a 4.8 flat (in the 40-yard dash). I think that's slow, personally, but there's only one way to prove that and that's to run faster."
Koger, along with five former teammates, trained with former Michigan strength and conditioning coach Mike Barwis. He hasn't put on much weight to his muscular 6-foot-4, 258-pound physique, but says he's become more explosive and technically sound in the 40-yard dash.
Players also will bench press at the pro day, as well as other speed and strength drills.
Koger and the rest of the tight ends and receivers will catch passes from former Toledo quarterback Bruce Gradkowski, who played last year for the Cincinnati Bengals. Gradkowski is represented by Priority Sports, the same agency that represents Koger, Martin and Molk.
Gradkowski had a throwing session last week with Koger in Toledo, and they met up again this week to fine tune their timing.
That could be a good drill for Koger, who is known for his sure hands. A strong showing at the pro day could help dispel any lingering questions about his catching ability, after he posted modest receiving numbers at Michigan.
Koger's production was limited by playing three seasons in the spread-option offense, a system that de-emphasizes tight ends in the passing game. Michigan transitioned to a spread-West Coast hybrid his final season, and he had a career year, catching 23 passes for 244 yards and four touchdowns.
He finished his career with 59 catches for 756 yards and nine scores.
"I probably am at a little disadvantage (because of the offenses I played in), but that's fine," Koger said. "Some people ask why I didn't have 40 or 50 catches this year, and I say, 'Well, you have two 1,000-yard rushers in your backfield, and you have a receiving corps with Junior Hemingway and Roy Roundtree. I was lucky to get even what I got.'"
Kiper said Koger could be helped by what has turned out to be a weak tight end class.
"Koger's an interesting guy," Kiper said during a teleconference last week. "He came in, you thought he was going to evolve into a top tight end, at least in the top-five grouping.
"With the tight end position, there's not a lot of consensus guys. There's a lot of mixed opinions on these other tight ends. ... But Koger, I like Koger."
Kyle Meinke covers Michigan football for AnnArbor.com. He can be reached at 734-623-2588, by email at kylemeinke@annarbor.com and followed on Twitter @kmeinke.