Posted on
Mon, Jul 25, 2011 : 9:12 p.m.
Michigan golfers lose in B1G AD golf playoff, plus notes on Austin Hatch and football scheduling
By Pete Cunningham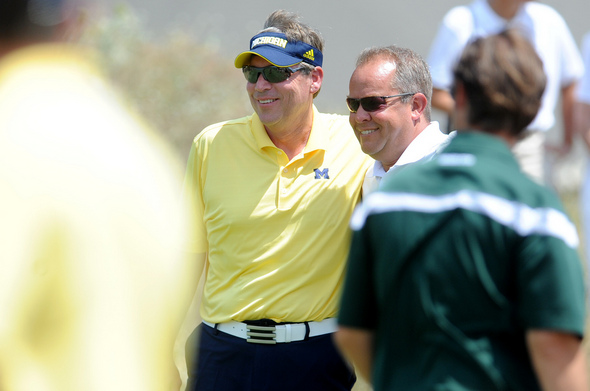 Melanie Maxwell | AnnArbor.com
BATH -- A Domino's Pizza delivery man entered the dining hall at Eagle Eye Golf Club to personally deliver a pie to Michigan athletic director Dave Brandon, the company's former CEO.
Brandon opened the box to reveal a block 'S' made out of green peppers, courtesy of Michigan State athletic director Mark Hollis.
Hollis got the last laugh of the day, too, when former Spartan golfer Ryan Brehm sunk a 20-foot birdie putt to win the B1G AD Golf Challenge on the first sudden death playoff hole.
BIG AD GOLF MATCH
AnnArbor.com sports reporter Pete Cunningham and photographer Melanie Maxwell covered the BIG AD golf match at Eagle Eye Golf Club on Monday. Here's a compilation of their work:
"That was my best putt of the day," Brehm said. "Timing is everything."
The five-person teams made up mostly of former Wolverine and Spartan golfers -- plus former Michigan placekicker Jay Feely, a +1 handicap in his own right -- were both 9-under par after 18 holes of a best-ball format that counted the two lowest scores for each team on each hole.
Michigan parred the 19th hole.
"We would have loved to have won, but it was a blast," Brandon said. "Getting these guys back in the maize and blue and to compete against Michigan State ... it was game day."
The idea for the match originated in jabs traded by Brandon and Hollis via Twitter at the spring Big Ten meetings. The spirit of competition, and giving each other a hard time, prevailed throughout the day as the two athletic directors took light-hearted shots at each other in the clubhouse before the match, and via Twitter during.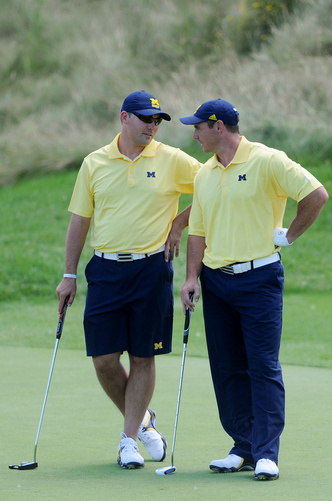 Melanie Maxwell | AnnArbor.com
After Brandon stuck the green (Andy Mathews called it the shot of the tournament) off the tee and made par on Eagle Eye's par-3 island green 17th hole, he stuck around to see Hollis hit his shot in the water.
"I'm so glad I stayed to watch that," Brandon said with a smile on his way to the 18th hole.
Michigan's Lion Kim, Feely and Mathews had also put shots in the water.
Hollis admitted his game wasn't as strong as his counterpart's, but was happy to see the match play out as it did.
"This doesn't happen with people that don't like each other," Hollis said. "Hopefully we can keep this going for years to come."
Said Brandon: "We compete nose-to-nose in a lot of sports, but we also work together really well and that's the way it should be."
BRANDON ON AUSTIN HATCH
The NCAA granted Michigan special permission to communicate with the family of basketball recruit Austin Hatch following the plane crash that killed his father and stepmother.
That doesn't mean the university cares to disclose any of that information.
"I think it's far more important for the family members to disclose his health status and how he's progressing," Brandon said when asked of Hatch's status. "We're watching like crazy and we're praying for him."
UCONN OBLIGATIONS
The Michigan football team won its 2010 season opener against UConn and is under contract to travel there in 2013. As it stands, the game will be played in UConn's 38,000-capacity Rentschler Field.
"They really want to play that game on campus. I've had some preliminary discussions with them because, frankly, it'd be great if we could play at another (larger) venue on the East Coast," Brandon said. "But, for now, our contract is for us to travel, play on their campus, play in their stadium and that will continue to be the case unless there is further information that comes forward."
While the contract will be honored, don't expect it to be renewed.
"I don't believe that we can or should go on the road for non-conference games when we can put 113,000 people in our stadium," Brandon said. "It's financially the right thing to do. It's the right thing to do for our fans in terms of their ticket packages."
Contact Pete Cunningham at petercunningham@annarbor.com or by phone at 734-623-2561. Follow him on Twitter @petcunningham.