Posted on
Thu, Jan 26, 2012 : 5:59 a.m.
David Molk opens up about playing through a torn tendon, rehab and proving his doubters wrong
By Kyle Meinke
A room full of trainers, and only two choices.
Center David Molk had severed a tendon in his right foot during the opening moments of the Michigan football team's Sugar Bowl warmups. Doctors didn't know that at the time. All they knew was Molk had hurt his foot badly, and they figured he could hurt it more by playing.
Molk was supposed to begin training for the NFL draft the next day. The Senior Bowl loomed after that, and an invitation to the combine in February.
And so, sitting on a Superdome training table, the team's medical staff asked him if wanted to play, risking further injury that could imperil his draft stock, or sit out, and miss the culmination of his decorated five-year college career.
He was advised not to play.
He played.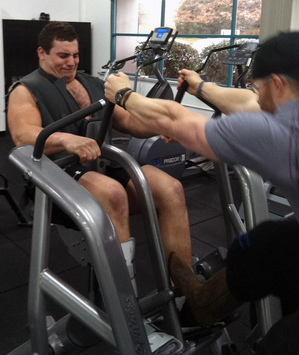 Kyle Meinke
"It's really scary, because you don't know what it is, the doctors don't know what it is, the trainers don't know what it is, and that's unsettling," Molk said this week. "And then with the NFL stuff coming, my body is my investment now.
"There is a thought that goes through your head, 'Should I play? Should I go at all?' But I can't watch a game. One play in, and I knew I was going in."
The peroneal longus tendon keeps the foot from falling outward. It's what is stretched when an ankle is rolled, and it is what Molk snapped by taking a "very normal, very average" step during warmups. There was no contact, no cutting. The tendon simply severed.
Molk said he thinks it snapped because it was rubbing against a piece of jagged bone left over from a 2009 injury.
"Rope on a sharp edge," he said. "Wear, wear, wear, wear ... snap."
Molk knew it was bad, but didn't scream. He didn't yell. He barely limped, walking over to position coach Darryl Funk to furtively tell him something was wrong.
"Can you play?" asked Funk.
"We'll see," Molk said.
They went back to the training room, where doctors put him through a battery of tests. It was excruciating. He continued to keep the injury hidden, even from his quarterback, Denard Robinson.
"When I was sitting in the training room, Denard came in and was like, 'Molk, you all right? You all right?' And I said, "Yeah, Shoe, don't worry about me. Go outside with the guys.'
"I didn't want the attention. The more attention I gathered, the more the rest of the team was going to go, 'Oh (crap), something's bad.' I didn't want anyone to know, because I didn't want anyone to get psyched out."
They did anyway, when Molk — their captain and Rimington Award winner as the nation's top center — couldn't start for the first time in 26 games.
Instead, it was backup Rocko Khoury who got the nod for the first series.
Three snaps. Three muffed exchanges. One punt.
"I was just like, 'All right, let's just tape it and go,'" Molk said.
The pain was severe. Doctors offered to numb it, but he declined.
"I knew I had torn something, and I wanted to feel it," he said. "I knew I did something really bad, so I wouldn't let them numb it so I could feel it the entire game and know what is going on down there (in case I hurt it more)."
Molk didn't hurt it more, but it hurt plenty as he helped lead Michigan past Virginia Tech to earn the second BCS win in school history.
He went out a winner. But his battle is far from over.
Molk underwent his fifth career surgery on Jan. 13 to repair the tendon. The procedure was performed at Indiana University Health Hospital in Indianapolis by Dr. David Porter, to whom Molk was recommended by his agent, Chicago-based Rick Smith of Priority Sports & Entertainment.
He said his surgeon told him recovery time would be around four months, but that he's a quick healer.
"I was supposed to be on crutches two weeks," he says. "I made it four days."
Molk lost 9 pounds because of the surgery and now is in a walking boot as he tries to prepare for the NFL. He said he's heard projections ranging from late first to early third round, but acknowledges his stock has taken a hit, and that frustrates him.
Scouts project him to be an early- to mid-round choice, but question his size, which is listed by Michigan as 6-foot-2, 286 pounds. He also will have to answer questions about whether he's injury prone after missing much of 2009 due to a broken foot, then a torn ACL.
Now, he has the ruptured tendon that will prevent him from running at the NFL Combine in February. That could impact his stock as well, since one of his defining strengths is his speed.
He'll only be able to bench. It's killing him.
"I've watched what the combine numbers come in at," Molk said. "I've seen it every year, and I can beat every single guy. I feel as if I could have gone into the combine and set a record in every single event, and that kills me."
Molk also had to withdraw from the Senior Bowl, where teammate Mike Martin has been impressing scouts this week. The game is at 4 p.m. Saturday in Mobile, Ala. (NFL Network).
He has been working out, though, despite orders to still be using crutches. Like five teammates, he has enlisted former Michigan strength and conditioning coach Mike Barwis to help prepare him for the draft. And they're not taking it easy.
Molk said he hopes to be healthy enough to participate in OTAs with his new team this summer, but isn't certain he'll be available.
He's certain of one thing, though: He has doubters.
And he knows exactly where they can go.
"It's just, stuff like that pisses me off," Molk said, voice rising. "Any scout who denies me pisses me off. 'Oh, this is what you got. You're not good enough.'
"Well, (to hell with) you, let me show you what I got."
Kyle Meinke covers Michigan football for AnnArbor.com. He can be reached at 734-623-2588, by email at kylemeinke@annarbor.com and followed on Twitter @kmeinke.