Posted on
Sun, Jan 15, 2012 : 5:59 a.m.
Ex-Michigan lineman Ryan Van Bergen fighting through foot injury in preparation for NFL Draft
By Kyle Meinke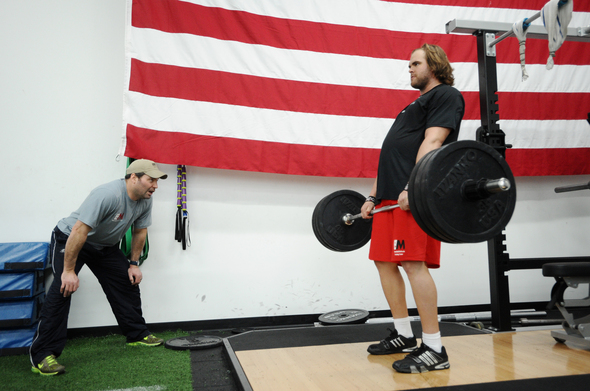 Melanie Maxwell | AnnArbor.com
PLYMOUTH —
Ryan Van Bergen
played through the
Sugar Bowl
on one foot, as the other sent excruciating pain coursing through his leg.
He had to be helped onto a stage for the postgame news conference. He used crutches to traverse the locker room.
Turns out, the former Michigan defensive end played through a sprained ligament between the first and second metatarsals in his foot. The injury continues to prevent him from running, and has become a serious impediment to his preparations for the NFL Draft.
Van Bergen had to turn away interest from postseason all-star bowls. He was not invited to the NFL Combine, and he'll remain unable to run for the next couple of weeks as Michigan's pro day looms March 15.
But he's fighting.
And he's enlisted the help of a familiar face: Mike Barwis.
The former Michigan strength and conditioning coach under Rich Rodriguez has set up his own shop, Barwis Methods, located in nearby Plymouth. Barwis is training several former Wolverines as they prepare for the NFL Draft, including center David Molk, defensive lineman Mike Martin, offensive lineman Mark Huyge and tight ends Kevin Koger and Steve Watson.
And then there's Van Bergen, who sought out Barwis after — like many of his teammates — forging a close relationship with him during his three-year tenure at Michigan.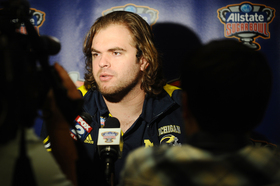 Melanie Maxwell | AnnArbor.com
"Everyone else, besides the people close to you, will say, 'Oh, you hurt your foot. You probably shouldn't even give it a try. Maybe it's a sign,'" Van Bergen said Friday shortly after a six-hour workout at Barwis Methods. "Whereas our attitude, and Mike's attitude, is, 'We'll get over this foot thing, bench the house and, when you get a chance to run, we'll show them what you can do."
What Van Bergen can do is play football well. He was a key figure in the Wolverines' turnaround this year, when they went 11-2, beat Ohio State and captured a Sugar Bowl title.
The Whitehall native flourished into one of the Big Ten's most commanding defensive lineman under the tutelage of head coach Brady Hoke and defensive coordinator Greg Mattison, and scouts rave about his productivity.
Van Bergen's measurables, though, aren't explosive. He's not the kind of player who is going to put up flashy numbers in a bench press or vertical jump.
And, now, he's hindered by the foot injury, which won't require surgery but is preventing him from running. Speed was supposed to be a plus for him.
He said he once was clocked at 4.7 seconds in the 40-yard dash.
"One of my strengths, I think, is I run faster than everybody else thinks I can, for my weight," Van Bergen said. "It sucks, because it's limiting one of my positives."
Van Bergen is hoping NFL teams will look at his intangibles — like, playing on one foot in a BCS game.
"What I was trying to do was come off the ball on one foot, engage my block and then just hold him from pushing me backward, and fall into a gap when the running back was coming through," Van Bergen said. "That was my plan, and that was all I had left."
Barwis said Van Bergen's speed, for a guy with a 6-foot-6, 288-pound frame, makes him an attractive NFL candidate. But, he also noted Van Bergen has something that can't be taught: Fight.
"Ryan Van Bergen is a brawler," Barwis said. "He'll fight, he'll grind, and that's who he is all the time. I'm really hoping he can do the combine stuff because he's a guy who, in my opinion, is tremendously explosive and tremendously powerful and will excel in the running drills.
"I think he's committed to proving people wrong. I think he wants to show people Ryan Van Bergen is a tremendous athlete with a hell of a lot more heart than anyone you're going to draft."
Van Bergen has moved to Novi to be closer to Barwis Methods. He still lives with his old roommate, Molk, who also made the move, and Martin also lives nearby.
His agent, Miami-based Stanley Aimes of AMG, has fronted him money for his living accommodations and the workouts with Barwis.
"They showed a lot of faith in me," Van Bergen said. "I told them about my injury before I signed with them and they said, 'We don't care. We're going to finance you. We think you're a sleeper. We don't think people give you the amount of recognition and respect you should have for the way you finished your season. So, whatever you need, you got it. Whether or not you need surgery, we'll get you on a team.'"
Van Bergen hopes to be running full speed in time for the pro day at Michigan. Meantime, he's focused on other areas of his training, most notably weight training.
"It's just another hurdle," Van Bergen said. "It's kind of been the story of our (team), as far as football goes. There's been so many obstacles in the way of what we want, personally and as a team.
"Of course it's not going to go smoothly. Why would it go smoothly now? But I'll find a way to persevere. Always do."
RELATED: Mike Martin, David Molk have been invited to the NFL combine; others will compete at Michigan's pro day on March 15
Kyle Meinke covers Michigan football for AnnArbor.com. He can be reached at 734-623-2588, by email at kylemeinke@annarbor.com and followed on Twitter @kmeinke.