Posted on
Tue, May 22, 2012 : 5:58 a.m.
Former Michigan football players see Wolverines 'torturing' Urban Meyer and Ohio State in coming years
By Nick Baumgardner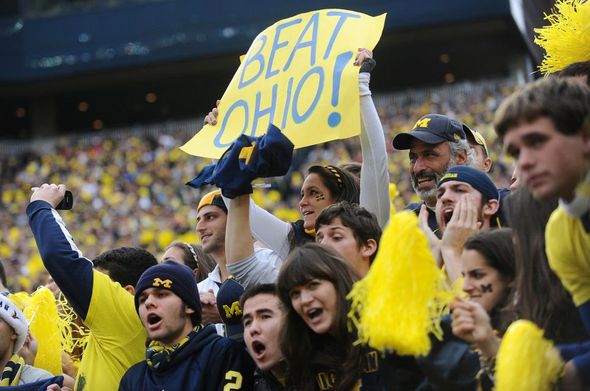 Melanie Maxwell | AnnArbor.com
The Michigan-Ohio State rivalry was kicked up two rather large notches in one three-day stretch last November.
First, the Wolverines exorcised 2,926 days of frustration with a 40-34 win over the Buckeyes in Ann Arbor. Two days later, the Buckeyes shook things up even more by formally announcing the hiring of Urban Meyer as the program's next head coach.
And now, thanks to the constant emphasis put on the game by both Meyer and Michigan football coach Brady Hoke, the rivalry seems to have regained the intensity, nastiness and downright anger that fueled it for so many years.
Ohio State has its coach, but Michigan does, too. And former players aren't too concerned about the Wolverines slipping back into the pattern that kept them winless against the Buckeyes for seven years.
"I'm not trying to get bulletin board information, but I guess I'm past that point," former Michigan football offensive lineman Steve Everitt said Friday during WTKA's "Mott Takeover" event. "They're stuck with that quarterback (sophomore Braxton Miller) for the next two or three years, that's fine with me. He throws worse than (Tim) Tebow.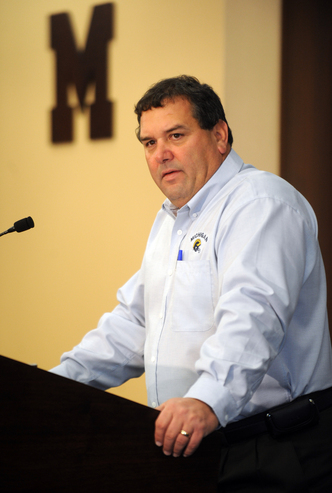 Melanie Maxwell | AnnArbor.com
"I see us torturing them for the next three years."
Game on.
Everitt was joined on WTKA by former Michigan greats Charles Woodson, Steve Hutchinson and Jake Long.
And, though not as demonstrative as Everitt, they had similar opinions on the Michigan-Ohio State matter.
"Honestly, I don't care what they do," said Long, a former left tackle who now plays with the Miami Dolphins. "I don't care who they bring in. I believe in our coach, I believe in the players that (Hoke) will bring in. We turned it around last year and we're on the right path and that's going to be an emphasis again.
"We're going to get back on the right track."
The faith in Michigan's re-emergence within the rivalry seems to stem completely from the alumni base's confidence in Hoke.
During his tenure as a Michigan assistant (1995-2002), the Wolverines were 5-3 against the Buckeyes, including a five of six victory stretch from 1995-2000.
Hoke -- who still refers to OSU as "Ohio" -- has coached in the rivalry before, and put great importance on the game from the day he was hired.
After famously pounding his fist on the podium at the Junge Center during his introductory news conference, Hoke installed a year-round countdown clock at Schembechler Hall to serve as a reminder of the game's importance.
Hoke's passion for the Ohio State rivalry isn't questioned by anyone, something that wasn't exactly true during Rich Rodriguez's three-year tenure from 2008-10.
"During the Rich Rod years, you never heard anything talked about Michigan-Ohio State, Michigan-Michigan State," Woodson said. "Under him, it was just another game.
"We don't know about Michigan football that way. You've got to win those two games, and that part of Michigan football is back."
As for Meyer? Woodson said he's glad Ohio State went out and eventually hired a big-name coach to replace the fired Jim Tressel. Woodson believes the presence of both Meyer and Hoke will only fuel the rivalry, bringing it back to the national forefront every November.
"I think the best part about it, for me, is that rivalry and the way people look at it will go back to the days of old," Woodson added. "It brings excitement, having Urban Meyer at Ohio State, having Brady Hoke here at Michigan and having our game once again have significance.
"I'm all for it, I think they'll be good under Coach Meyer, but we've got a great coach. And I'm telling you, it's only going to get better."
The consensus is clear: the Wolverines have their man, and they're not afraid who knows it.
Michigan visits Ohio State in 186 days.
And, if Everitt has his way, Nov. 24 -- and every Thanksgiving weekend thereafter -- will be a joyous occasion for Wolverine backers.
"I say that we build on this year," Everitt said, "and we split their wig every year for the next 20 years."
Nick Baumgardner covers Michigan sports for AnnArbor.com. He can be reached at 734-623-2514, by email at nickbaumgardner@annarbor.com and followed on Twitter @nickbaumgardner.